The office space was proposed to be a welcoming space for our client's buyers. Our client being a real estate infrastructure company is bringing up several thousands of square feet of real estate and the office we designed was their site office. A 6000 sq.ft welcoming real estate office space AR praxis for meet and greet, buying and selling – a place that could make a mark in their prospective buyer's mind. For this project, we planned out into a site office, dining & resting space for the site staff, approach and landscape and parking.
A 6000 sq.ft Welcoming Real Estate Office Space | AR praxis architects
Visit : AR praxis architects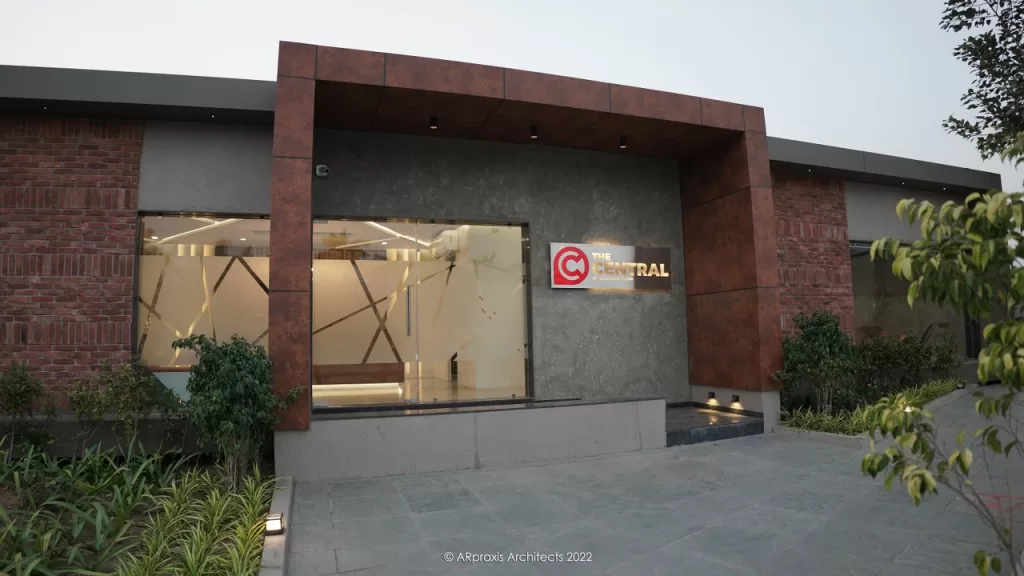 The site office – a 1400 sq.ft. indoor space, consisted of a large reception space, staff work area, meeting room, pantry and 2 director cabins. It was a linear plan spreading out towards the two extremities. The reception consisted of multiple seating arrangements for buyer – seller conversations, a space to display the site model and a tv screen forming the backdrop of it all.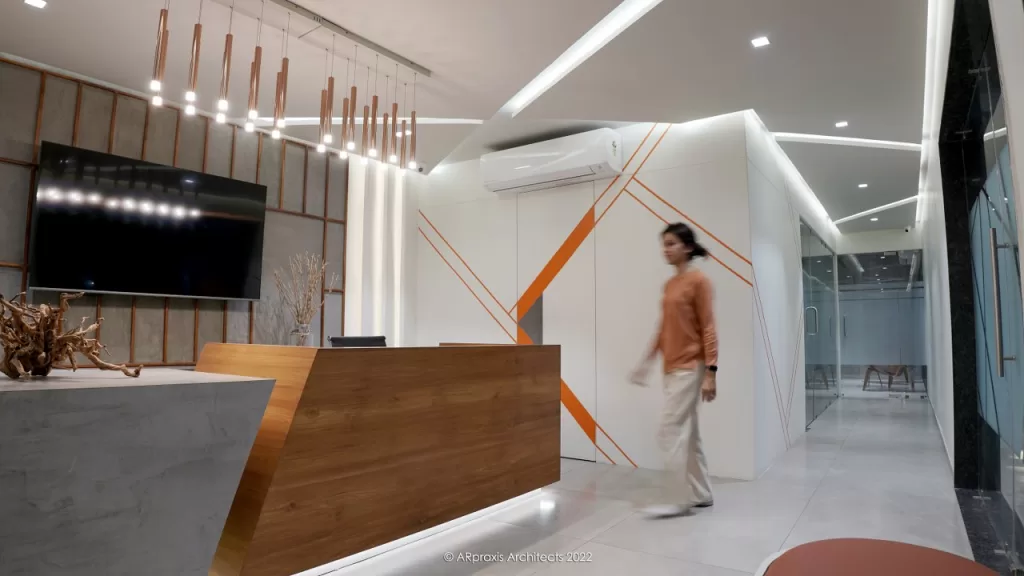 A considerable area of the front elevation because it was south facing was blocked off with a wall that could also hold up the signage and branding of the project since it was road facing. The walls were cladded with exposed bricks.
The structure was designated to have a life span of around 2 years only as the rest of the actual site would develop. Hence, choice of materials made was reusable and re-sellable. Galvalium sheets for the roofing and modular partitions and furniture were opted for.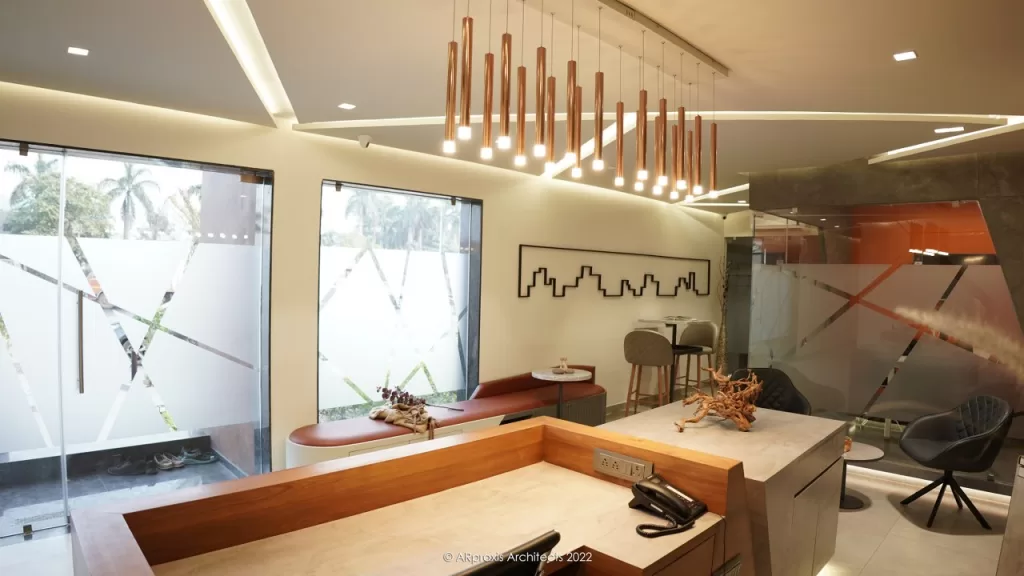 Solid colours were juxtaposed against rough concrete like textures to display the feeling of work in progress. This expressed duality of space where finished surfaces and incomplete textures coexist. Diagonal lines were used to add 3 dimensional quality to cabins so as to create illusion and arouse visual interest.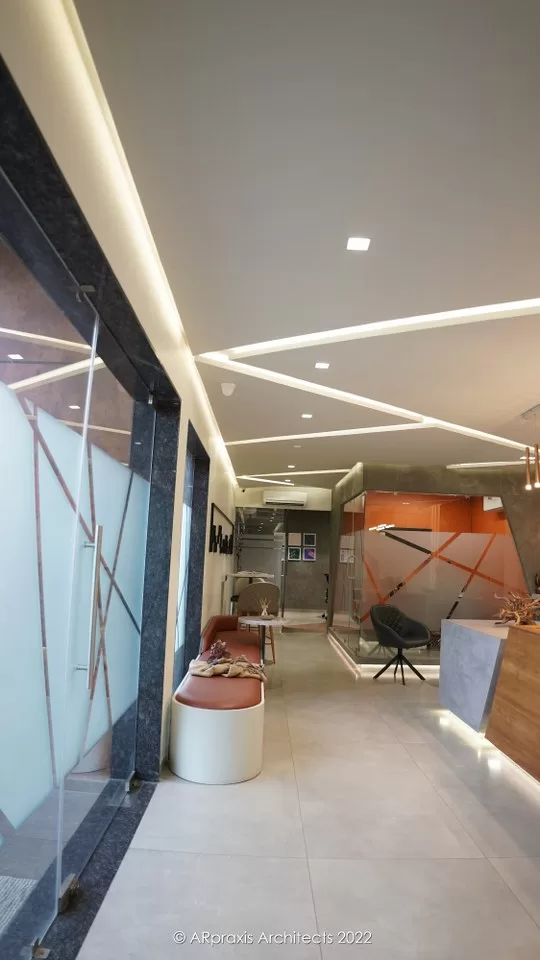 Diagonal designs were explored in some of the custom furniture in the reception area, graphics and false ceiling design.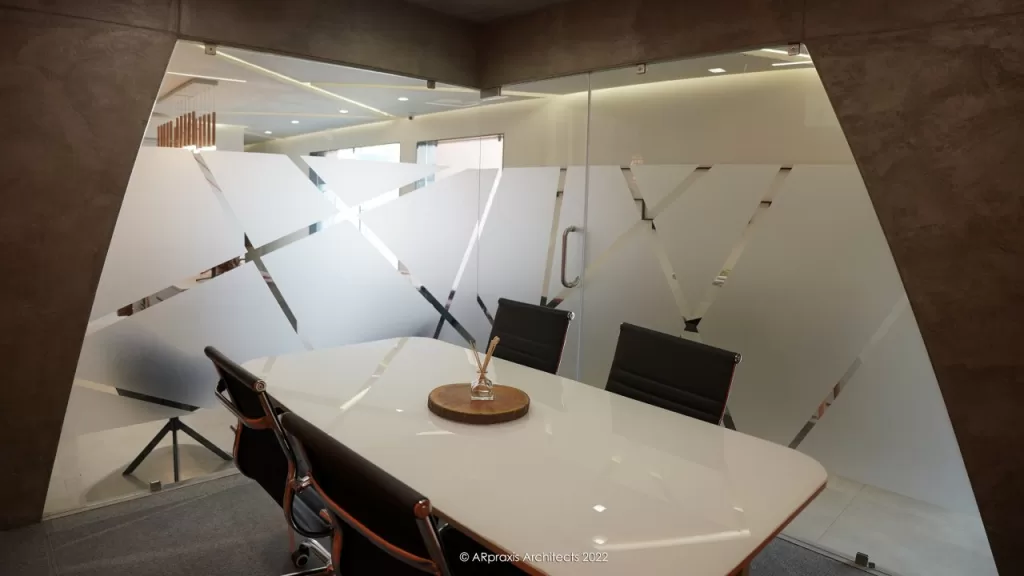 The colour orange was used as part of the owner's brand identity and found space in graphics and solid colour blocking efforts seen in the conference area.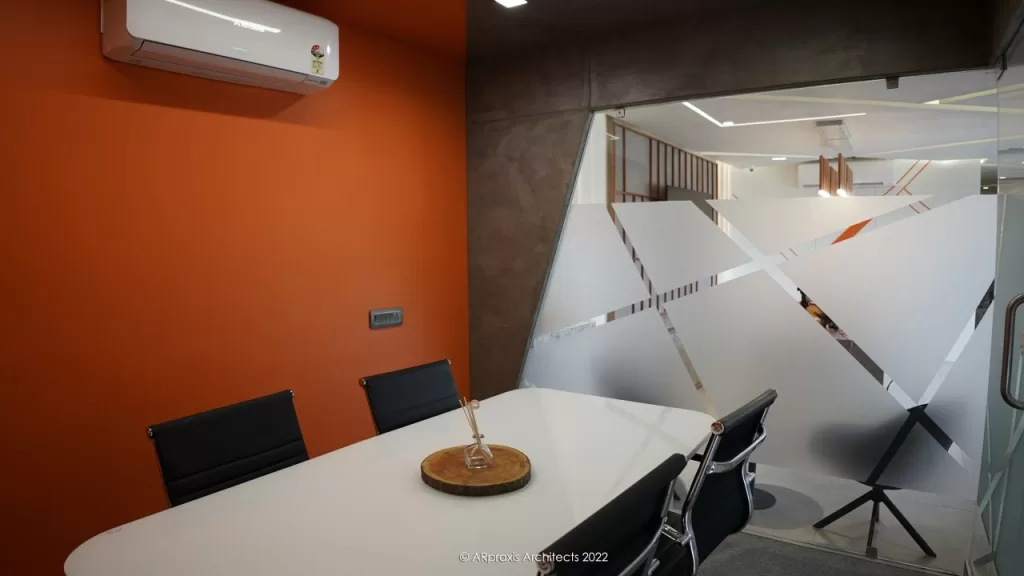 A lot of emphasis was laid on the kind of possible seating combinations we could provide for dialogue between the prospective buyer and the sales & technical team. Arm chairs, bench as well high chairs along the alley were provided to give different discussion experiences.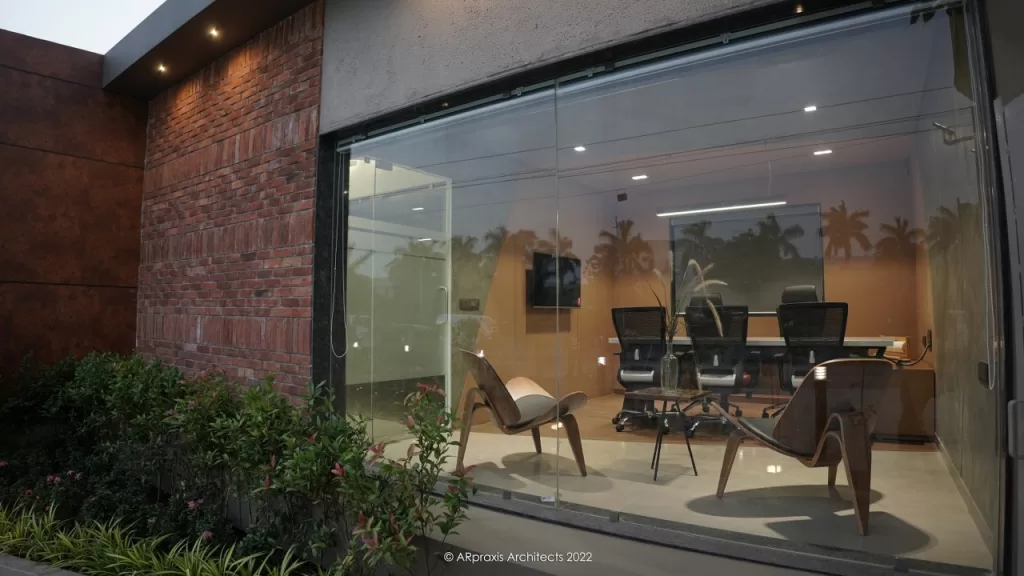 A modern design language was adopted for the office with choice of bold colour and geometry. Diagonal lines played a key part in forming the visual narrative of the space. They were used to mark out light coves in the ceiling, glass & wooden partition designs and to create interesting graphics throughout the space.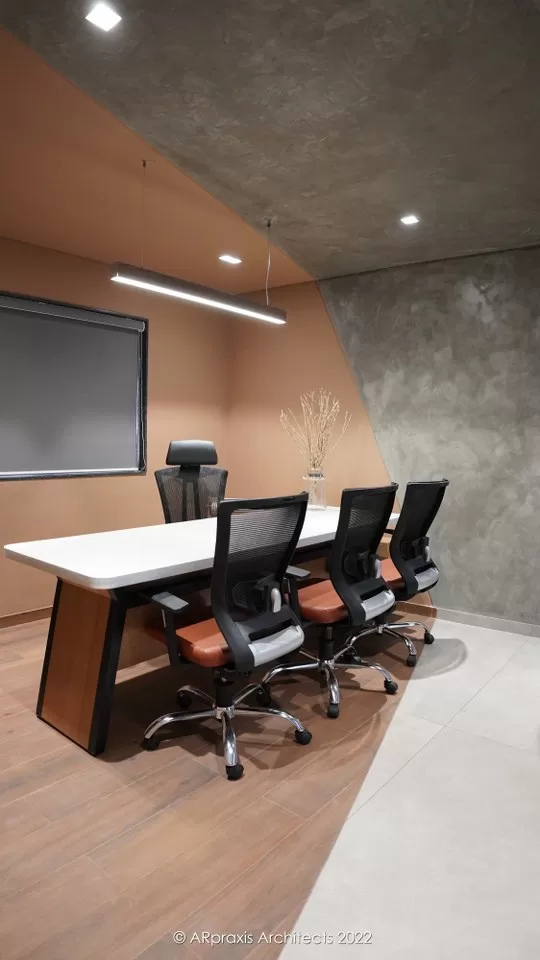 The interior space being linear in plan always reminded us of an alley and further when the sharp diagonal lines started forming the finer details we couldn't help but find ourselves in this "Diagon-alley"!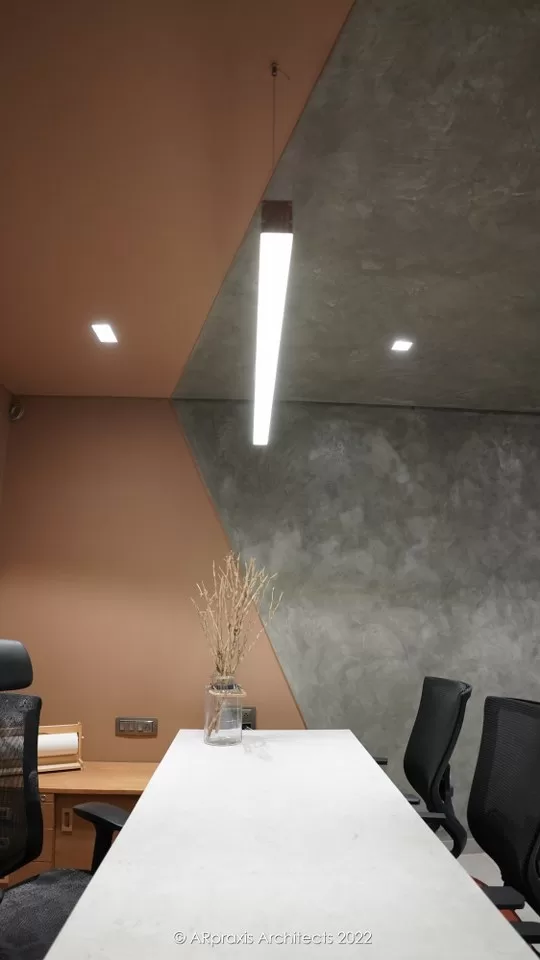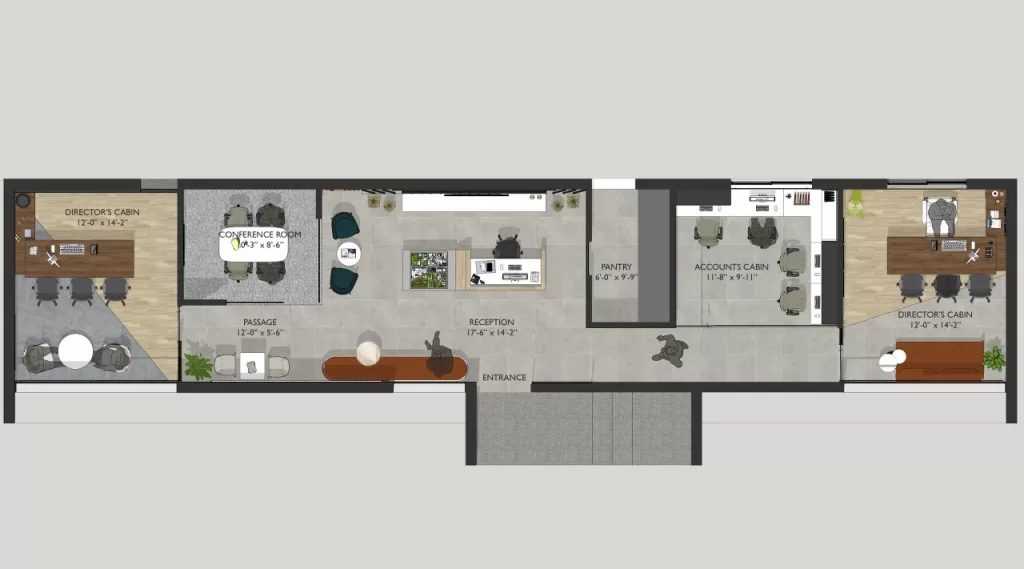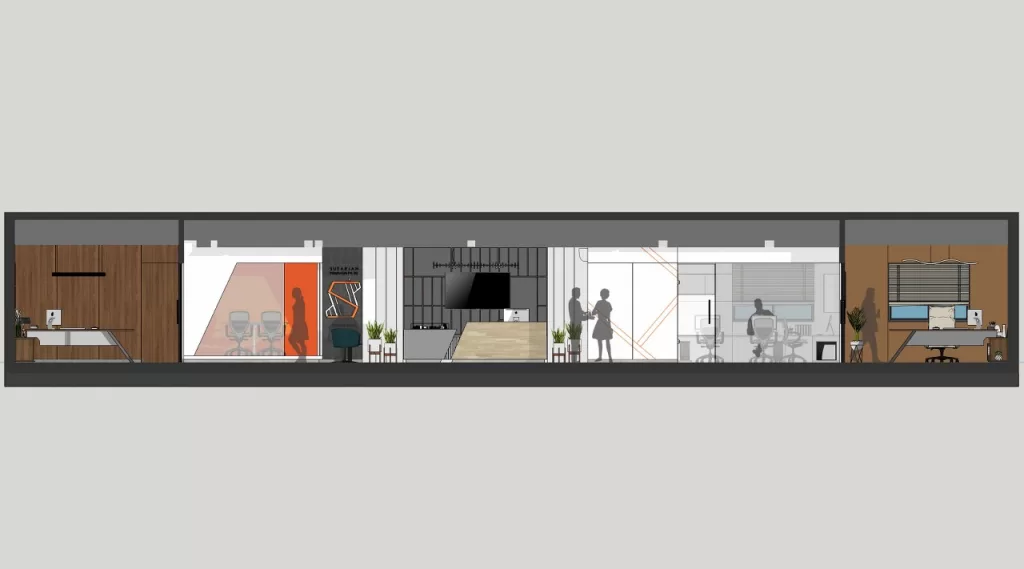 Fact File
Designed by: AR praxis architects
Project Type: Office Architecture & interior Design
Project Name: Diagon-alley
Location: Ahmedabad
Year Built: 2022
Duration of project: 4 Months
Plot Area: 6120 Sq.ft
Project Size: 1400 Sq.ft
Principal Architect: Ar. Anuradha Ramchandani
Design Credits: Deepam
Photograph Courtesy: InOcean
Products/Materials/Vendors : Finishes – Asian paints / Wallcovering / Cladding – Vishvesh Glasses Pvt Ltd, The BrickStore Ahmedabad / Lighting –Lighting ways / Doors and Partitions – Vishvesh glasses / Furniture – Q concept interiors / Flooring – Gabon ceramic.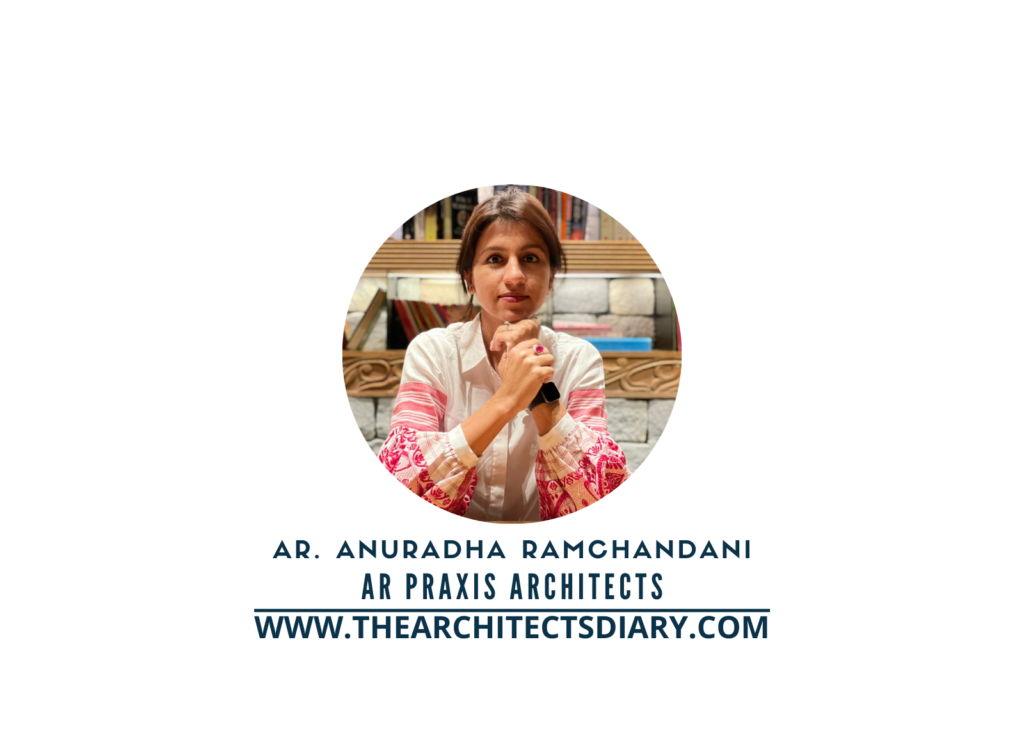 Firm's Instagram Link : AR praxis architects
For Similar Projects >> Modern Elements and Traditional Values Converge In This Family Home
The post A 6000 sq.ft Welcoming Real Estate Office Space | AR praxis architects appeared first on The Architects Diary.