A triplex penthouse cozily located in the well-designed township in Ahmedabad, an ideal location with surreal spaces that looks like they have come alive from a painting. A 5800 sq.ft triplex apartment design concept offering a unique and luxurious living experience with multi-level layout. The design aims to maximize space utilization while providing a sense of openness and elegance.
A 5800 sq.ft Triplex Apartment Design Concept Offering a Unique and Luxurious Living Experience | Anarr Gunjaria Interiors
Visit: Anarr Gunjaria Interiors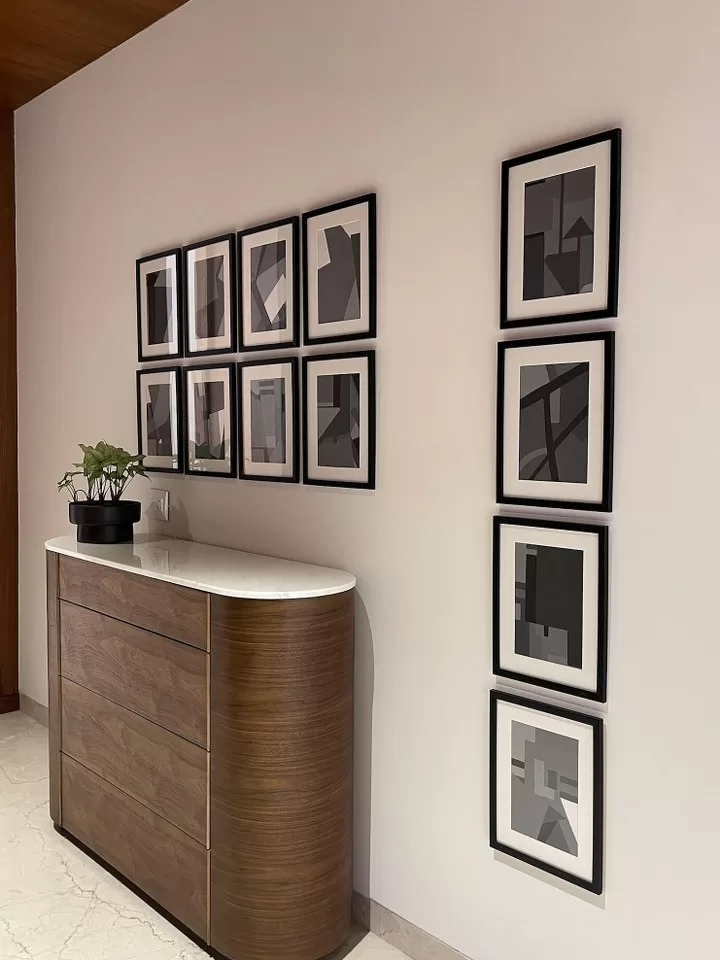 Designing a house that accommodates four generations requires careful consideration of space, functionality, and the diverse needs of each generation. The interior design concept here to aim a strike balance between individuality and togetherness, providing spaces that cater to the unique needs and preferences of each generation while fostering connections and shared experiences.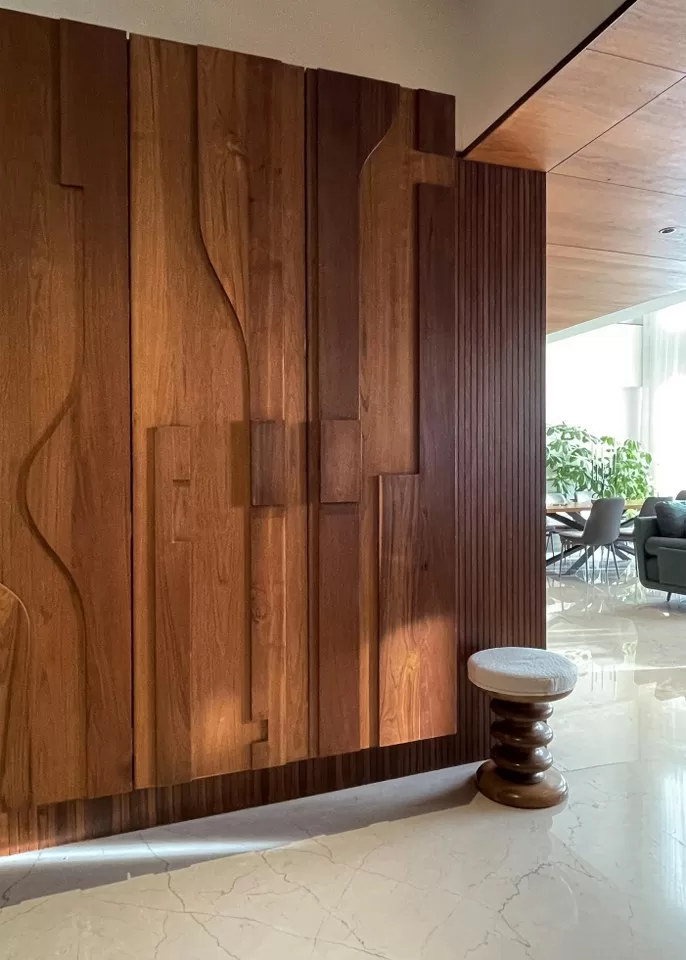 As you step into the apartment, you are greeted by an inviting entrance and foyer. The design concept emphasizes creating a welcoming atmosphere by incorporating a stylish wooden crafted cabinet and soft ambient lighting casts a warm glow, getting the tone for the rest of the space.
Moving further into the apartment, you enter a spacious and open living and dining area. The design focuses on creating a seamless flow between these spaces, with a cohesive color palette and complementary furniture styles.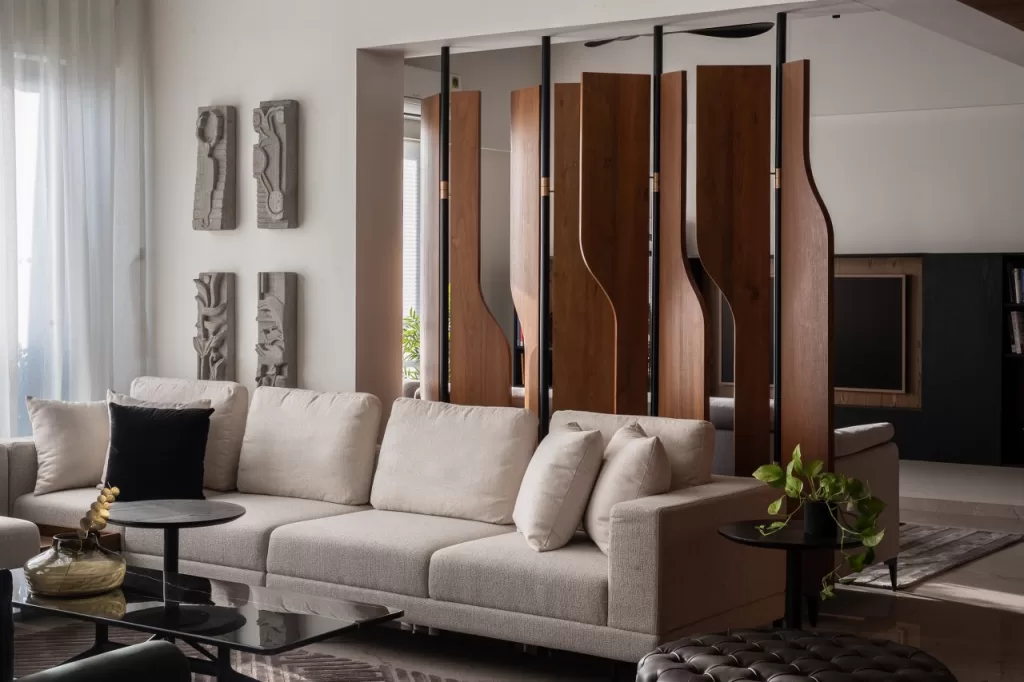 The living area features a comfortable yet chic sofa, accompanied by accent chairs, arranged around a coffee table. The dining area showcases a sleek dining table and chairs, bathed in natural light streaming through floorto-ceiling windows.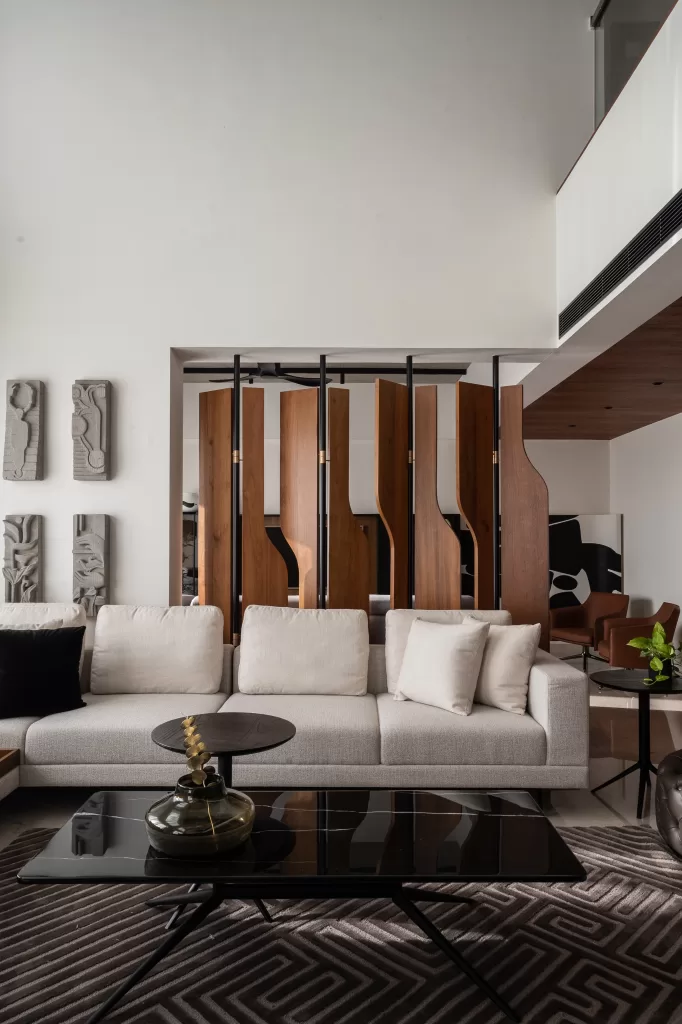 To promote interaction and accommodate diverse activities, this house's design includes flexible living areas that can be easily adapted to different purposes. Additionally, incorporating movable partitions or sliding doors can create separate zones when desired, ensuring privacy and quiet spaces when needed.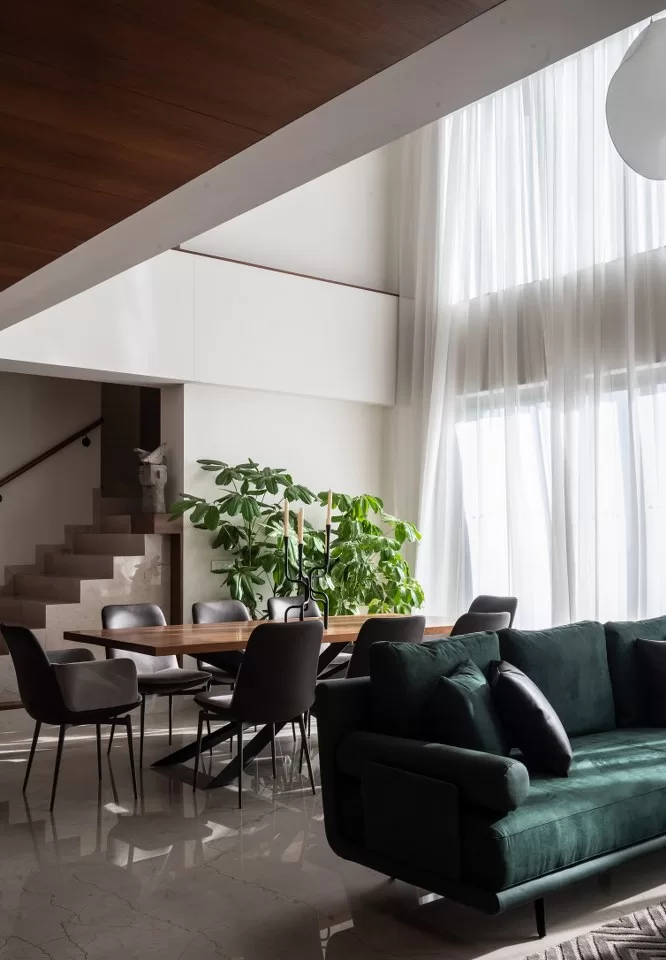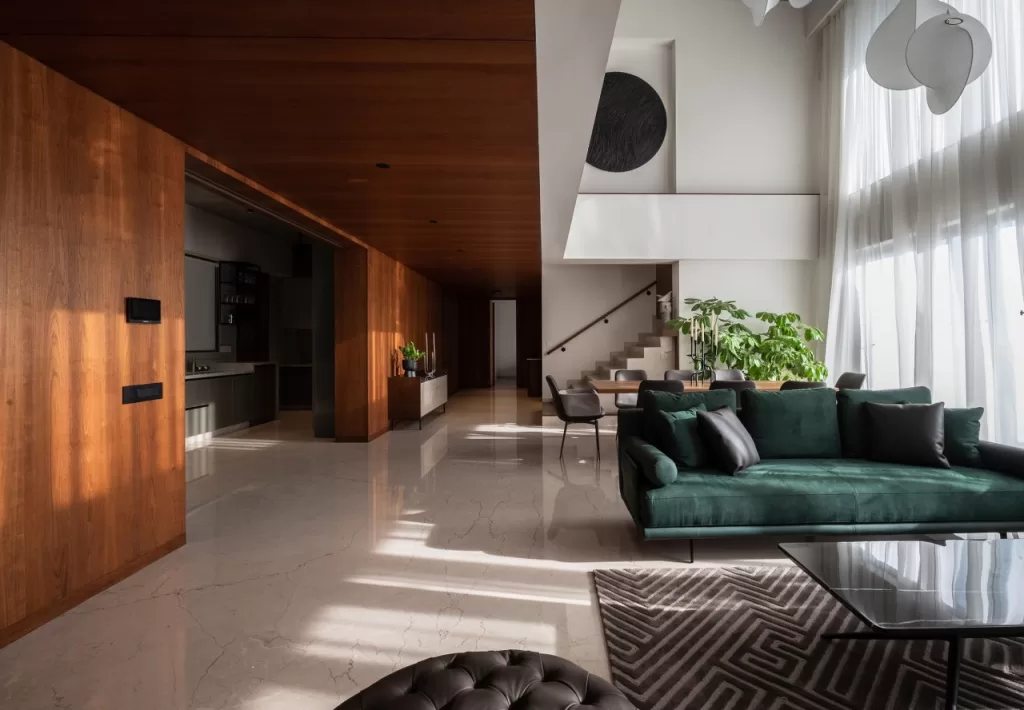 Formal and family living area separated by custom made wood and brass louvers whereas kitchen and dining areas connected with wooden fluted glass sliding doors.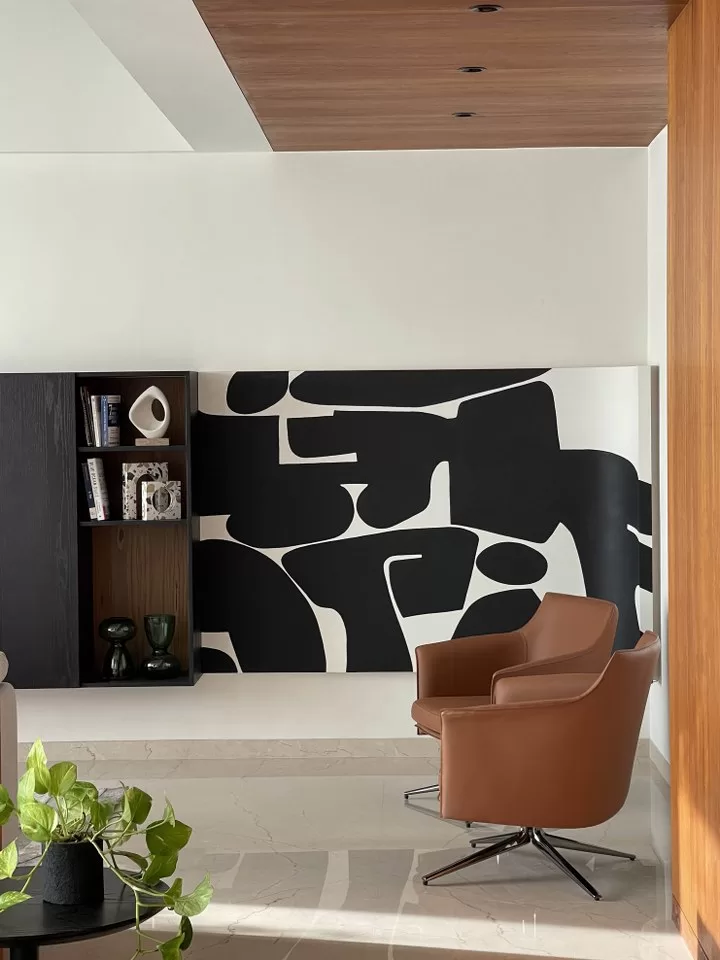 Adjacent to the dining area, the kitchen embodies both style and functionality. The design concept integrates modern cabinetry with sleek hardware and a tile backsplash. High-quality appliances, ample countertop space, and well-planned storage solutions cater to the practical needs of the residents while maintaining a sleek and streamlined aesthetic.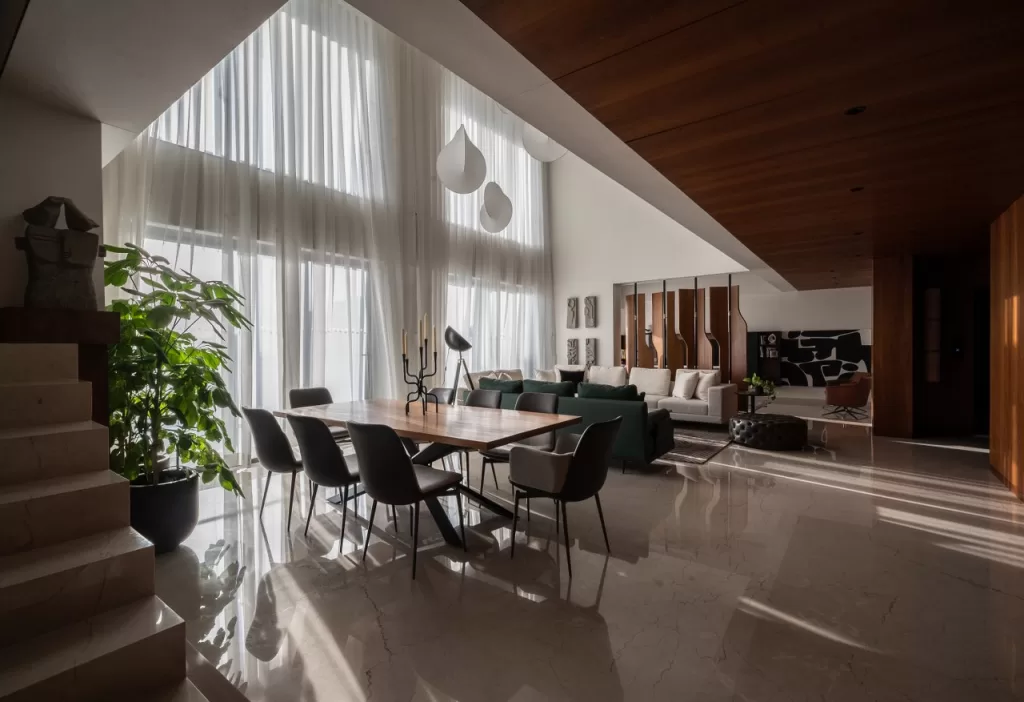 The bathrooms in this apartment project are envisioned as spa-like sanctuaries. Clean lines, contemporary fixtures, and high-quality materials evoke a sense of luxury and tranquility. The design incorporates a combination of ambient and task lighting, while mirrors and carefully placed vanity lighting ensure optimal functionality for daily grooming routines. The use of natural stone or mosaic tiles adds texture and visual interest.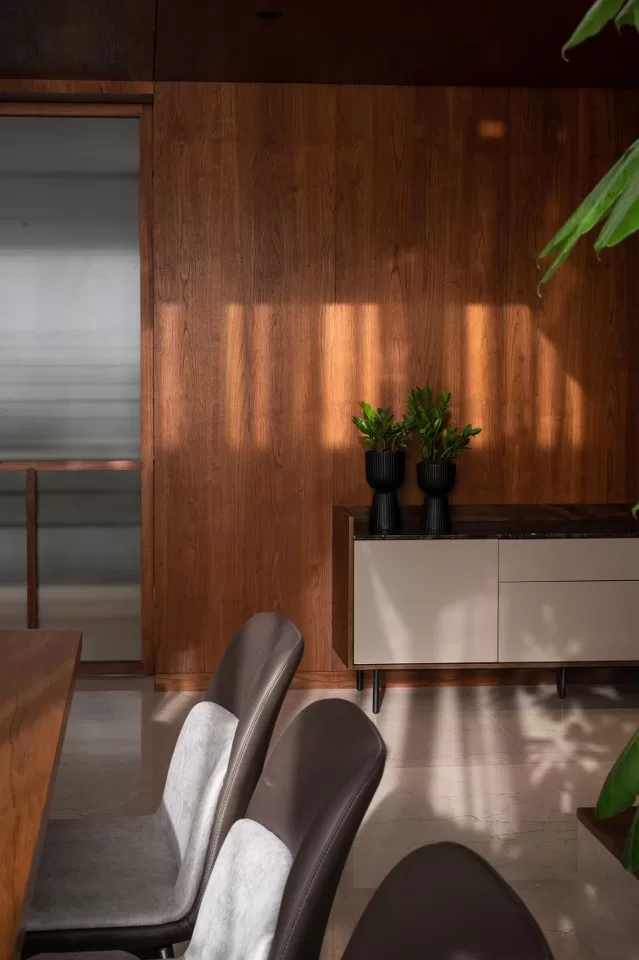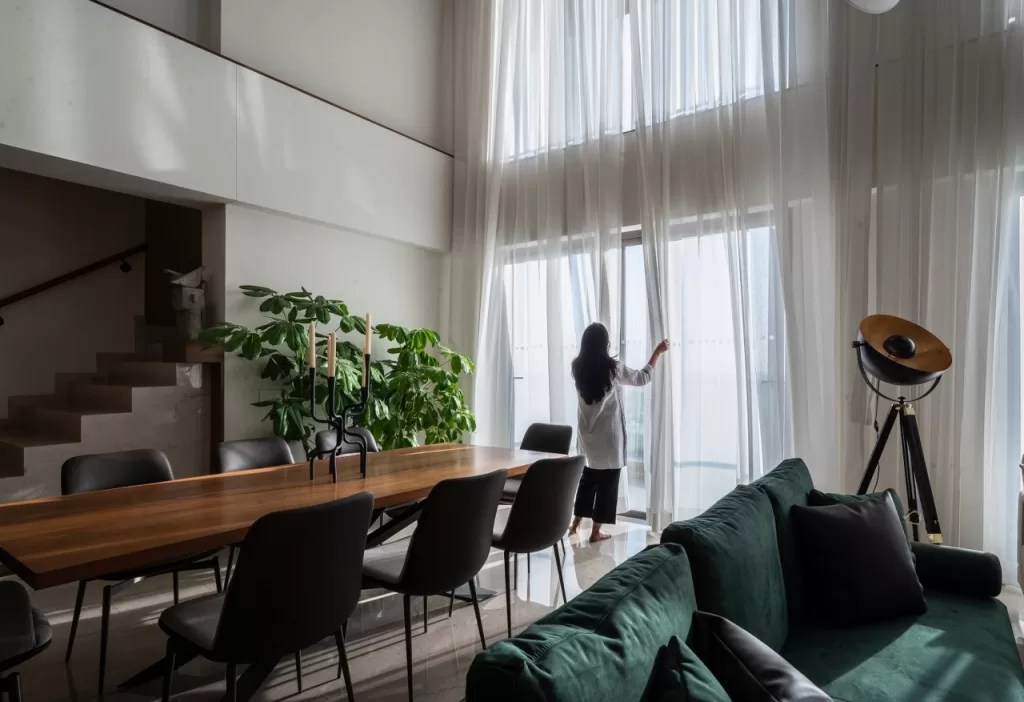 Open floor plans and multipurpose rooms encourage socialization and allow for a variety of activities such as family gatherings, shared meals, and group entertainment. On lower-level sons' bedroom and grandchildren bedroom tucked on one corner to keep their actives in mind where middle level comprise master bedroom, parents' bedroom and guest room design ensures that the house is accessible and comfortable for all generations, including mobility challenges or social needs, this includes wide doorways, step free entrances, grab bars in bathrooms and adjustable height countertops.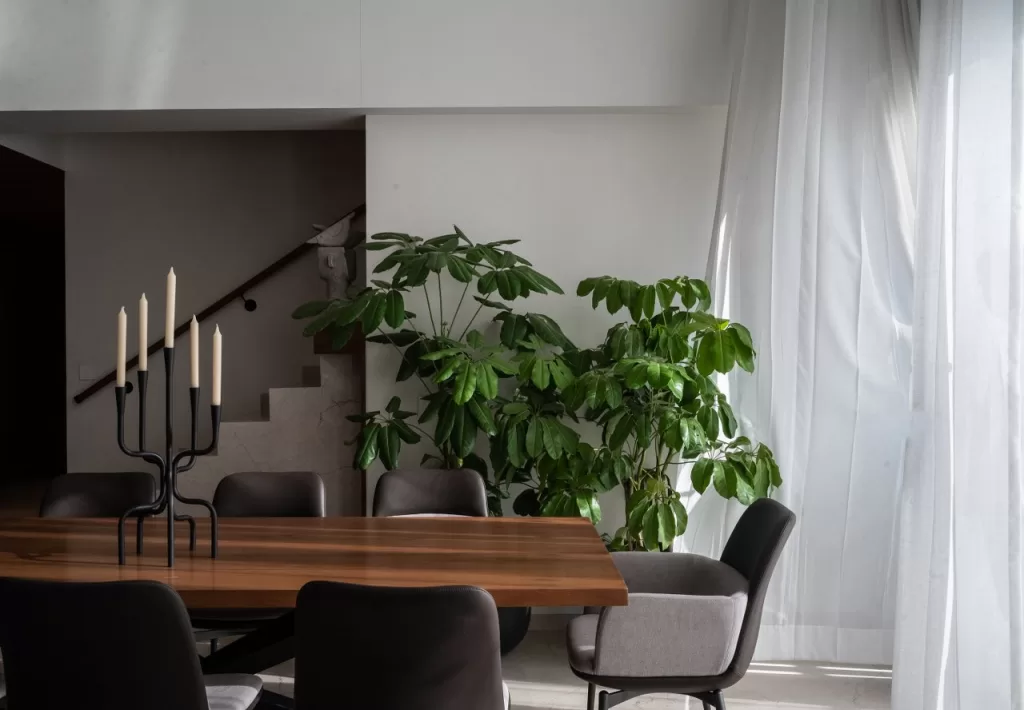 Accessibilities is seamlessly integrated into the overall design to create a barrier free environment that promotes independence and inclusivity.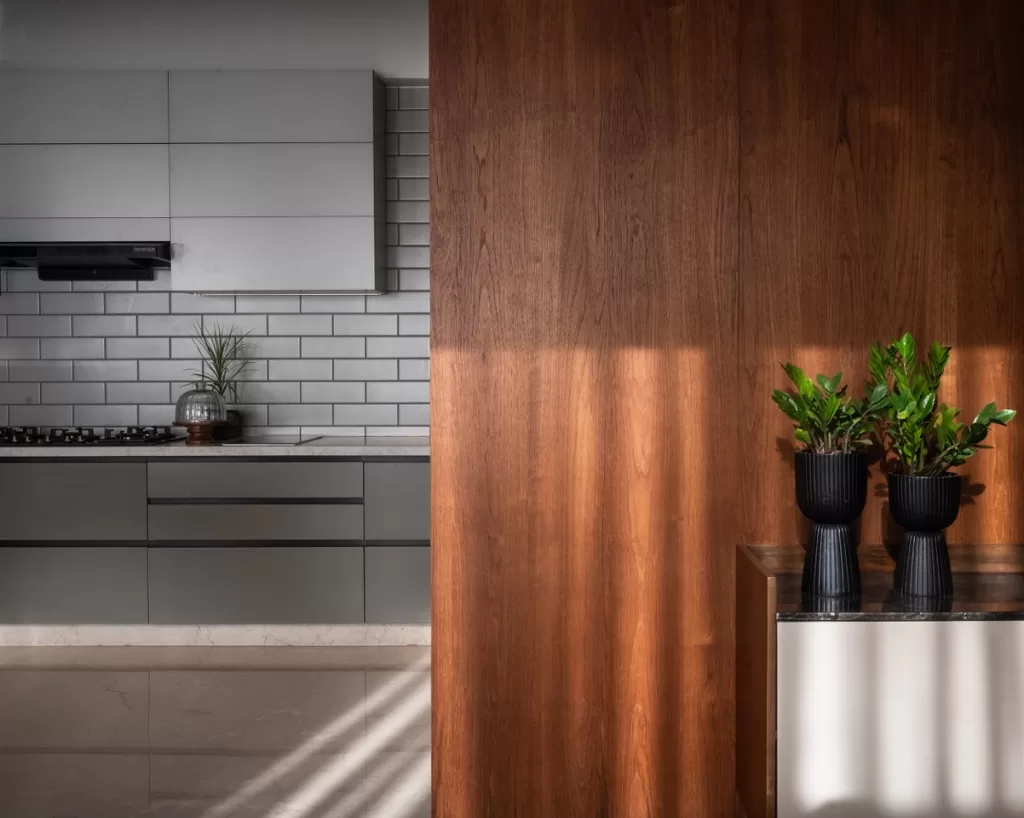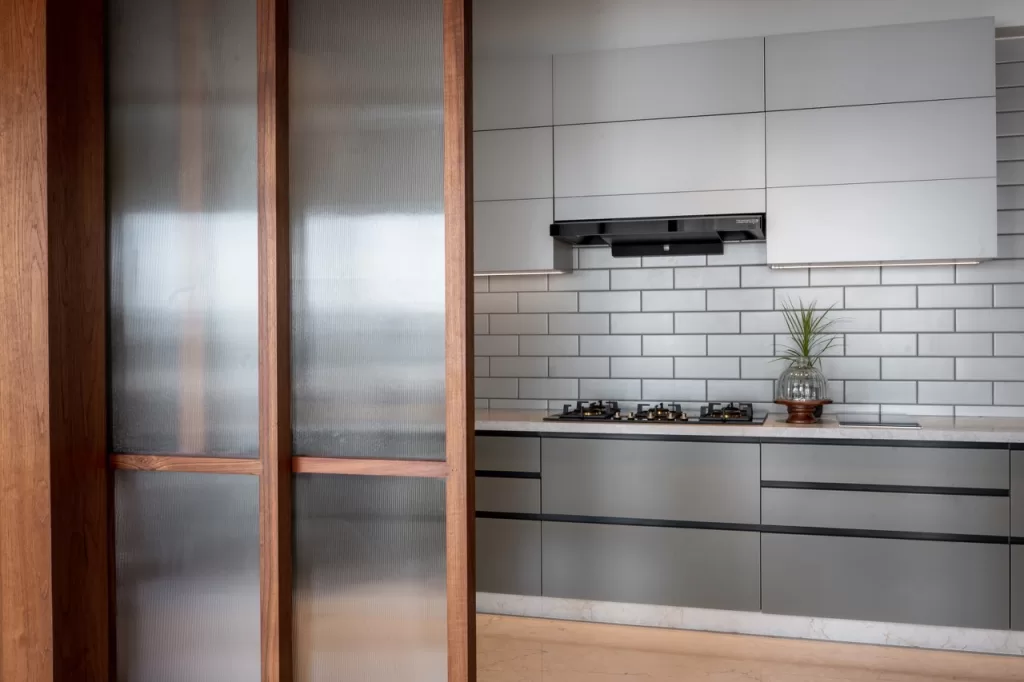 The upper-level houses cozy home theater, gym-meditation room and terrace garden which provides entertainment areas for young generations and space for mediation whereas exterior outdoor spaces, whether a balcony or terrace, offers an opportunity for outdoor relaxation.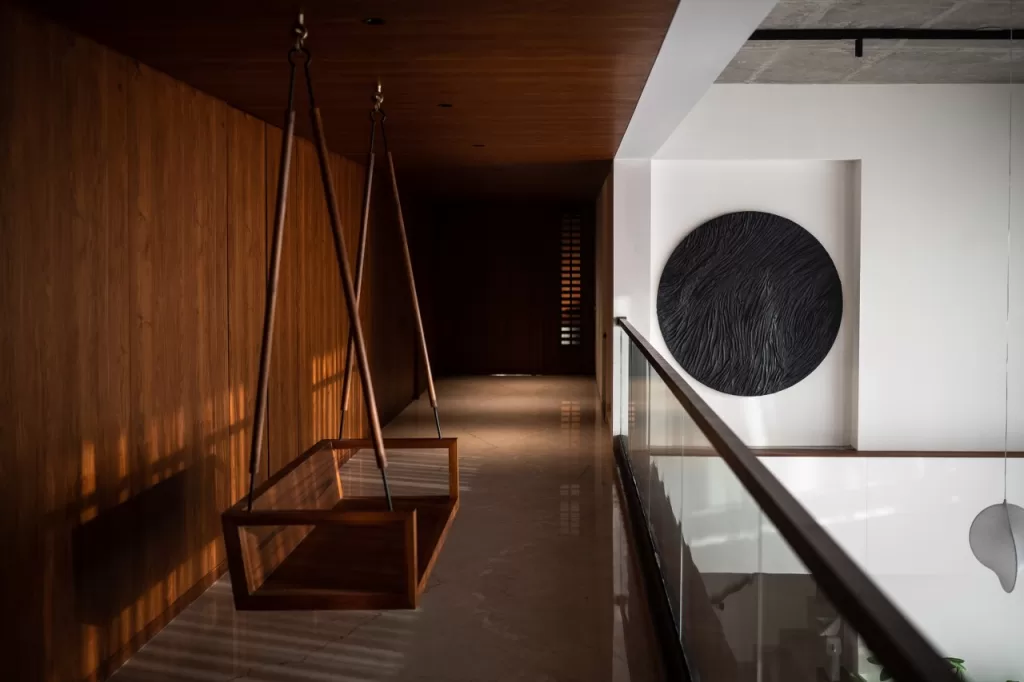 The design concept includes comfortable seating, such as lounge chairs or a cozy outdoor sofa, surrounded by potted plants and greenery. The space is designed as an extension of the interior, seamlessly blending indoor and outdoor living while providing a serene escape from city life.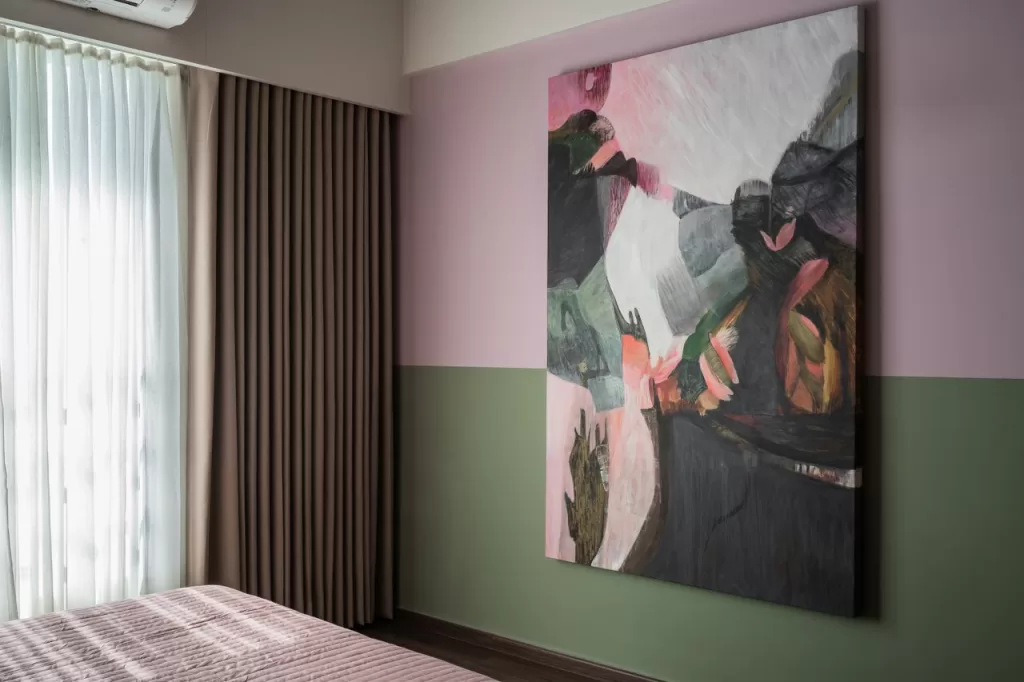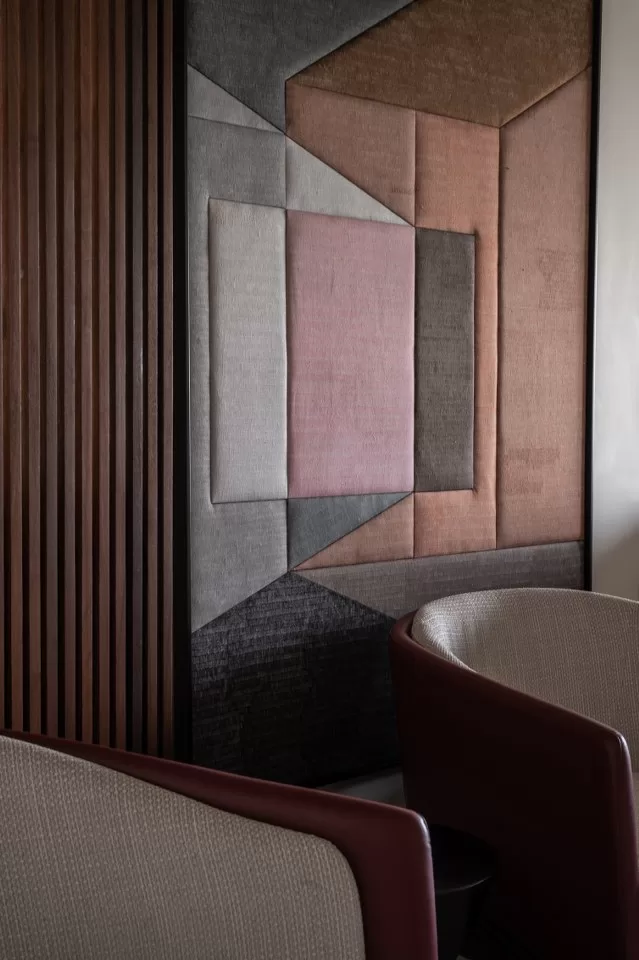 Throughout the apartment project, attention to detail is evident. From the selection of high-quality materials and finishes to the careful curation of furniture, lighting, and accessories, every element is purposefully chosen to create a cohesive and visually appealing space. Designing a house for four generation living requires a delicate balance of individuality, communal spaces, and accessibility.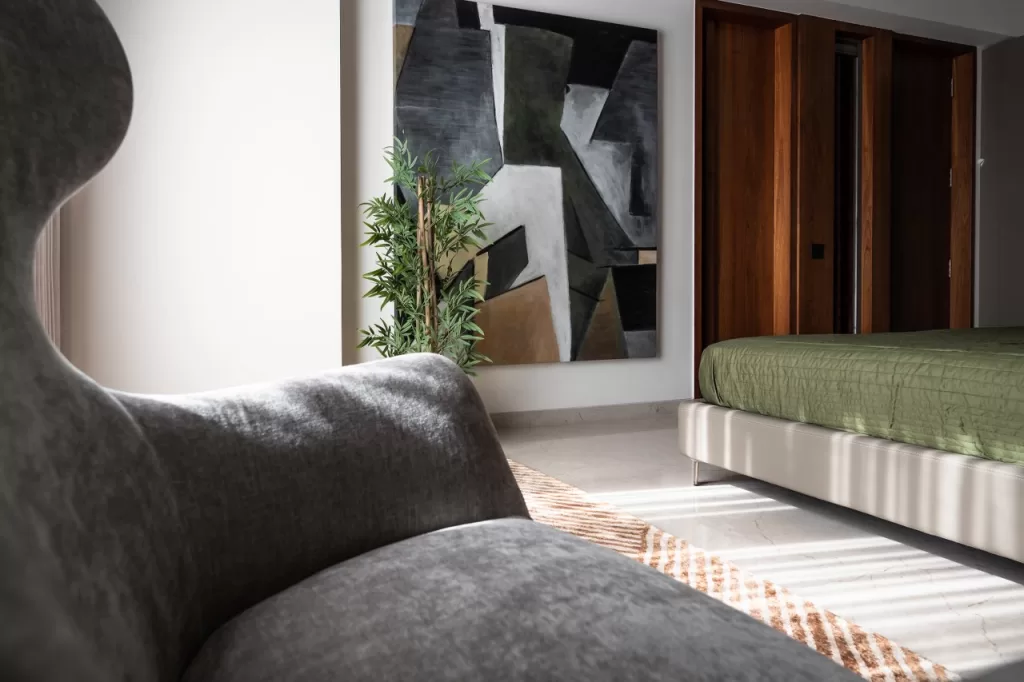 By incorporating flexible living areas, generational wings, intergenerational spaces, universal design principles, and personalized retreats, this interior design concept promotes harmonious coexistence while valuing the unique needs and contributions of each generation. A well-designed four-generation living house becomes a nurturing environment where family bonds are strengthened, memories are shared, and the diverse experiences of different generations are celebrated.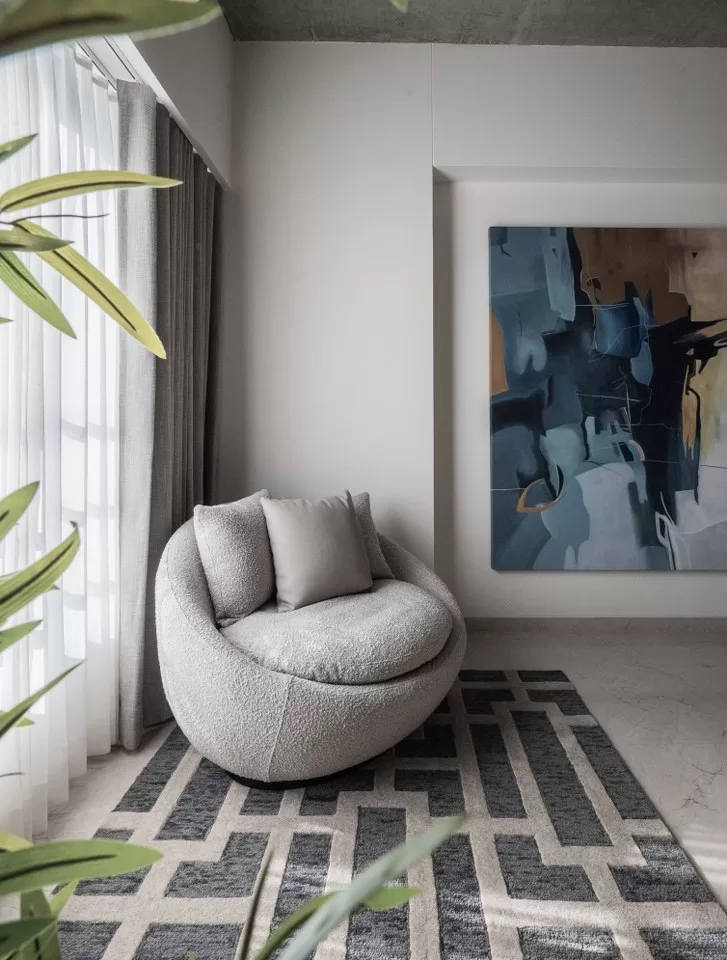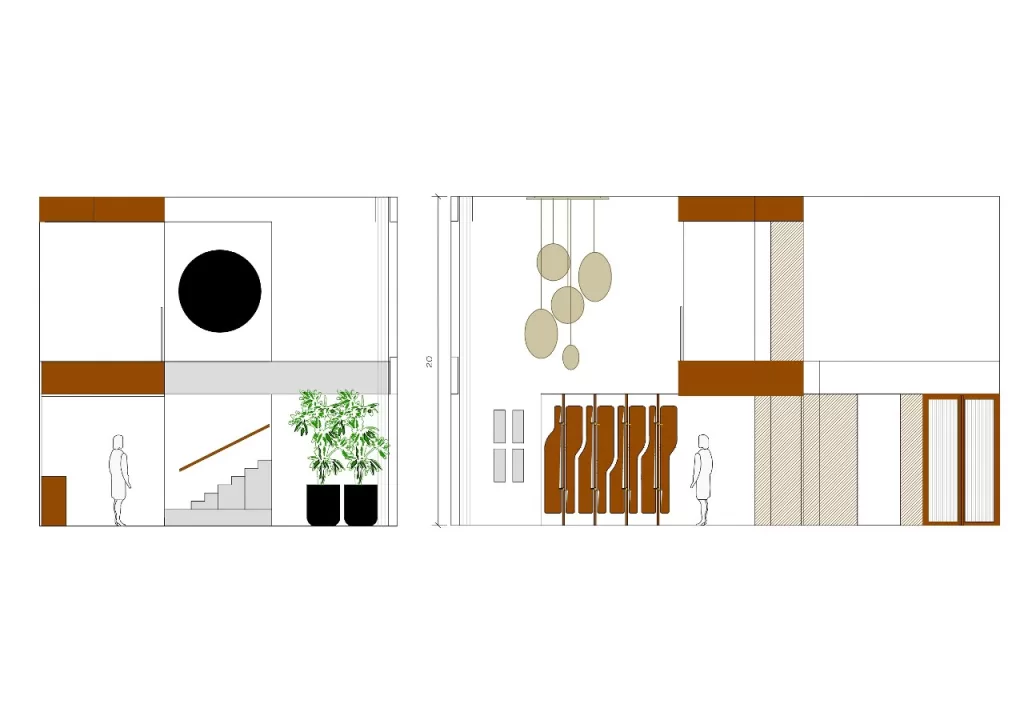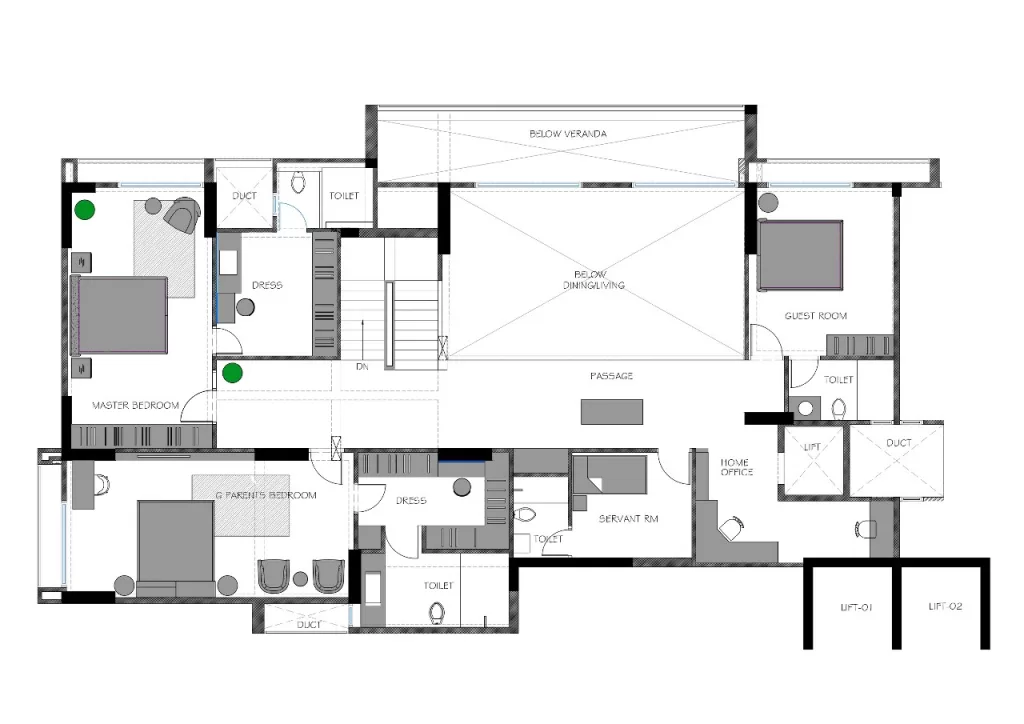 Fact File
Designed by: Anarr Gunjaria Interiors
Project Type: Residential Interior Design
Project Name: Riviera Elite
Location: Sky City Township Shela, Ahmedabad
Year Built: 2023
Duration of the project: 8 Months
Project Size: 5800 Sq.ft
Principal Architect: Anarr Gunjaria
Photograph Courtesy: Snehal Patel
Products / Materials / Vendors: Lighting – Prisa Lighting / Sanitaryware – Kohler / Furniture – Customized / Flooring – Beige italian marble from CMC, SIlvasa / Kitchen – La Vetta Cucina / Paint – Asian Paint / Artefacts – Locally sourced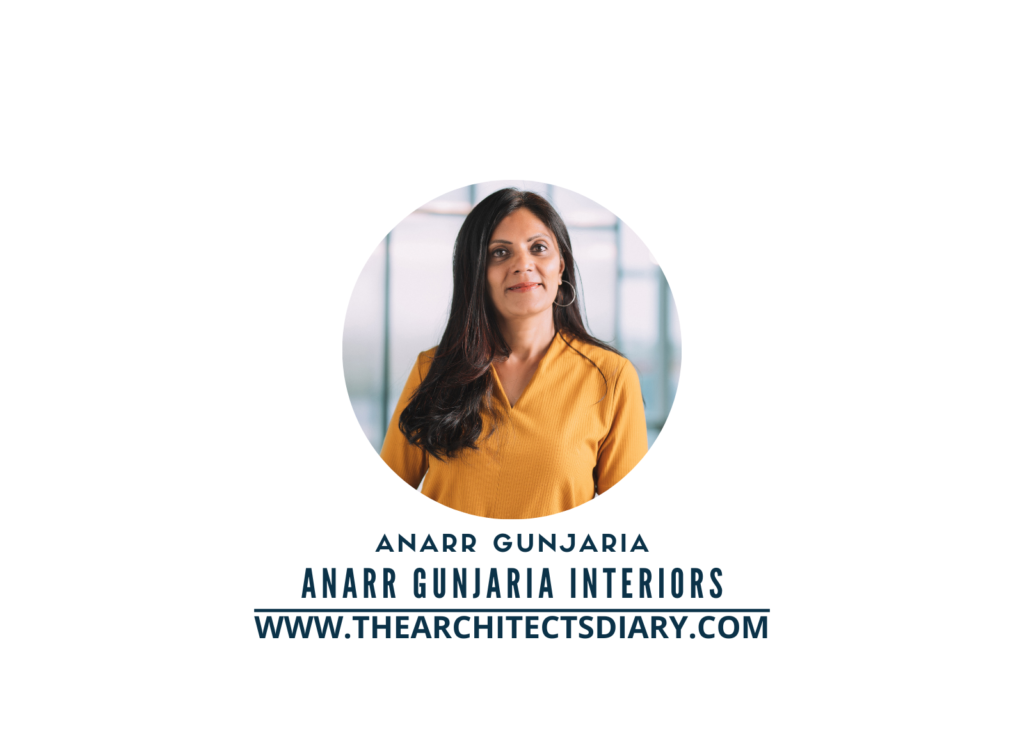 Firm's Instagram Link: Anarr Gunjaria Interiors
For Similar Projects >> A Home that is Modern but at the Same Time Feels Timeless With so Much Character to it
The post A 5800 sq.ft Triplex Apartment Design Concept Offering a Unique and Luxurious Living Experience | Anarr Gunjaria Interiors appeared first on The Architects Diary.