A 3BHK apartment design for a young NRI couple aspired for a celebrated Indian space when they visit India. A 1800 sq.ft space which is calm but at the same time it can be transformed into a place for celebration.
A 3BHK Apartment Design For A Young NRI Couple | i-con Architects & Urban Planners
VISIT : i-con Architects & Urban Planners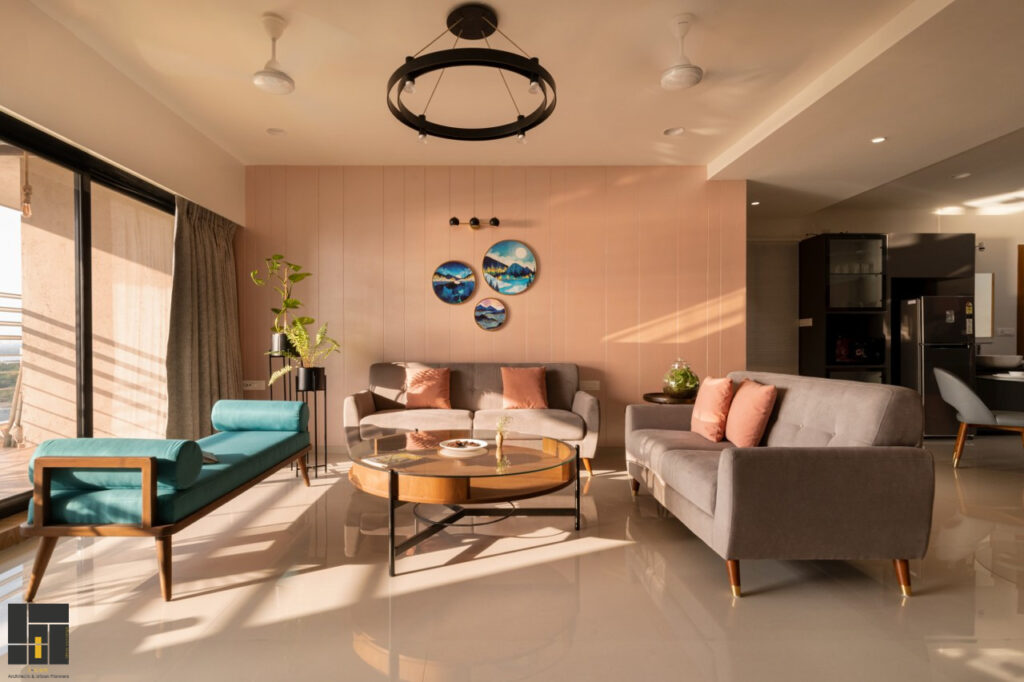 Deep lavish brown and grey furniture combined with light-hued wood sets as a statement style. The dining area consists of a wooden table with a glass top placed in the center surrounded by dark-toned grey chairs enhancing the area.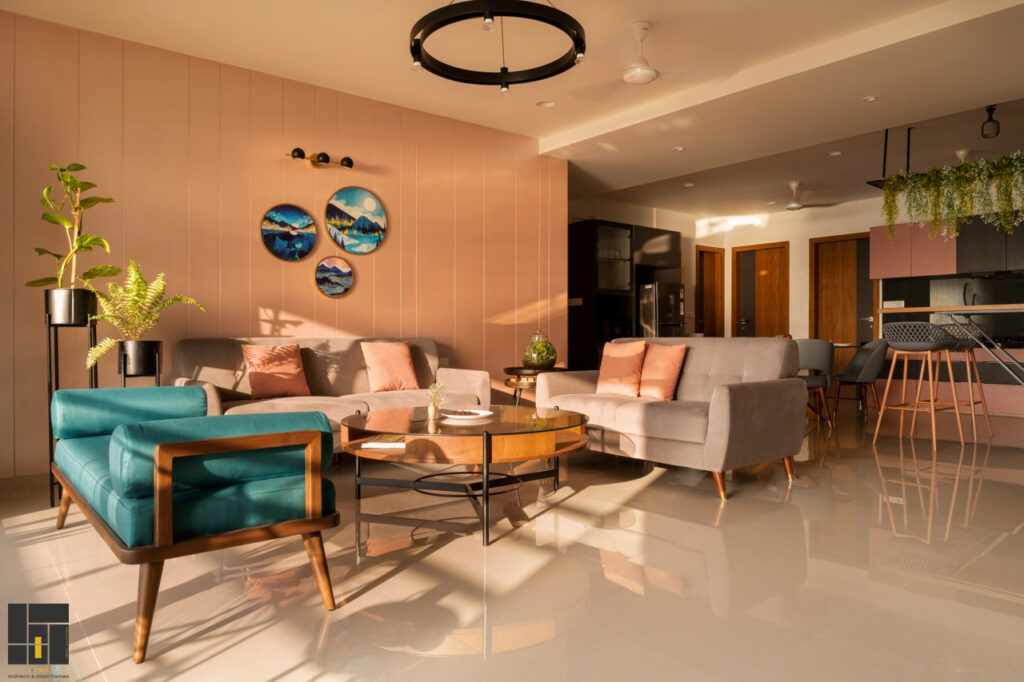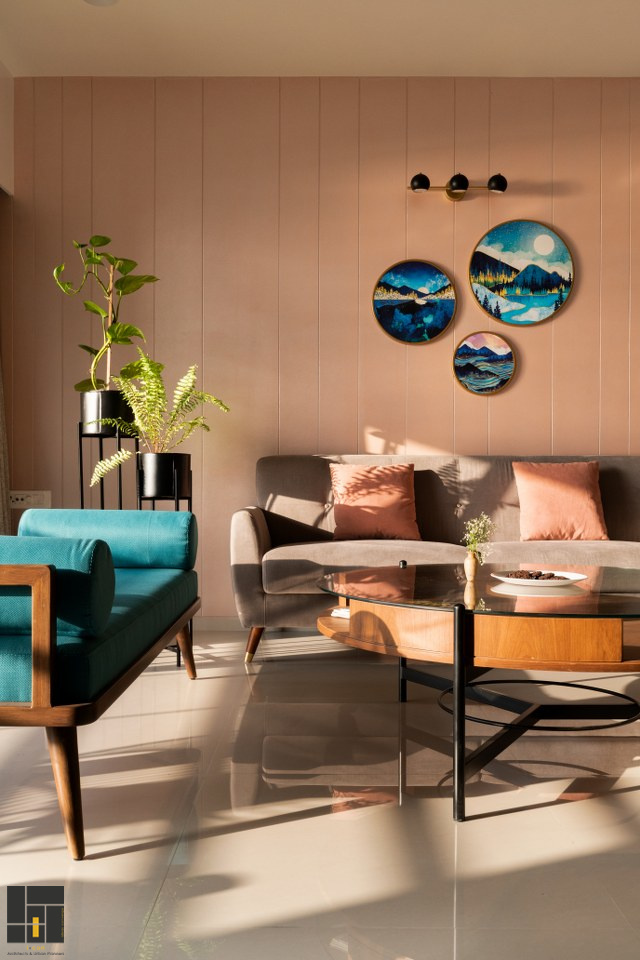 The walls are adorned with scenic art pieces, making the entire place cozy, comfortable, and organic. The touch of natural scenery paintings as art adds vibrancy to it and brightens up the place.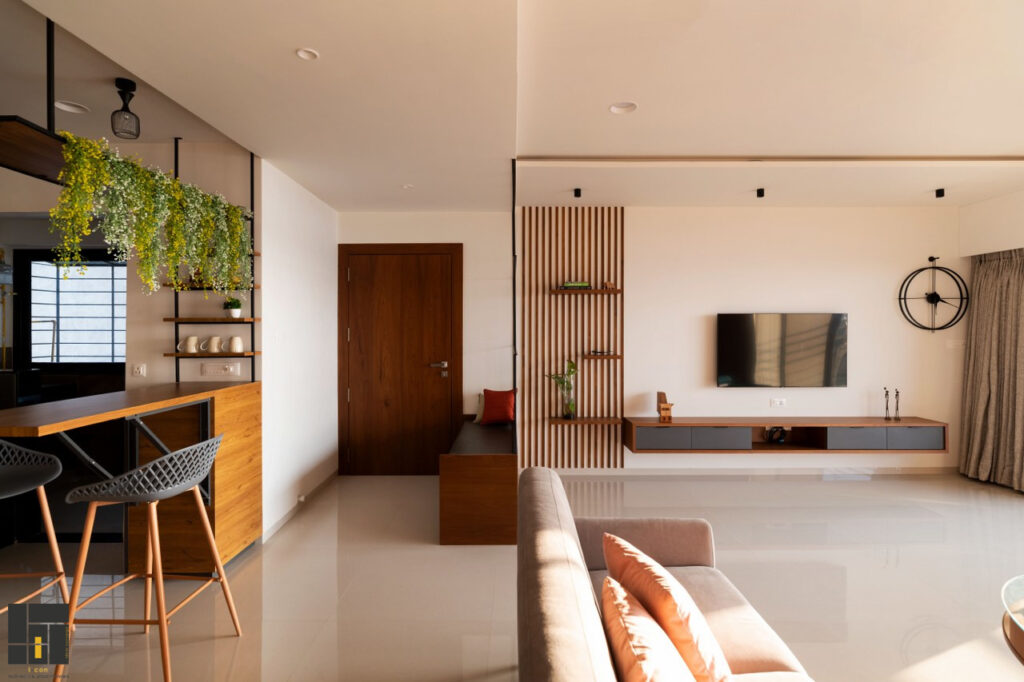 From the first visual perception, one might have a hint towards splendidly combined color palette with subtle furniture, and nature blending atmosphere gives away tropical vibes throughout the whole residence.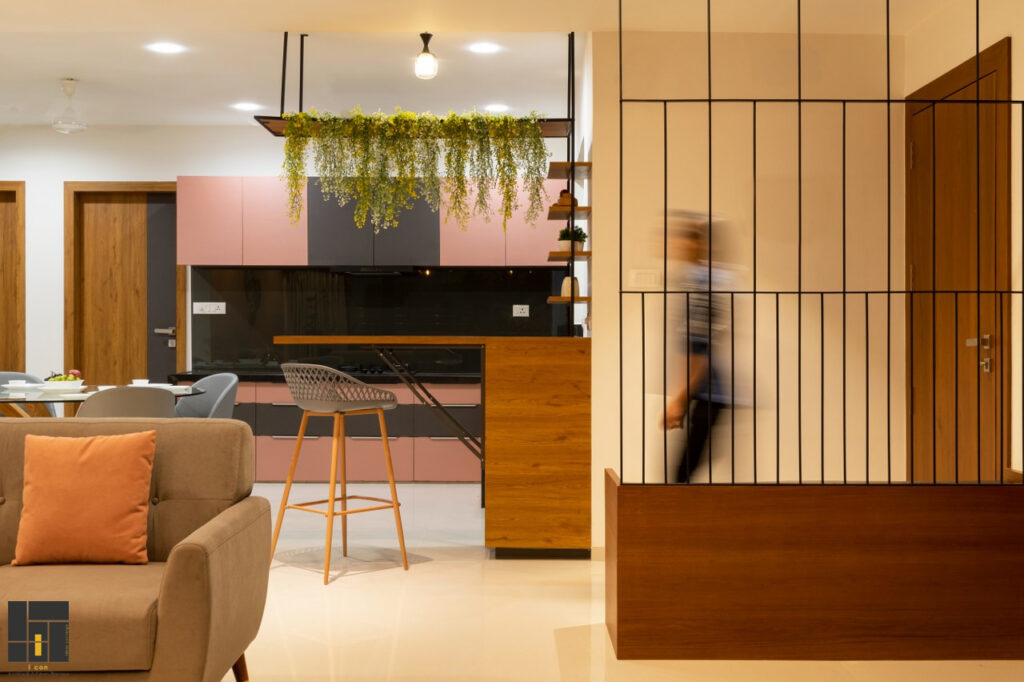 The modular kitchen area designed adjacent to it, follows the tropical peach color theme through the cabinets, fully equipped with modern kitchenware and appliances.
Built around the human experience, this residence expands spatial boundaries to structure light and environment around daily life. Nested on the river banks, the residence gets the opportunity for being cheerful and relaxing ambiance at the same time. This tropical residence utilizes modernist ideas to create open, picturesque places to live.
In the spans of the living area, the full floor-to-ceiling sliding doors create a pleasant thermal sensation and blur the division between interior and exterior. Natural elements like indoor plants and hanging plant veils bring in tropical vibes into the house.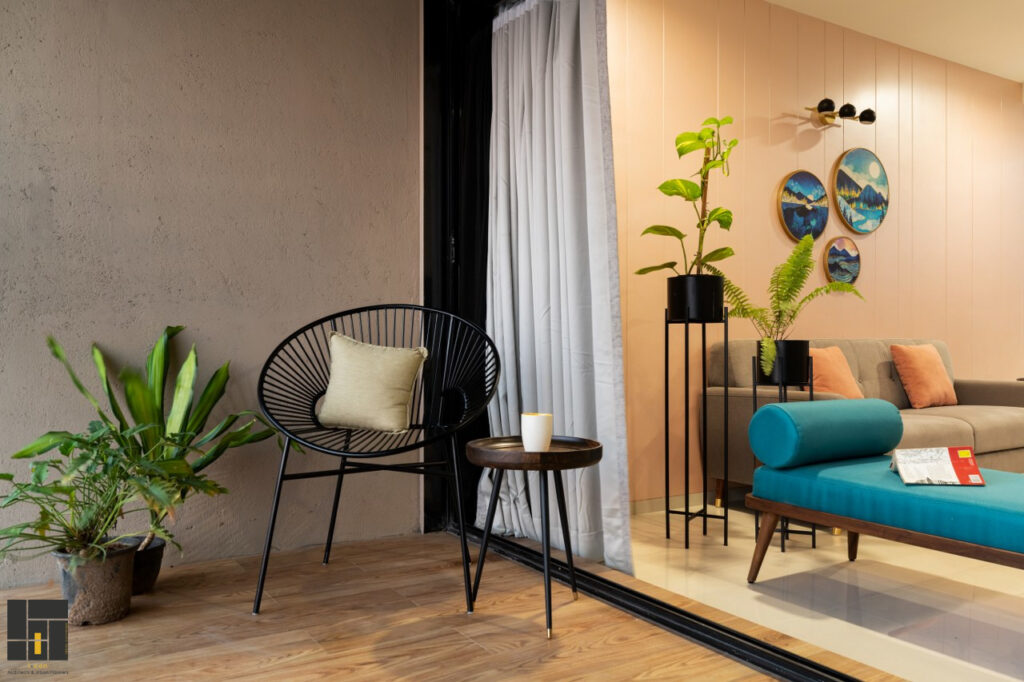 The admission of ample light into all parts of the house, illuminating the interiors to be as bright as the exterior, thereby creating a seamless experience of enjoying the various spaces and the respective moods that these spaces induce. The project illustrates spatial perception through timelessness, simplicity, and light.
At the very least a decked balcony running along the river-facing facade with a vertical garden and warm rustic rope hanging lights completes the tropical look.
This warm, welcoming balcony allows the users to spend quality time with their family with a magnificent view.
The more intimate bedrooms continue this haptic theme of having a light, airy feel with warm, cheerful, and sophisticated colors combined with complimentary blinds, tables, and dark-toned furniture, which meets the client's desire for rooms that are functional, and relaxed.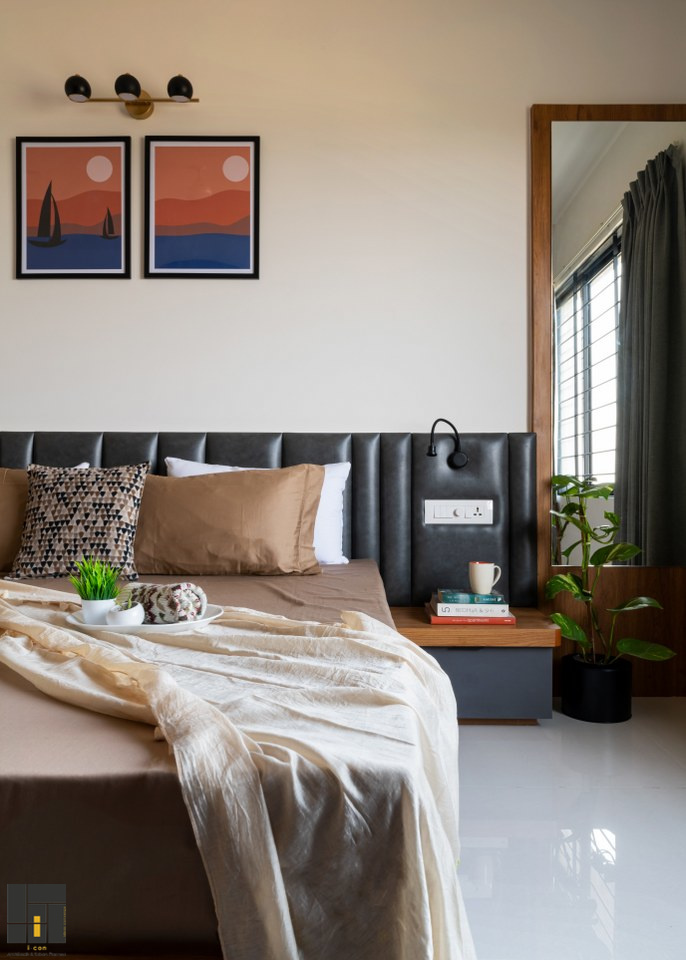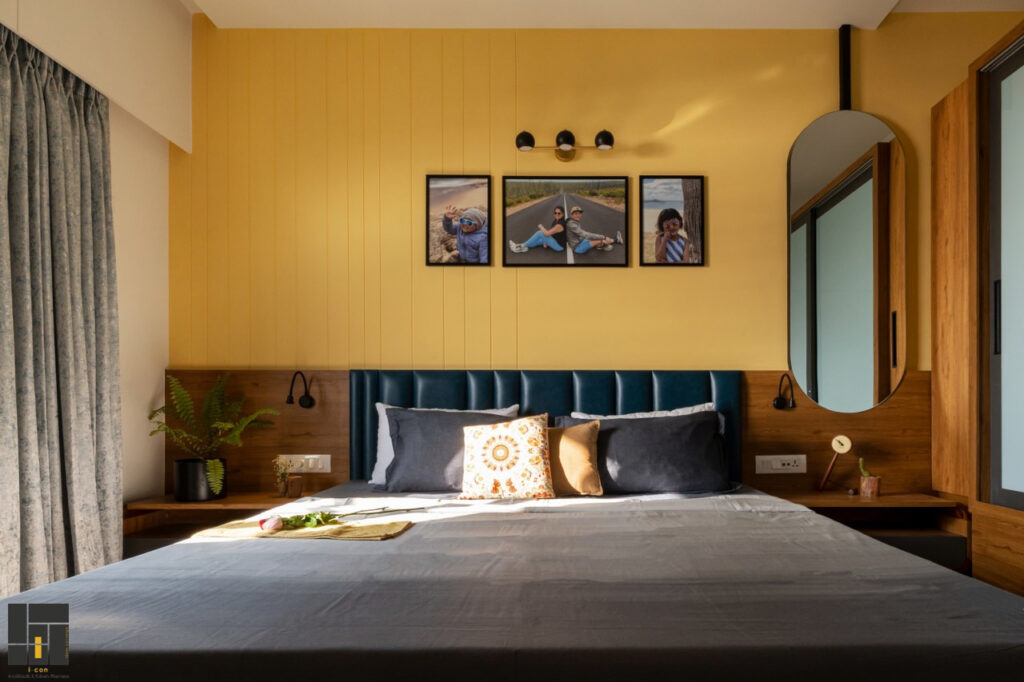 The walls adorned with beautiful paintings, photo frames, and other art pieces add more life to the home. The house is well-organized and efficient in terms of space, with defined zoning that allows for both family life and individual privacy.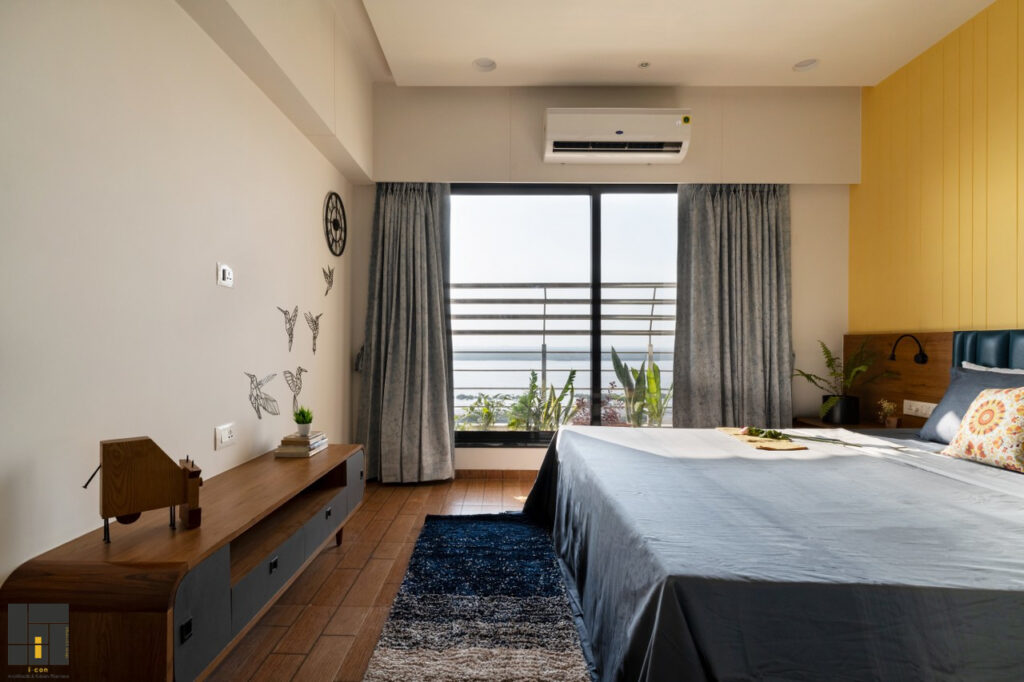 This house was created expressly to be a magnificent backdrop to this family's lives, integrating art, landscape, and natural comfort.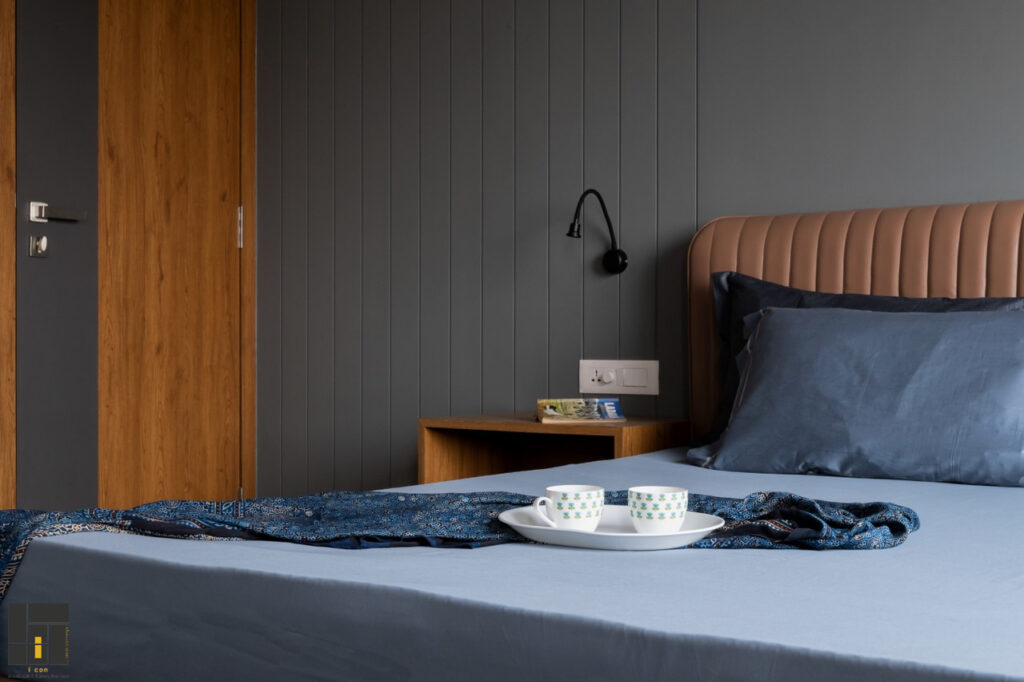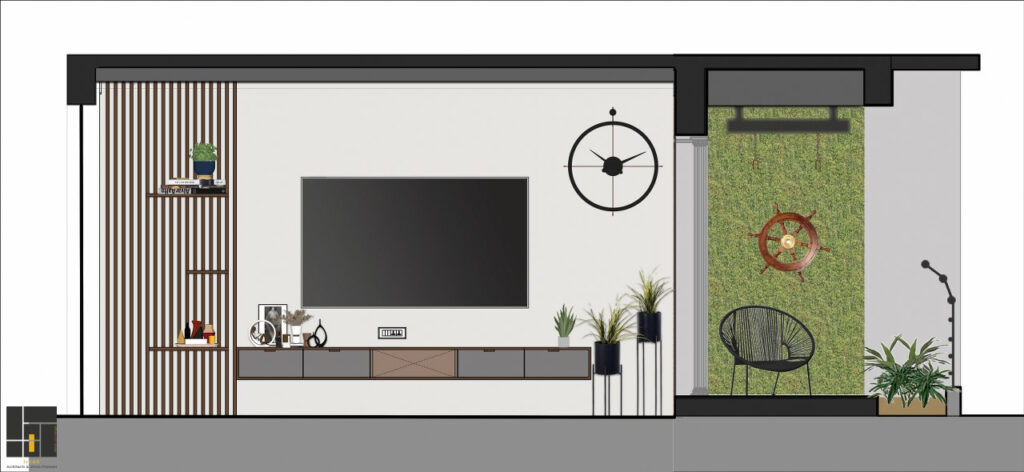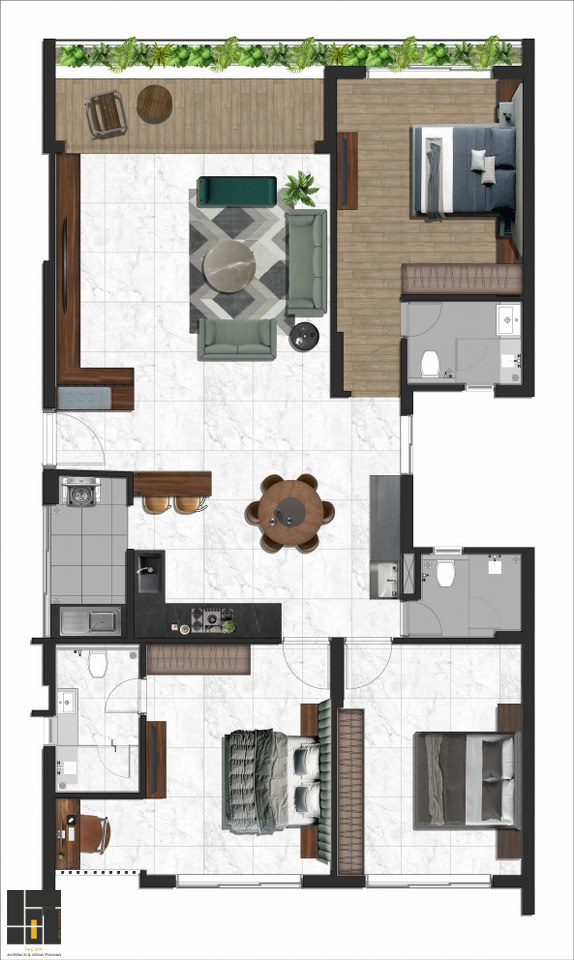 FACT FILE
Designed by : i-con Architects & Urban Planners
Project Type : Residential Interior
Project Name : B1/806 – Marion
Location : Surat, Gujarat
Year Built : 2022
Duration of project : 7 Months
Project Size : 1750 sq.ft
Project Cost : 35 LACS
Principal Architect : Vijal Desai Patel
Team Design Credits : Pratik Harappa, Amisha & Arjun
Photograph Courtesy : Studio 2.3
Products/Materials/Vendors : Furniture – Studio Conifur, Better Living / Artefacts – Best of Bharat, The Artment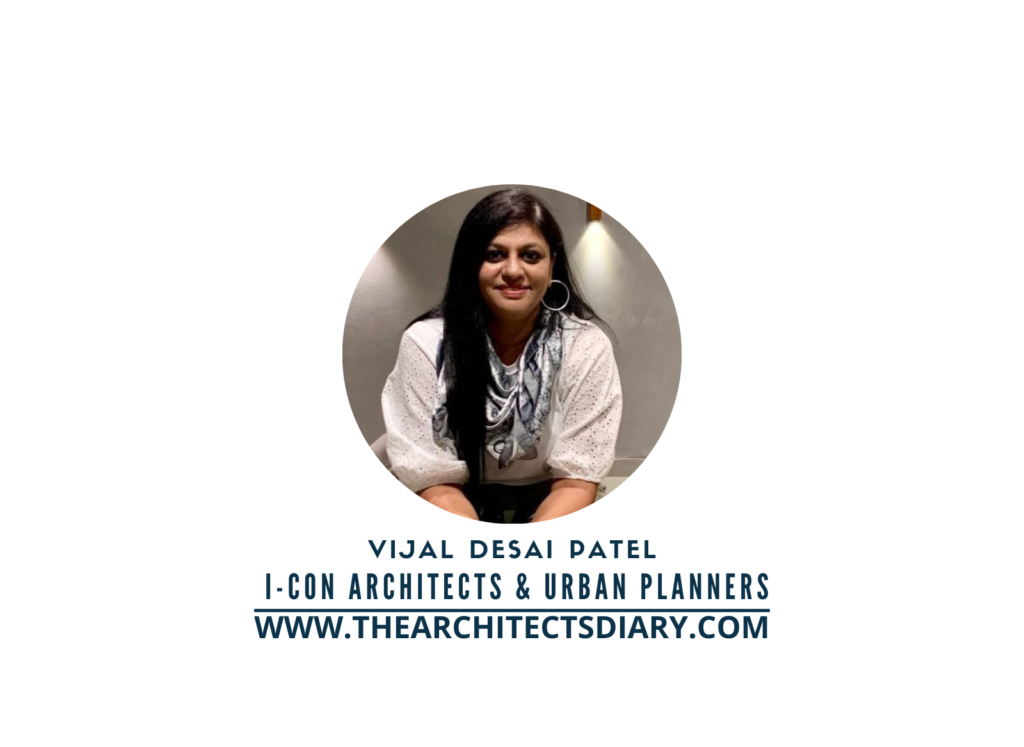 Firm's Website Link : i-con Architects & Urban Planners
Firm's Instagram Link : i-con Architects & Urban Planners
Firm's Facebook Link : i-con Architects & Urban Planners
For Similar Projects >> AN APARTMENT INTERIOR PROVIDING INVITING AND RELAXING AMBIANCE
The post A 3BHK Apartment Design For A Young NRI Couple | i-con Architects & Urban Planners appeared first on The Architects Diary.