Are you tired of constantly paying high energy bills? Are you looking for a way to reduce your environmental footprint? Look no further than solar panels for home! Solar power is becoming increasingly popular and for a good reason. With the incredible advances in technology, it's no wonder that an increasing number of people are turning to this renewable power source for their home energy needs. Installing these panels at home offers many rewards, from significant savings on electricity costs to greater self-sufficiency. In this blog post, we'll explore 7 fascinating benefits of installing solar panels at home and why you should strongly consider switching!
Benefits Of Installing Solar Panels At Home
1. Reduce Energy Costs
One of the benefits of installing solar panels is reducing energy costs. Installing solar panels in your home can significantly reduce your energy costs. These panels harness the sun's power and convert it into electricity, which can be used to power your home. This means you can rely less on traditional energy sources, such as fossil fuels, and more on renewable energy sources.
With saving your money on energy bills, solar panels are also an environmentally-friendly option. By installing solar panels, you are helping reduce your CO2 footprint and contributing to a cleaner, greener future. Plus, with technological advancements, solar panels are becoming more efficient and affordable than ever, making them a wise investment for any homeowner looking to save money and do their part for the planet.
2. Energy Independence
Generating your energy through solar power gives you greater energy independence. You are no longer reliant on the grid or vulnerable to power outages and blackouts. In addition, solar power systems can be designed to store excess energy for later use, ensuring uninterrupted power in emergencies.
3. Lower Environmental Impact
Installing renewable energy sources such as solar power can significantly reduce your carbon footprint. Solar power is a clean and renewable energy source that emits fewer greenhouse gases and pollutants than traditional energy sources. By generating your energy, you can help reduce the demand for fossil fuels, which have a significant environmental impact.
4. Reliable and Durable
Solar panels are built to last for years, with many panels having 25 years or more warranties. They are also incredibly reliable and can withstand extreme weather conditions like wind, hail, and snow. With proper maintenance, solar panels can provide reliable energy for decades, making them a reliable investment for homeowners.
5. Easy Maintenance
Solar panels do not require high maintenance, making them a hassle-free investment for homeowners. Simply cleaning your solar panels once or twice a year can keep them operating efficiently. Plus, since solar panels have no moving parts, there is less wear and tear and a lower risk of malfunctions.
6. Increase Home Value
Solar panel technology has advanced significantly recently, making it a practical and cost-effective solution for homeowners who wish to reduce their carbon footprint while saving on monthly energy bills. Installing solar panels not only saves you money but can also increase the home value of your home.
As per a research by the National Renewable Energy Laboratory, homes with solar panels sell at a premium compared to those without them. Additionally, buyers are willing to pay more for energy-efficient and sustainable homes. Thus, apart from the environmental and financial benefits, investing in solar panels can be a smart move for homeowners who want to boost the value of their property.
7. Financial Incentives
Many states offer financial incentives such as tax credits and rebates to encourage the installation of solar panels. In addition, the federal government offers a solar investment tax credit, which can reduce the cost of installation by up to 26%. These incentives can significantly reduce the installation cost and make it even more affordable for homeowners.
Things To Keep In Mind When Installing Solar Panels At Home
1. Check your roof's condition
Before installing solar panels, it's important to ensure your roof is in good condition. A damaged or weak roof can affect the installation and may need to be repaired or replaced beforehand. A thorough roof inspection will identify any issues that may interfere with the solar panel installation and help determine the placement and orientation of the panels.
2. Understand the orientation and angle of the solar panels
To get the most out of your solar panels, they must be installed correctly. The orientation and angle of the panels will affect their efficiency and how much energy they can produce. Your installer can guide you on the ideal angle to install the panels. South-facing roofs are ideal in the northern hemisphere, as they receive the most sunlight throughout the day.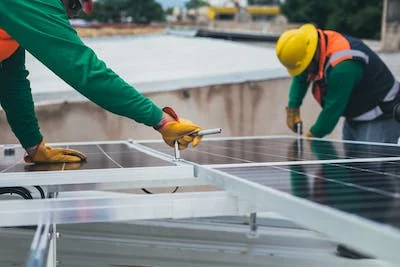 3. Research the right solar panels for your home
Different types of solar panels are available, and it's important to research what type will work best for your home. Efficiency, durability, and warranty should be considered when choosing panels. Your home's size and energy usage will also determine how many panels you'll need to install.
4. Understand local regulations and incentives
Solar panels are a long-term investment, and knowing any local regulations and incentives is important. Some states offer tax credits or rebates for homeowners who install solar panels, which can help offset the installation cost. Your installer can provide you with more detailed information on this.
5. Pick the right installer
Solar panel installation is a complex process, and choosing a qualified and experienced installer is important. Look for licensed and certified installers with a track record of successful installations. You can also ask for references and read reviews to ensure you choose a reputable installer who will provide quality work.
Conclusion
With numerous financial incentives and the rising popularity of renewable energy, there has never been a better time to consider solar power for your home. Overall, installing these panels at home offers a wide range of benefits, from saving money on energy bills and increasing home value to reducing your carbon footprint and increasing energy independence. So, investing in solar panels today is the first step towards a more sustainable future.
The post 7 Fascinating Benefits Of Installing Solar Panels At Home appeared first on The Architects Diary.