The idea was to give an open floor plan without any visual barriers. The space has a clean layout and appears even larger due to natural light in the house. Each space has different mood board yet some common material palate to create an overall language. This 4bhk contemporary home with diverse material palette is an abode designed for a family of 5 including 2 couples and a beautiful baby girl.
4bhk Contemporary Home With Diverse Material Palette | Studio Trillium
VISIT : Studio Trillium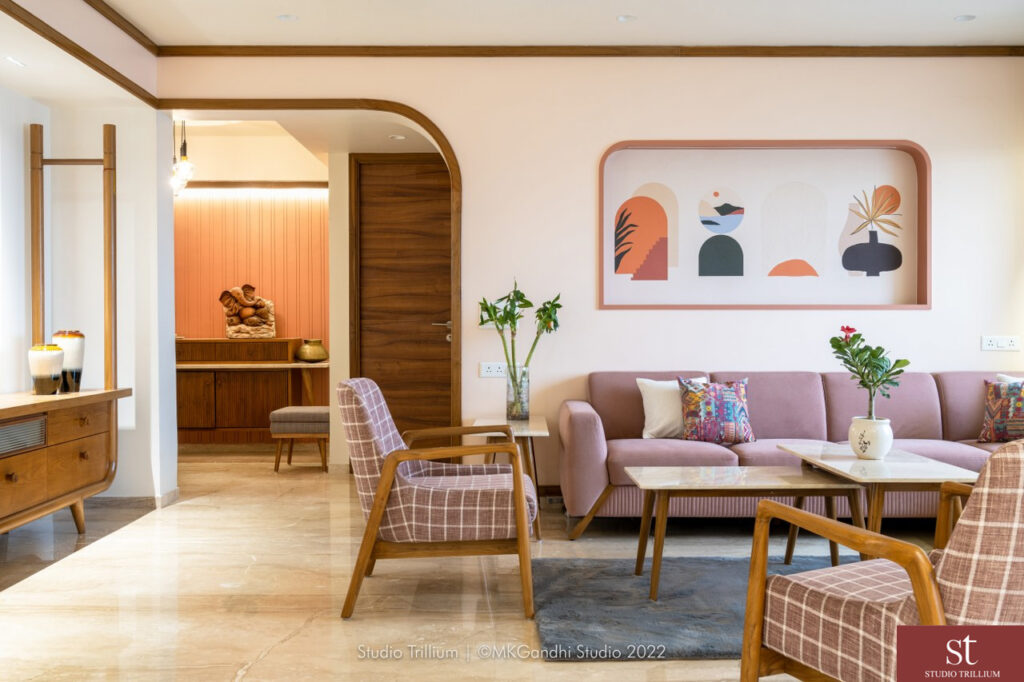 The beautiful couple briefed us in the beginning only that "we want to use solid wood in the house, as wood is a contemporary material". Keeping this material in the lead we started thinking about all other materials.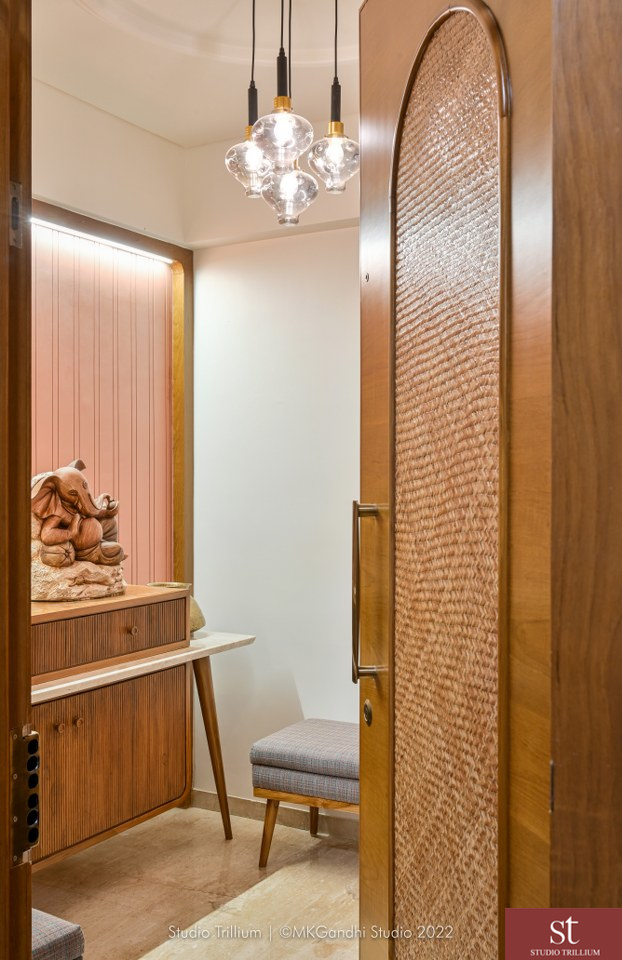 In every space we have used solid wood in the different forms like flute panels, poles, dining base, handles etc. Using Acrylic sheet in every room with wooden louvers in some or the other way has created an over-all concept for the house.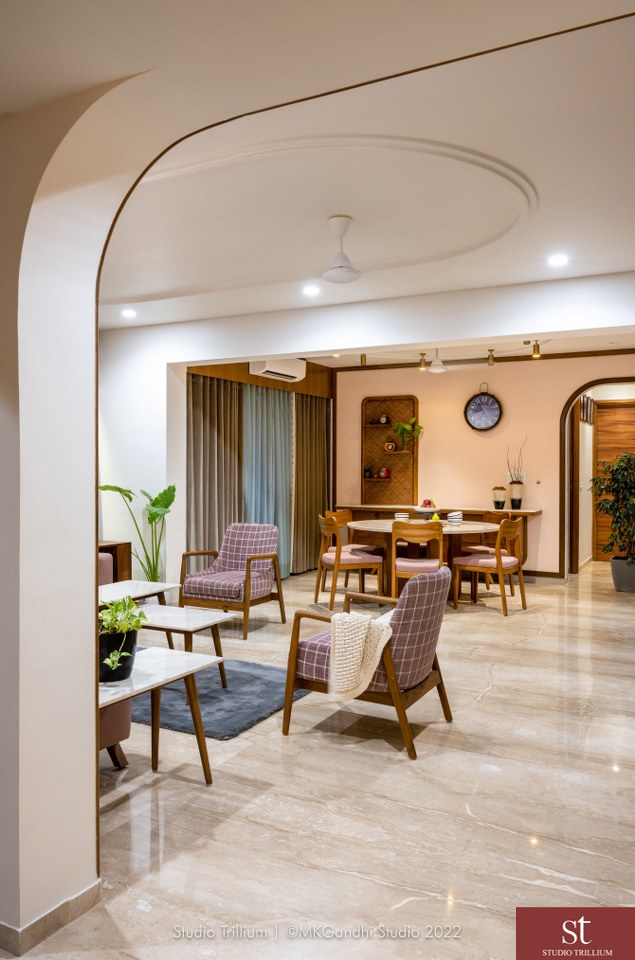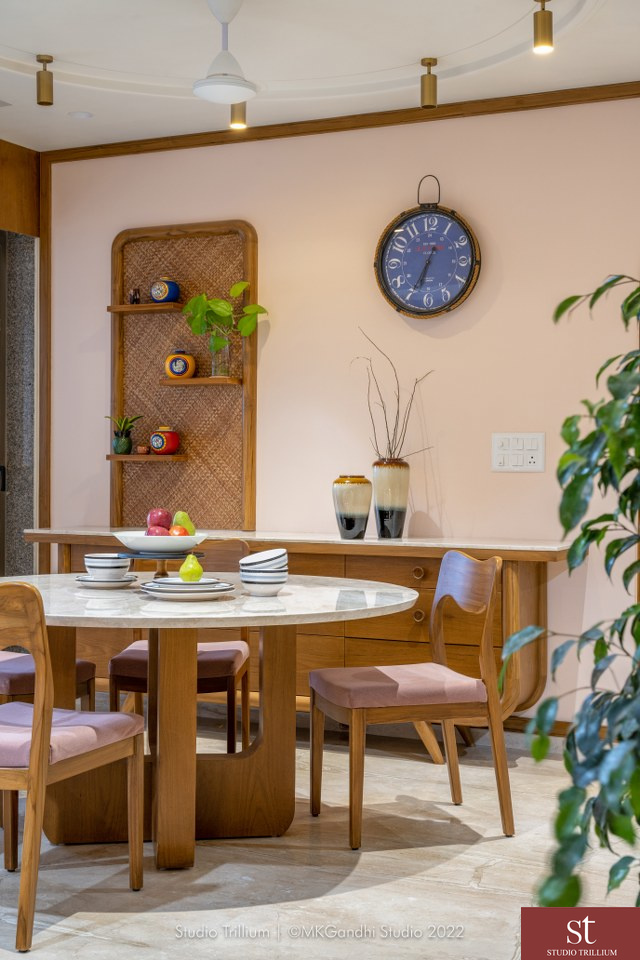 Plain white ceiling with white curved moulding gives the house a good volume. Subtle colours in the spaces makes them feel bigger than they are.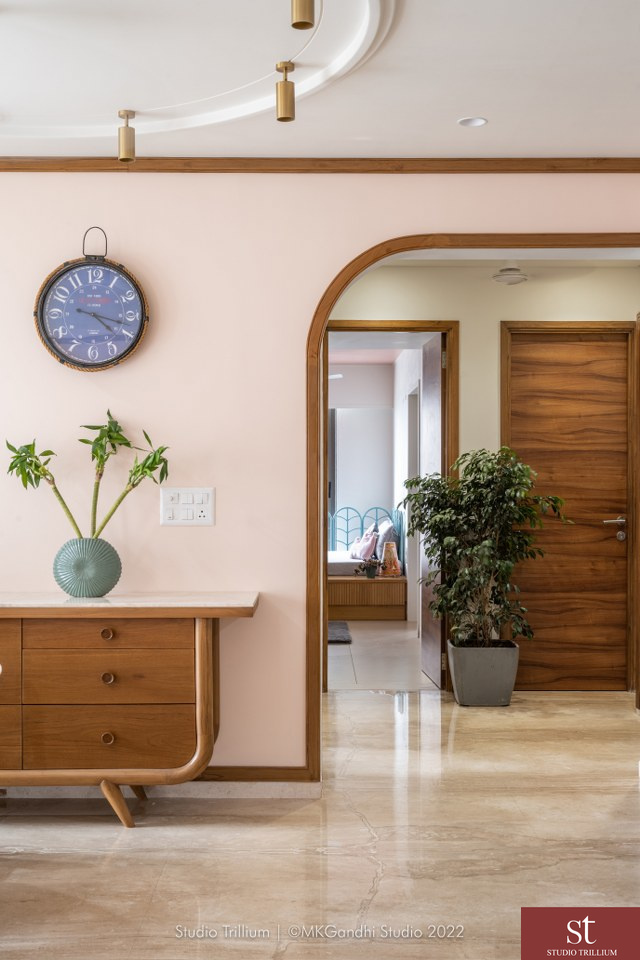 The main challenge was to combine two bedrooms in a way so that parent's do get their privacy as well as kid also doesn't feel alone in the room.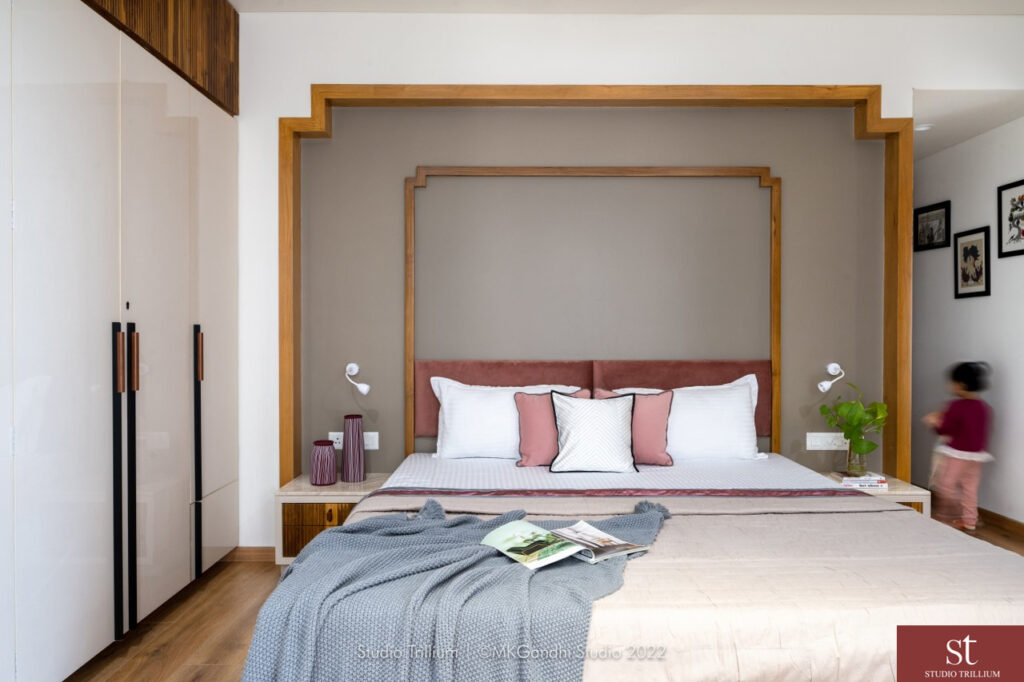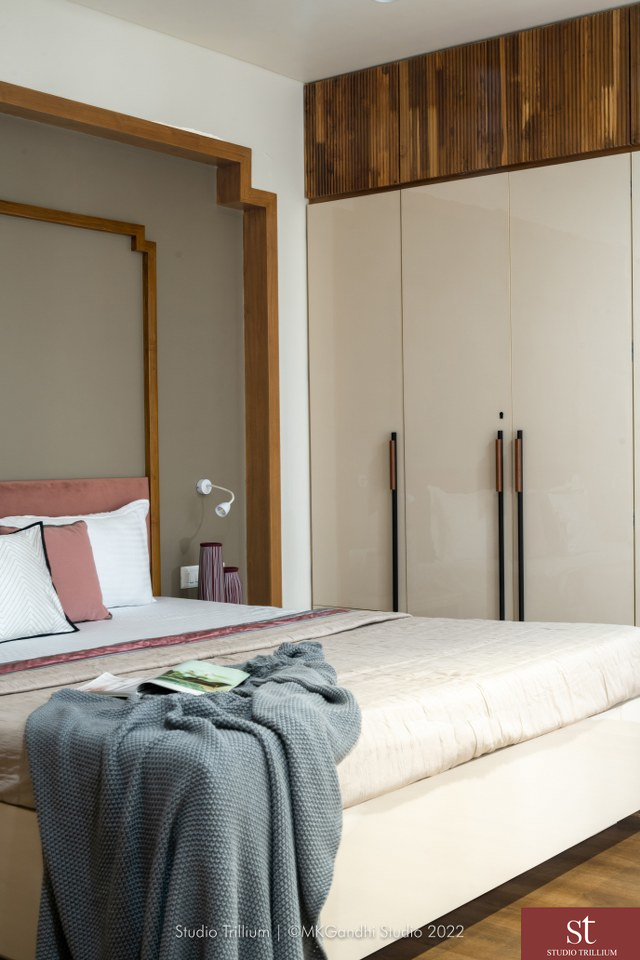 Creating a solid sliding door with wooden louvers on the side and a white board on the other side makes it look different and yet very functional design.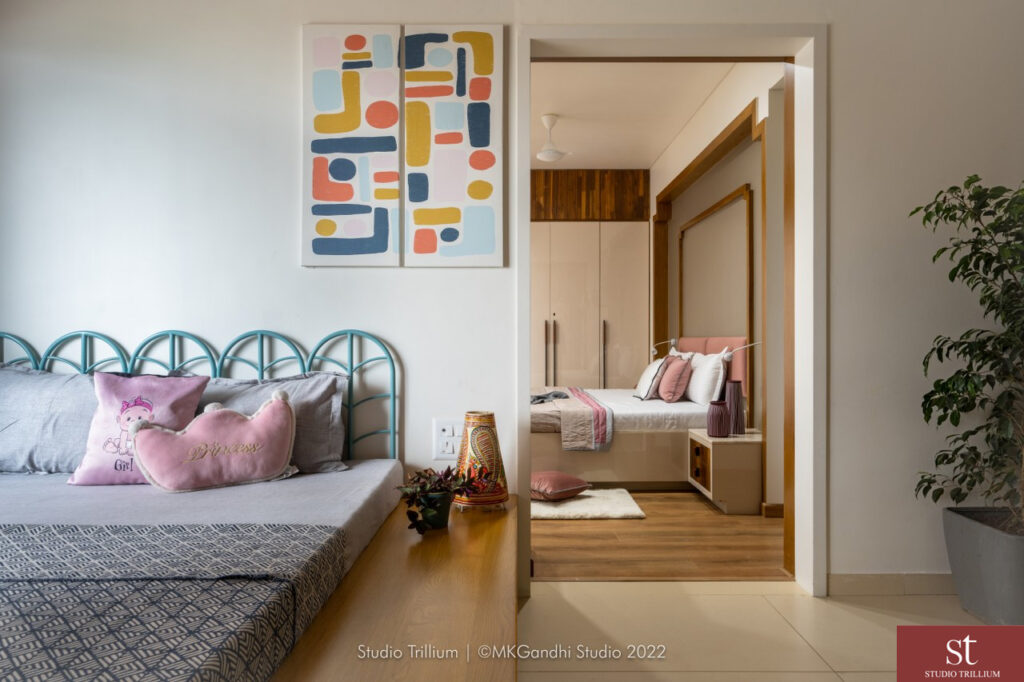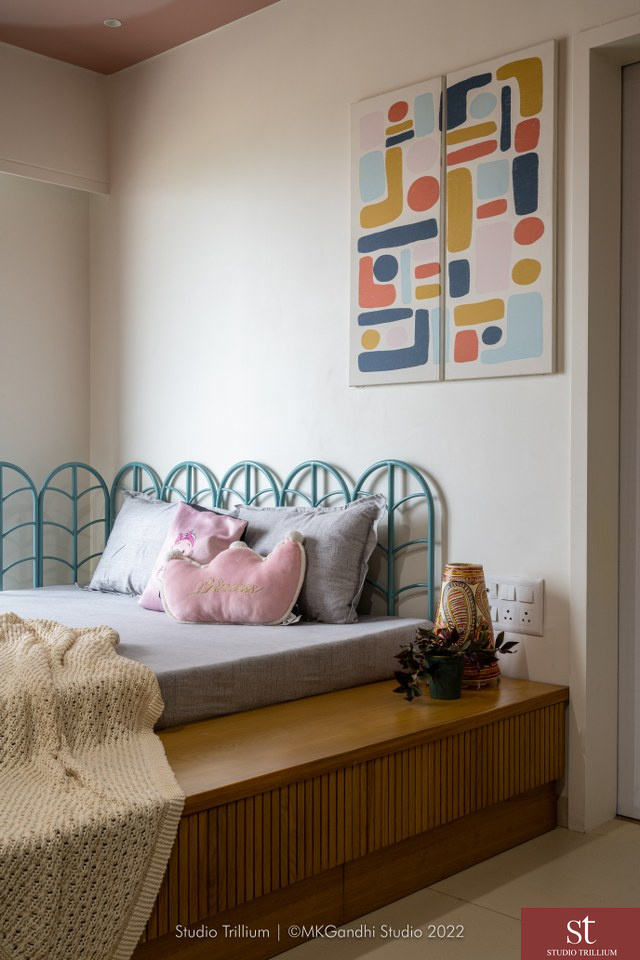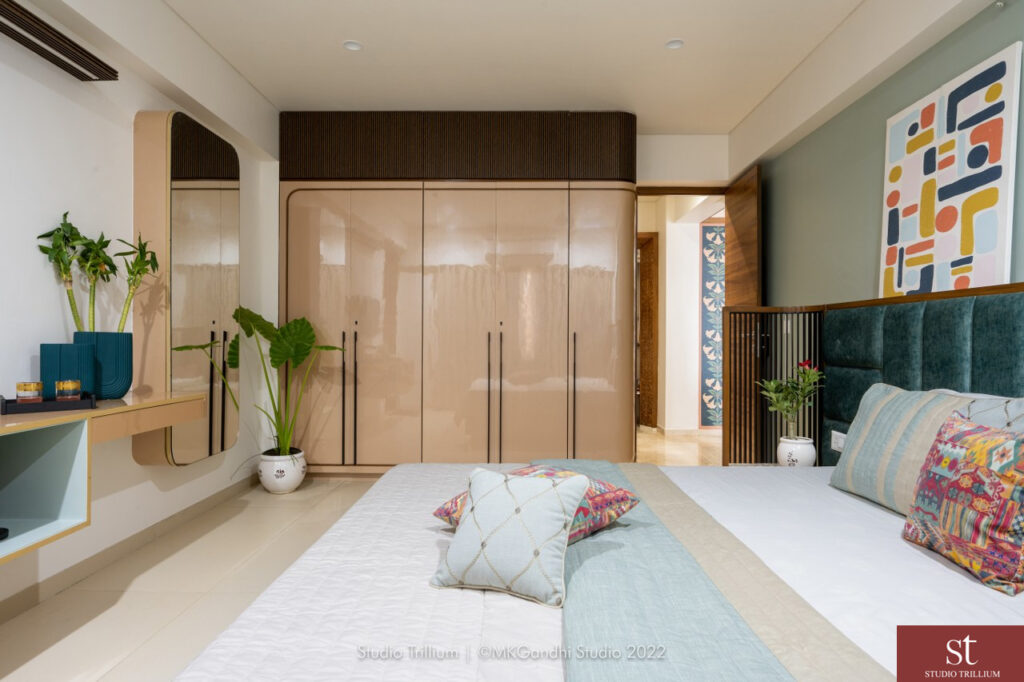 According to the baby girl she wanted her "own space", so to reach to her expectations the wardrobes in the daughter's room are designed in a such way that all the drawers are below and easily accessible.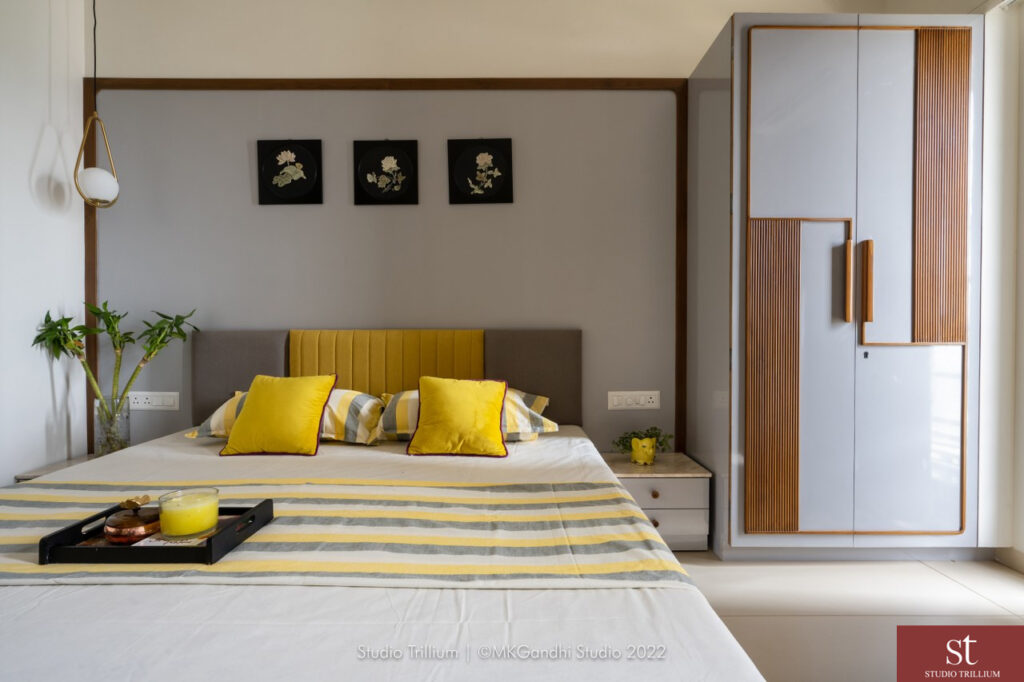 FACT FILE

Designed by : Studio Trillium
Project Type : Residential Interiors
Project Name : Khetan's Residence
Location : Ahmedabad
Year Built : 2022
Duration of the project : 4 months
Project Size : 3,600 sq.ft
Project Cost : Between 33 – 35 lakhs
Principal Designers : Stutie Joshhi & Deepa Agrawal
Team Design Credits : Pankti Soni
Photograph Courtesy : Murtaza Gandhi
Products / Materials / Vendors : Finishes – Winston Plywood & Veneer / Wallcovering / Cladding – Winston Plywood & Veneer / Lighting – Prisha lights / Doors and Partitions – inmobel / Sanitaryware – Cera / Furniture – Panchali Plywood / Flooring – Italian marble , Wooden flooring / Kitchen – inmobel Paint – Asian paints / Artefacts – Ratios / Wallpaper – Amin's wallpaper / Hardware – Hettich.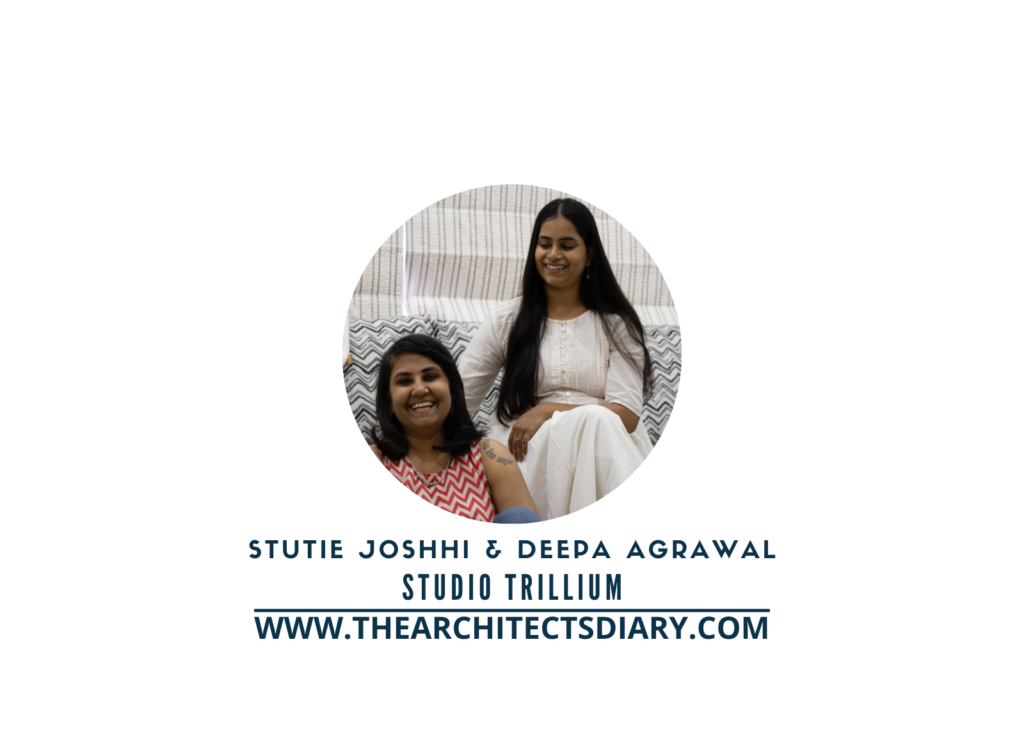 Firm's Website Link : Studio Trillium
Firm's Instagram Link : Studio Trillium
Firm's Facebook Link : Studio Trillium
For Similar Projects >> RESIDENTIAL INTERIOR WITH MODERN DESIGN AND ANTIQUE ARTIFACTS
The post 4bhk Contemporary Home With Diverse Material Palette | Studio Trillium appeared first on The Architects Diary.