An army family experiences long separation, frequent moves but portrays strong character. Here was a family of 5 which had come together in Hyderabad and bought a spatial 3BHK in one of Aparna Community. The son after a short stint in the Army is working with an MNC while the father retired from the Army and was involved in social cause. A beautiful complete family with a lovely grandson.
3BHK Modern Home Design In Hyderabad | Rhythm Design Studio by Surabhi
visit : Rhythm Design Studio by Surabhi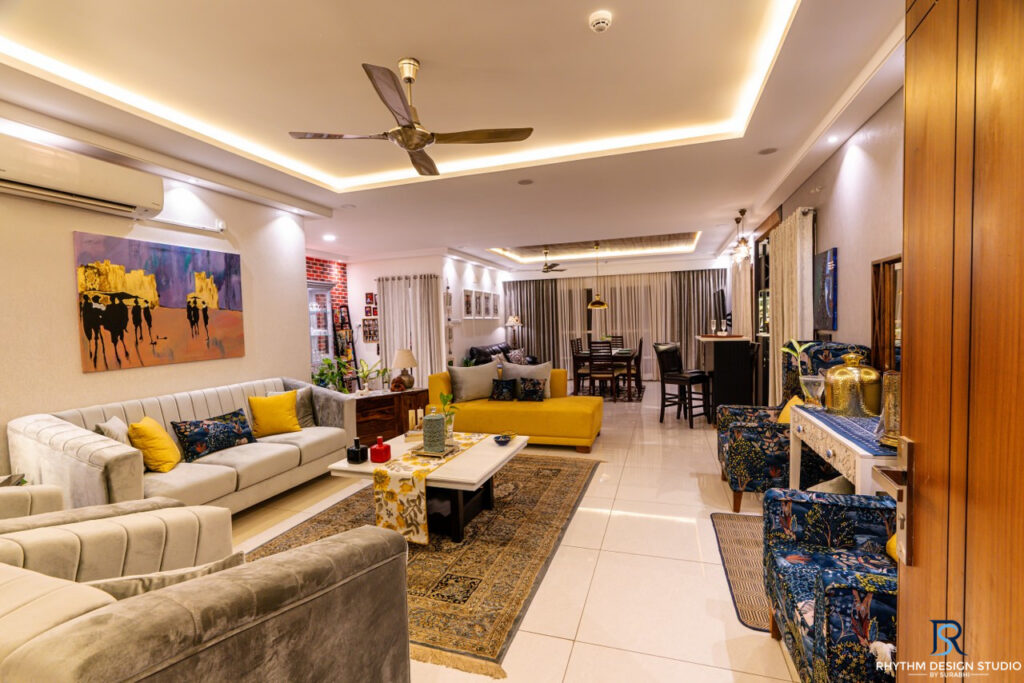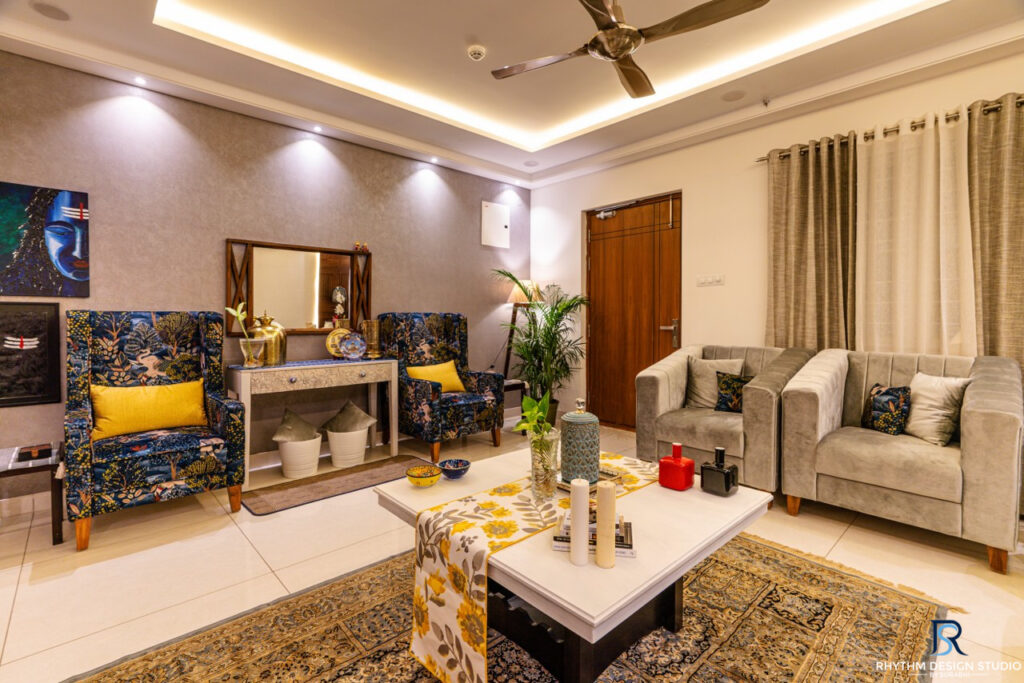 The colour palette for the entire house has been kept brown and grey with small highlight in Blue added by Accent chairs right near the entrance.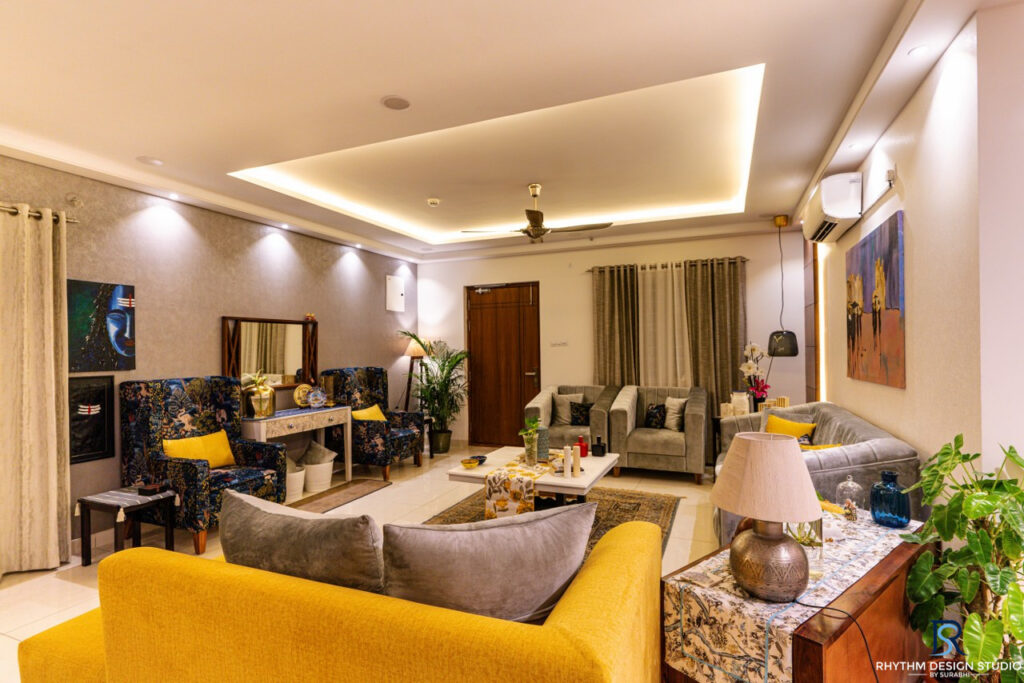 The best part and the most challenging part of this 3bhk modern home design in Hyderabad was, everyone had an independent but divergent view. The client wanted a contemporary interior with absolutely well utilized spaces and our job was cut out to get everyone on the same page.
The USP of this Project is synchronizing each element of the drawing and living room. We made a trimetric design encompassing a hand made Italian crockery in subtle grey diametrically opposite to a royal blue bar unit and an imposing earthy Veneer ceiling right above the dining table. Just the perfect place to unwind.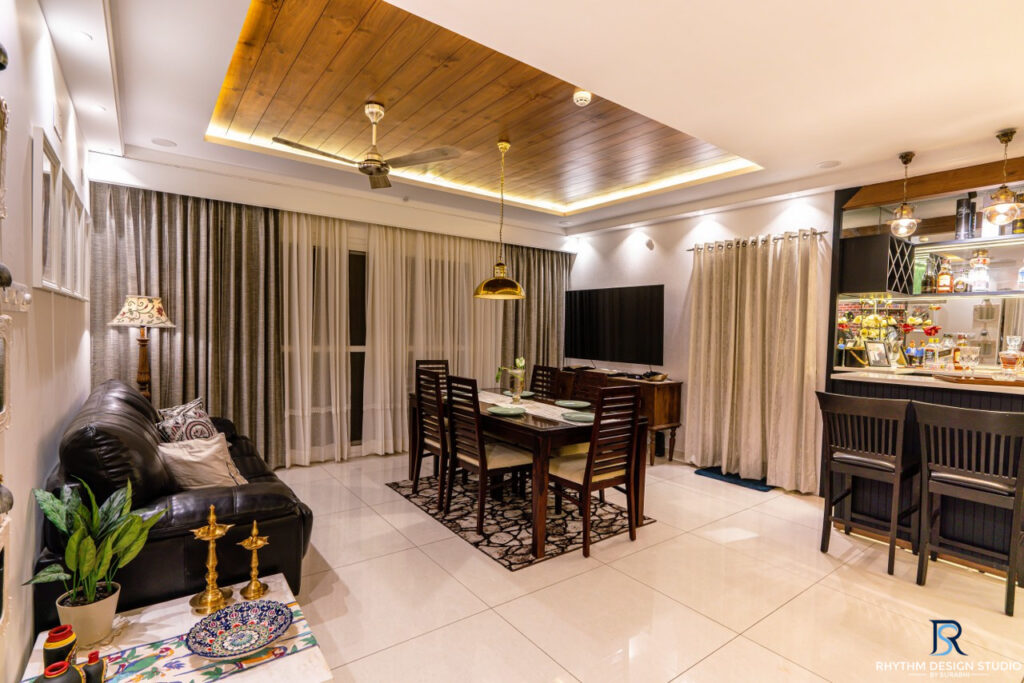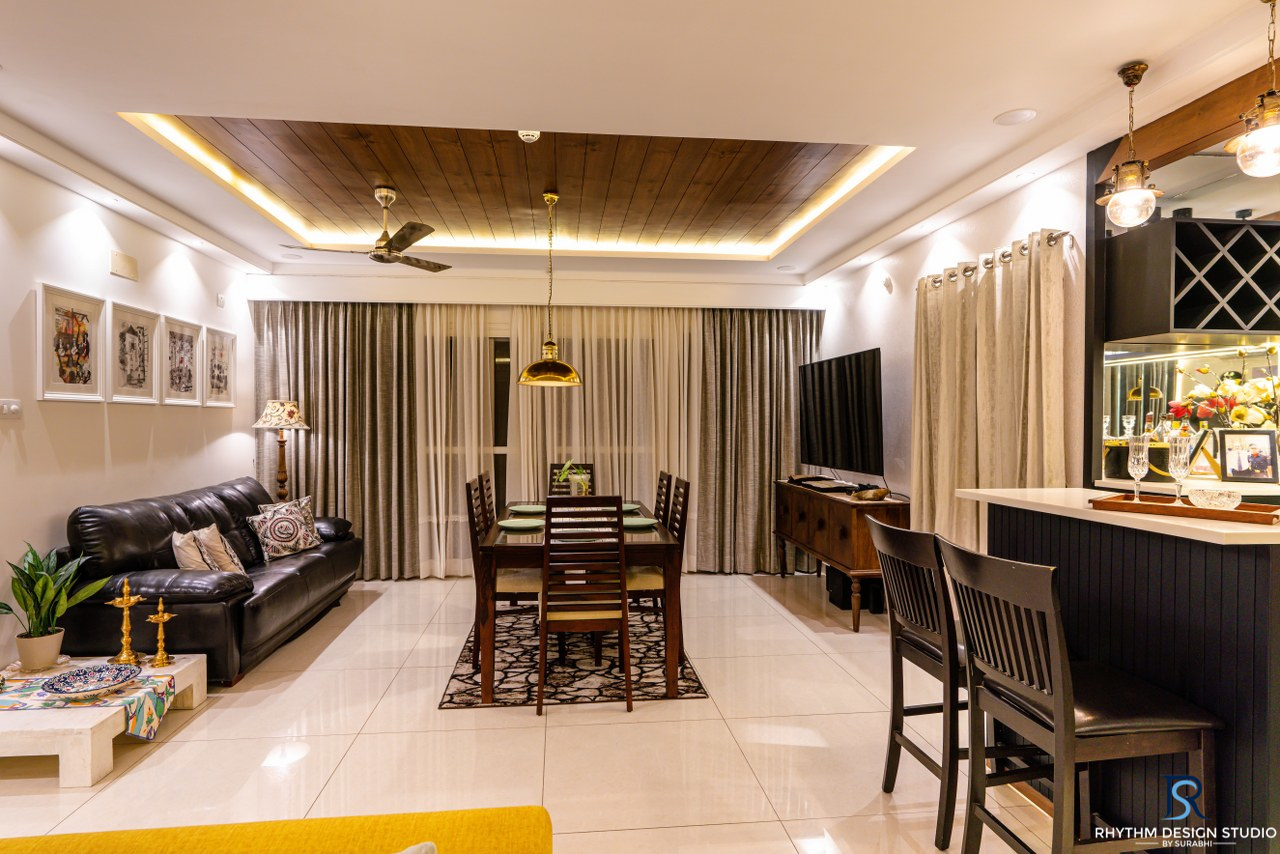 The planning of the drawing and living spaces was interesting, right at the center of a hall is a space for Pooja where client wanted a Bar unit and we still required a place for the Crockery and a small Pooja unit.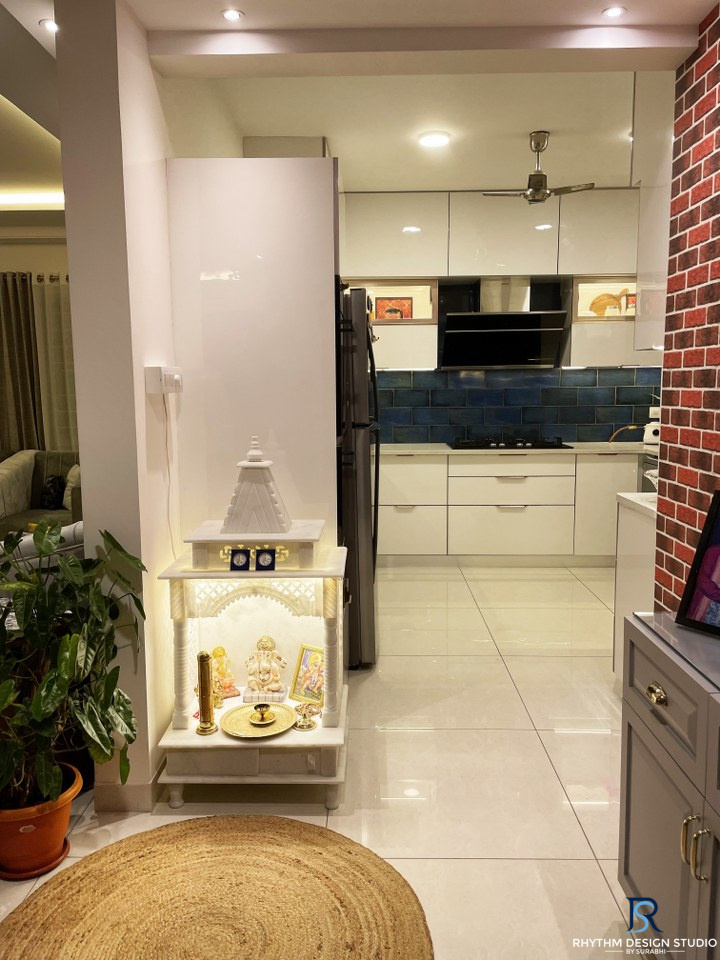 We started with where Women spent most of the time, The Kitchen they wanted good optimization of space, lots of storage and a dishwasher embedded within the kitchen. Unlike abroad (due to size and quality of waste) most homes in Hyderabad, India keep the dishwasher outside in the utility space.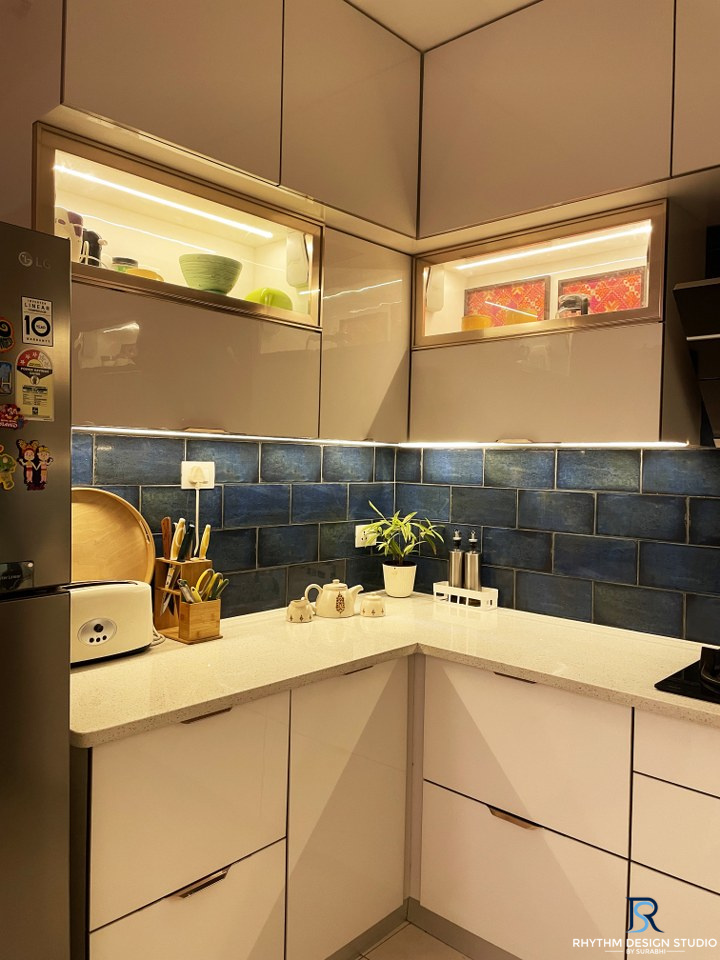 This required a lot of planning and absolute accurate measurement of the lower units and also plumbing changes in the kitchen. The kitchen had less sunlight hence we kept the kitchen bright with White and added blue backslash.
A 3 bedroom apartment designed in a contemporary style with an Indian touch created with wide use of natural Veneer contrasted with the elegance of White and shades of Grey.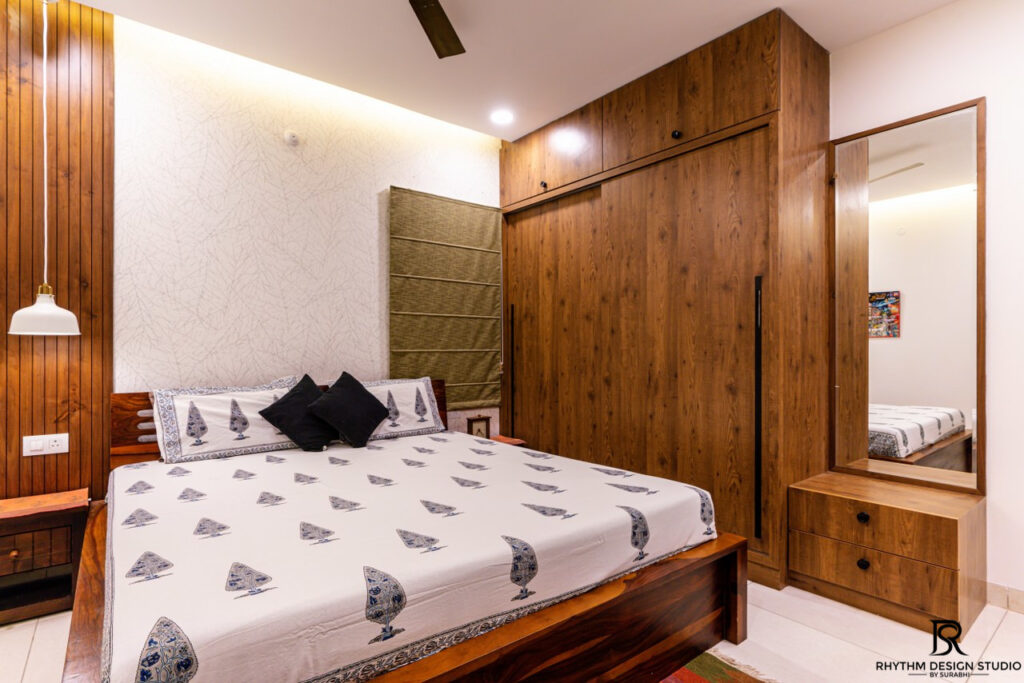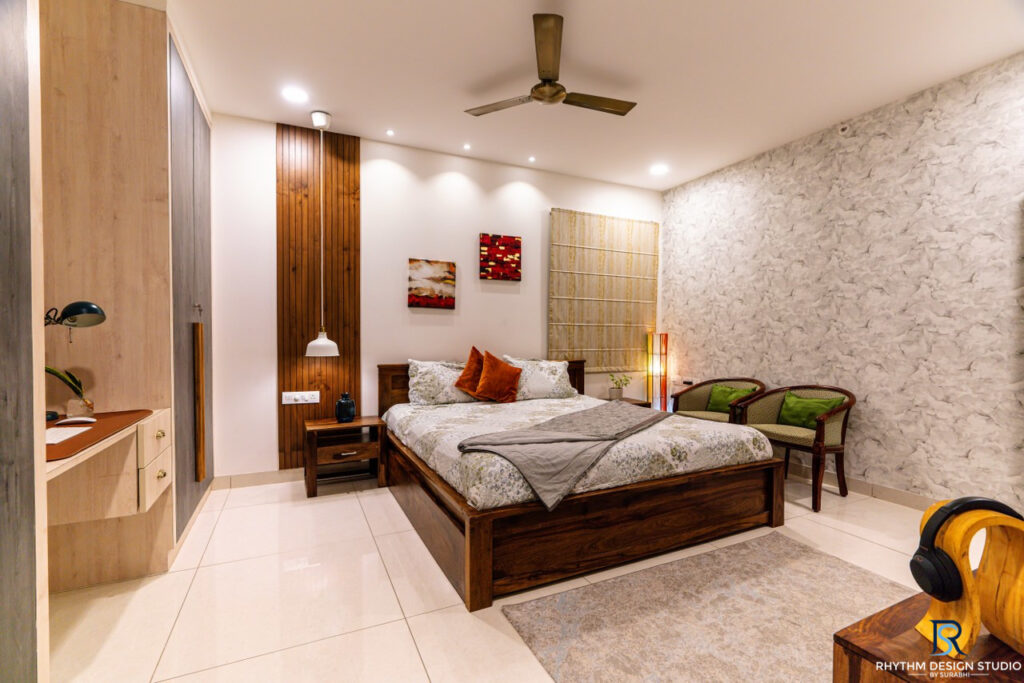 The Master bedroom is designed with two separate floor to ceiling wardrobes highlighted with handmade polished handles, the walk in closet houses a well-lit up dressing unit and a wardrobe designed in mirror finish giving a sense of more space making it look immense.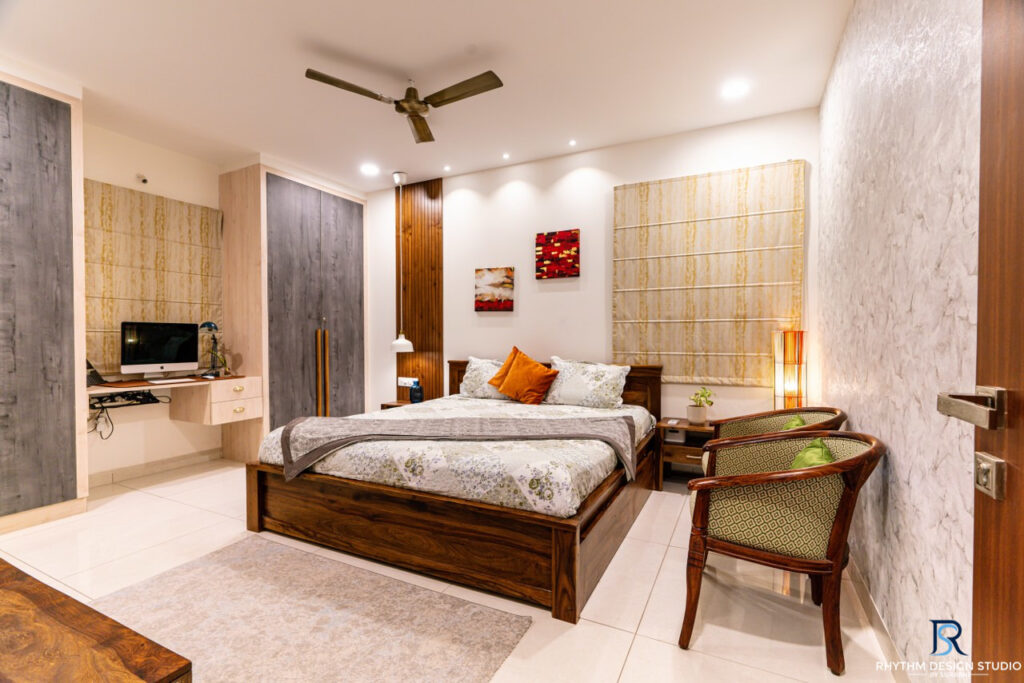 The kids room was something we always enjoy doing playing with colours making it vibrant, functional and yet have space to move around and play.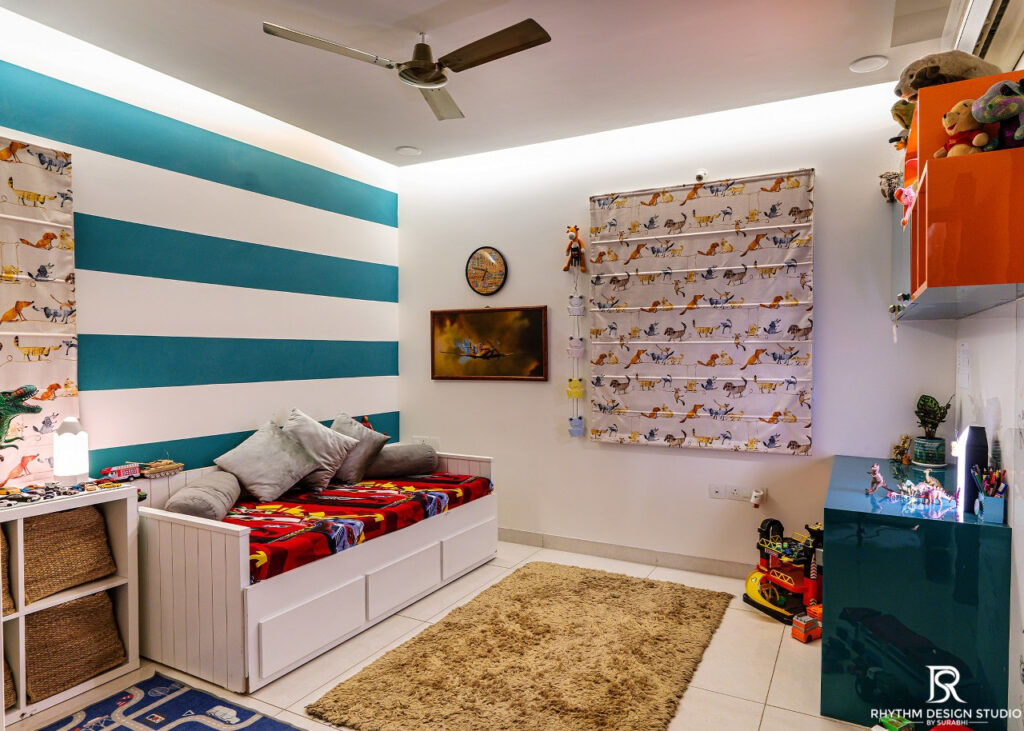 We worked on with Acrylic material and used white combined with green and orange. We made use of wall colours using horizontal patterns to make the room bigger.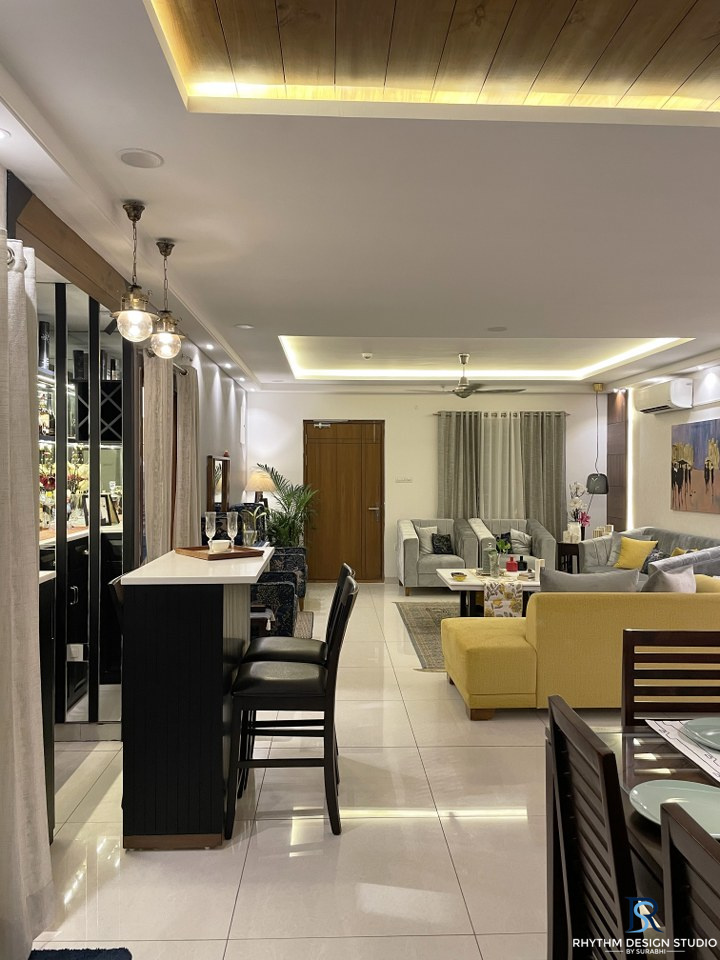 FACT FILE
Designed by : Rhythm Design Studio by Surabhi
Project Type : Residential Interior
Project Name : Aparna Sarovar Zenith, Hyderabad
Location : Hyderabad
Year Built : 2022
Duration of the project : 3 months
Project Size : 2300 sq.ft
Principal Designer : Ms. Surabhi Gupta
Photograph Courtesy : Rhythm Design Studio by Surabhi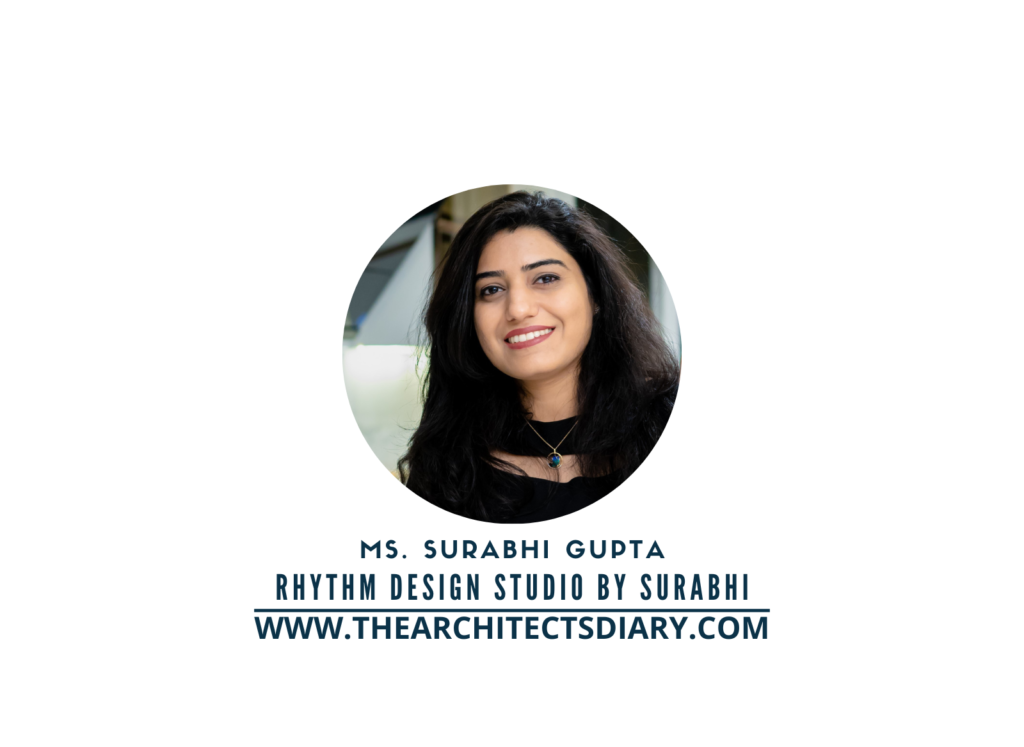 Firm's Instagram Link : Rhythm Design Studio by Surabhi
Firm's Facebook Link : Rhythm Design Studio by Surabhi
For Similar Projects >> THE SHAH'S APARTMENT EXHIBITS ELEGANCE, LAVISHNESS AND MODERNIST FEATURES
The post 3BHK Modern Home Design In Hyderabad | Rhythm Design Studio by Surabhi appeared first on The Architects Diary.