360 feet design studio, Founder and Principal Designer Pratik shah, artistically shaped this 2BHK minimal yet luxurious residence inspired by natural elements and shapes. This home is a flawless balance of simplicity and indulgence.
The design features curves, uncluttered surfaces, and a neutral colour palette, creating a sense of calm and serenity. But despite the simplicity, the interiors are sparse. It features high-quality materials creating a sense of sophisticated and refinement. Statement piece of furniture elevates the space and adds a touch of highlight shade. The interiors create a peaceful, sophisticated environment that is both beautiful and functional.
2BHK Minimal Yet Luxurious Residence Inspired By Natural Elements And Shapes | 360 Feet Design
Visit : 360 Feet Design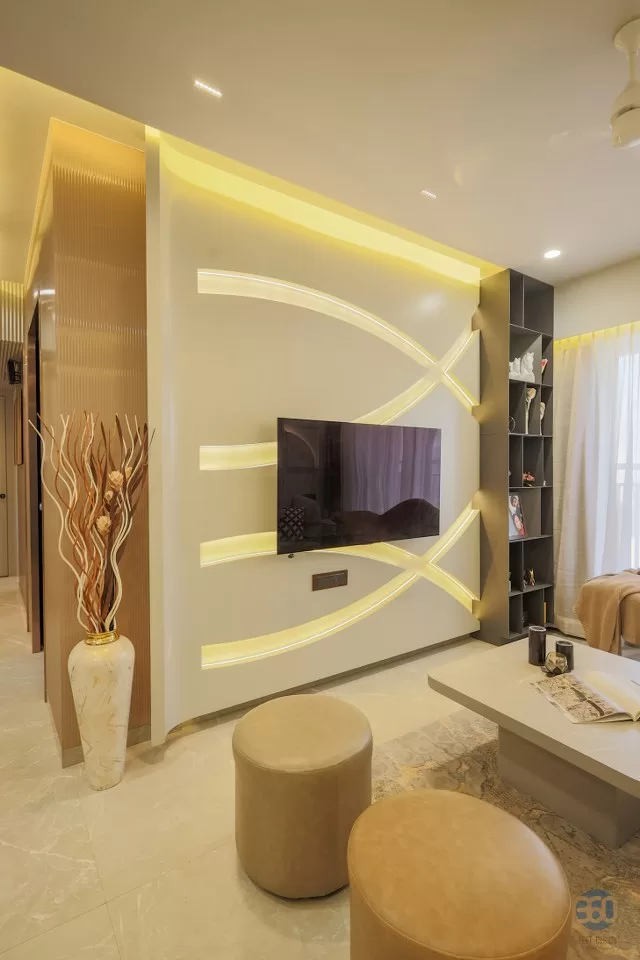 The design inspired by nature has beautifully implement in ceiling which symbols peace. The intricately carved curve design on the led wall creates unique concept.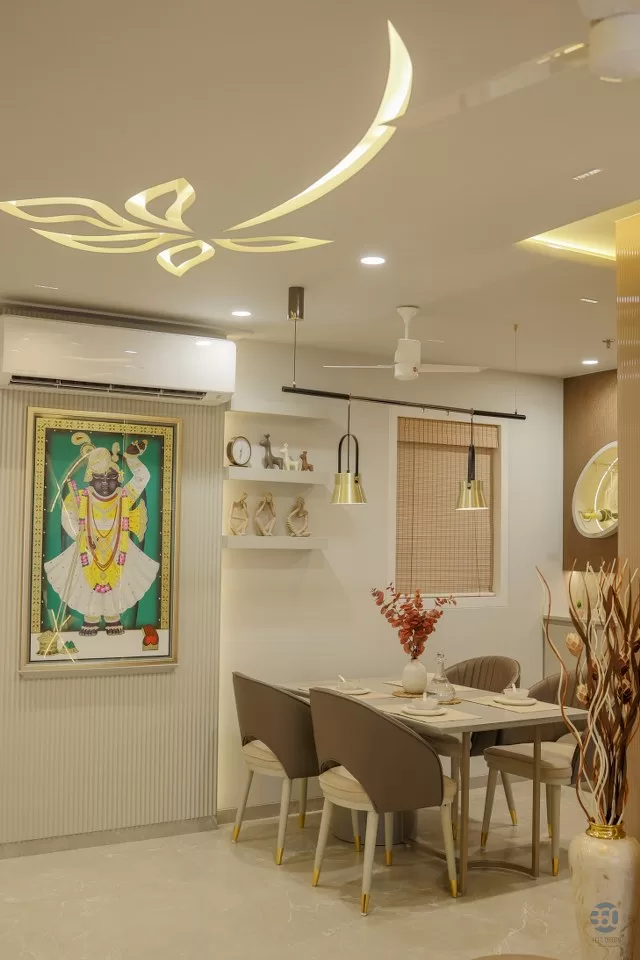 Dining area features minimalist furniture and decor with neutral and charming hues creating a warm and inviting atmosphere that sets the perfect mood for a meal and makes the space feel more organic and inviting.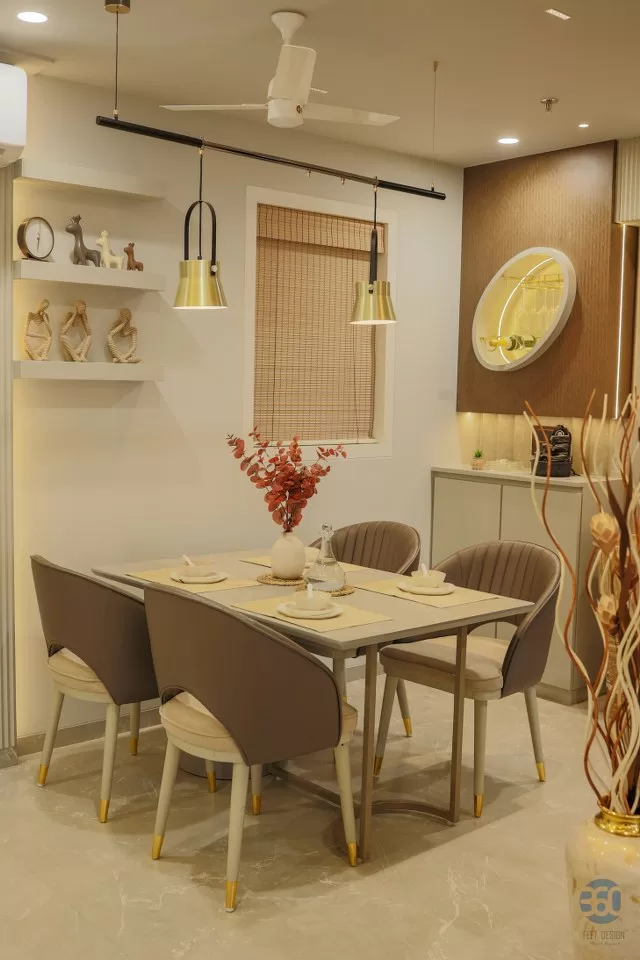 Chic and modern kitchen in pastel & muted colour along with gold accents creates a stunning visual impact, the design of the kitchen create a minimalist look that is both functional and stylish. Result is a beautiful kitchen design that is both functional and aesthetically pleasing.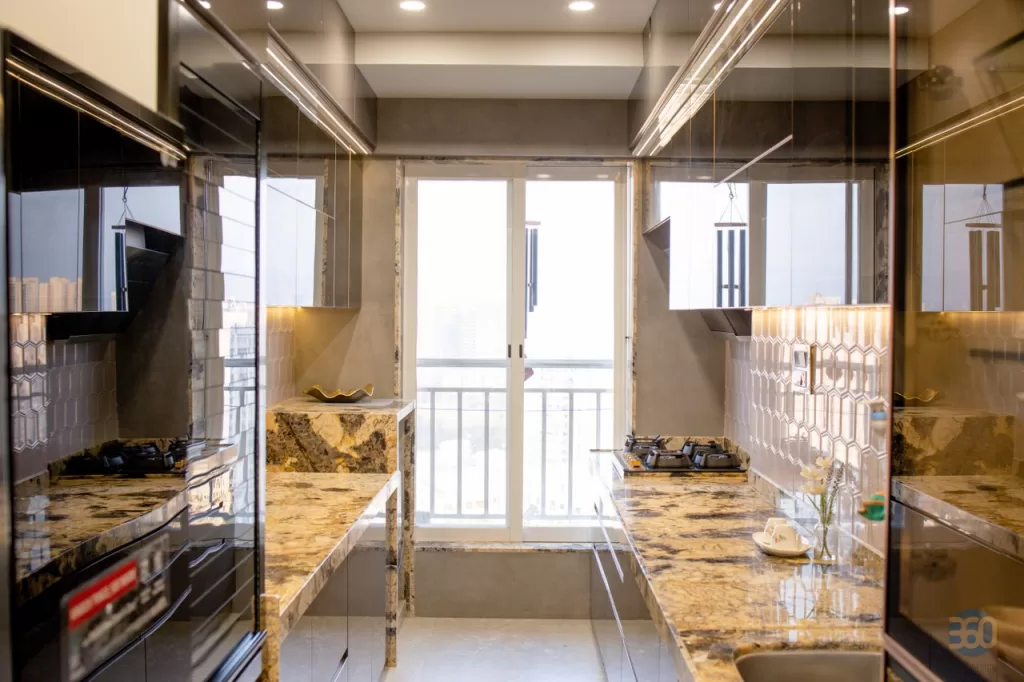 This refreshing bedroom design with a pastel and brightness creates a space that is both relaxing and energizing. Natural light plays a key role in enhancing the design, creating a bright and airy ambiance that is conducive to rest and rejuvenation.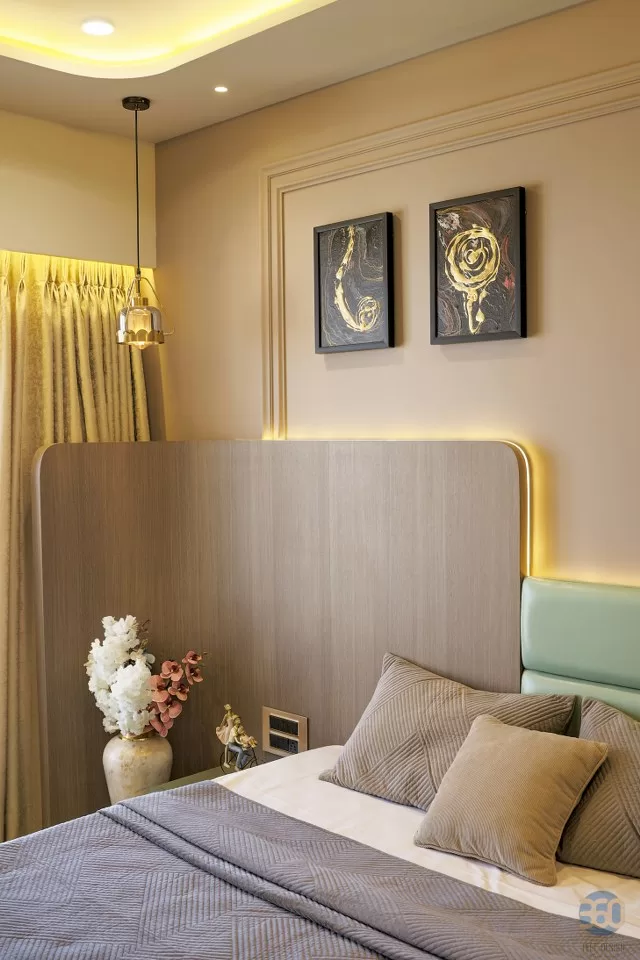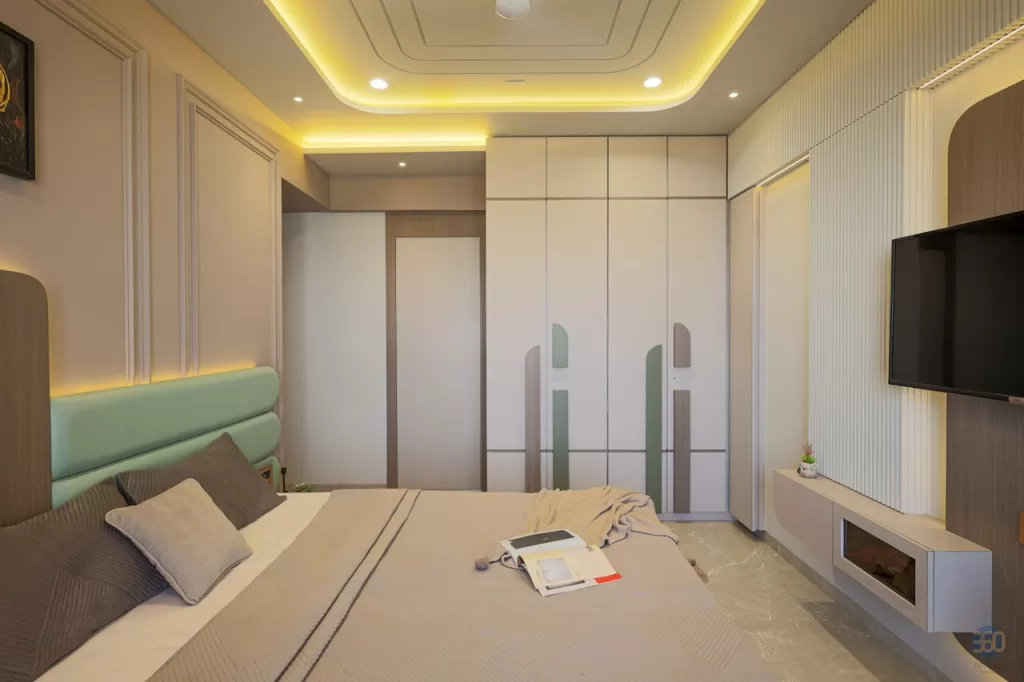 The light- coloured moulding walls & flooring enhances the brightness of the space, reflecting living room curve shape for headboard. The room is both stylish and comfortable, providing a space that is perfect for relaxation.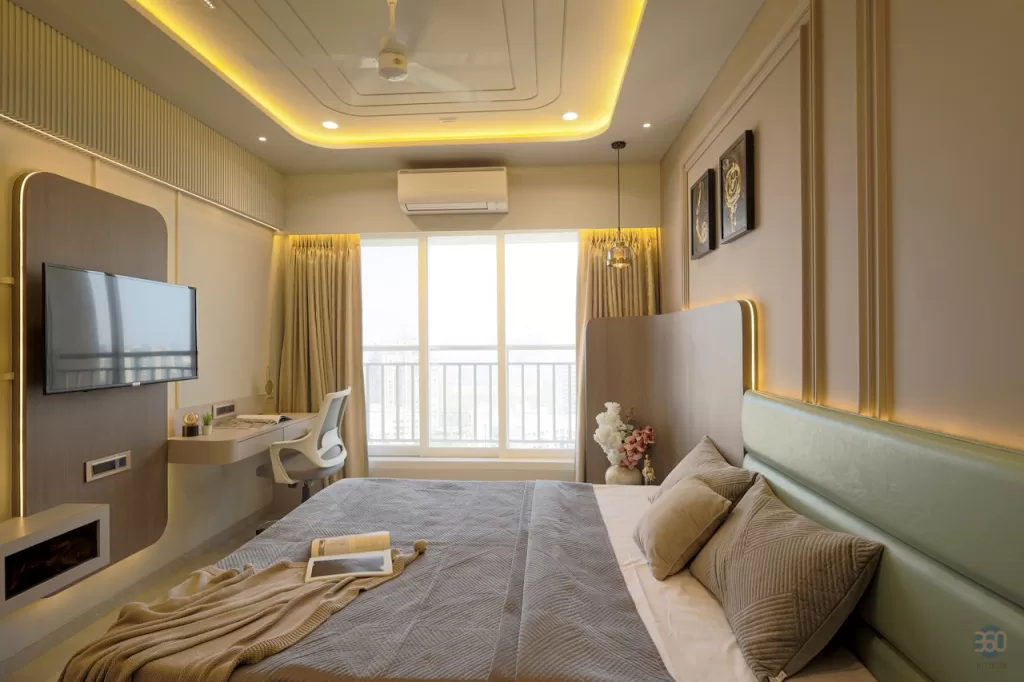 The curves continue in the girl's bedroom, refreshing bright colours creates the space to look more playful. The use of white in the design helps to make the bedroom feel light and airy, while the pop of colour and freshness.
Overall the house is a balance between design and functionality. Luxurious and cosy, yet pleasantly understated, this thoughtfully designed apartment caters perfectly to the family's taste and lifestyle.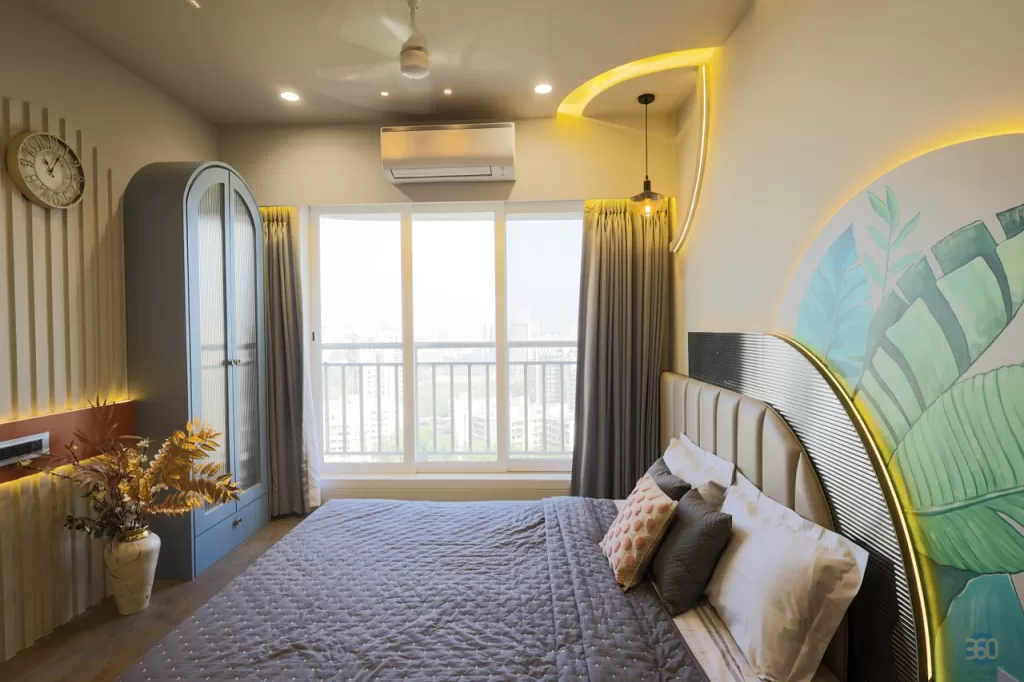 The client brief was to build a light-filled home with a touch of creative like no one ever did" we crafted this home with matchless shapes.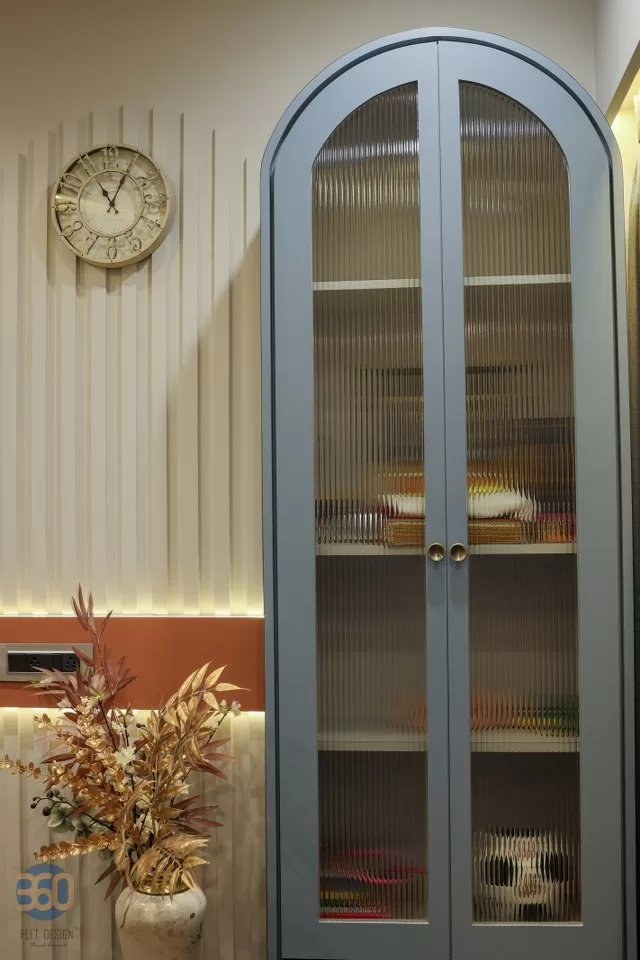 Fact File
Designed by : 360 Feet Design
Project Type : Residential Interior Design
Project Name : House Of Creative Bends
Location : Kandivali, Mumbai
Year Built : 2023
Duration of the project : 6 Months
Project Size : 770 Sq.ft
Principal Designer : Pratik Shah
Team Design Credits : Janak Shah
Interior Styling : Deeksha Jadhav
Photograph Courtesy : Tejas Karkar
Products / Materials / Vendors : Lighting – V Lights / Sanitary ware – Kohler / Kitchen – Bath Décor / Artefacts – Frame And Art Work.
Firm's Website Link : 360 Feet Design
Firm's Instagram Link : 360 Feet Design
Firm's Facebook Link : 360 Feet Design
For Similar Project >> Luxury Interior Design That Is Functional Yet Aesthetically Pleasing
The post 2BHK Minimal Yet Luxurious Residence Inspired By Natural Elements And Shapes | 360 Feet Design appeared first on The Architects Diary.