A new generation adobe addressing a perennial challenge of Mumbaikar's pertaining to efficient space utilization with an elegant touch of contemporary baseline. The underlined thought during conceptualizing this design was emphasized on exhibiting the warmth of memories, preferences and experiences of our client who is a four member family with a newly married couple planning to move in with their parents. Keeping in mind the compact space of a 710 Sq ft 2bhk apartment in Thane styled with contemporary design, the most critical part of the space planning was incorporating the client's functional requirements by blending them in with a core theme of each space.
2BHK Apartment In Thane Styled With Contemporary Design | Greenhatch Architects
visit : Greenhatch Architects
The aesthetic preferences of younger generation were significantly dissimilar to their parents which was an interesting challenge to overcome through vibrant elements and eclectic accessories. The intent was to deftly tie up diverse aesthetic representations of each room converging to a unified thought stream of contemporary design punctuated through earthy elements.
The living room is a relatively large space with a beautiful view which is leveraged by providing cross ventilation to extend breezy and tropical feel making it easy & airy. The room is dressed primarily in neutral color tones with a Grey paneled wall breaking the monotony.
The entire seating is a refurbished version of sofa, chairs and a side table taken up from parents' ancestral home. Adding a quintessential amount of vibrant color through a red rogue grounding partial space and a handmade Warli painting that defines the overarching theme of earthy look and contemporary design.
The elementary look of living room is preserved by paying heed to fire safety requirements with an exposed fire line by ensuring that the red piping blends in beautifully within overall space without an aberration, keeping the floor height intact instead of lowering the ceiling.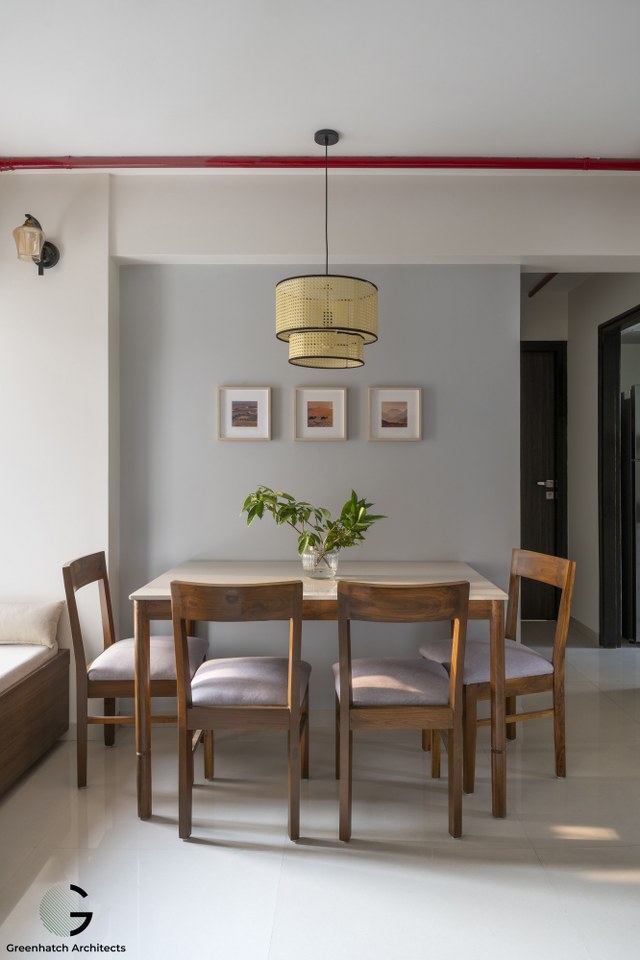 The aesthetics of dining area hinges around utilizing natural elements such as cane pendant light and a marble table top which helps in visually sub-setting the dining area from overall living area. The gray wall at dining area beautifully compliments the paneling of living area along with wall paintings depicting the stupendous richness of natural beauty and tradition of Rajasthan that exhibits proud lineage of our client.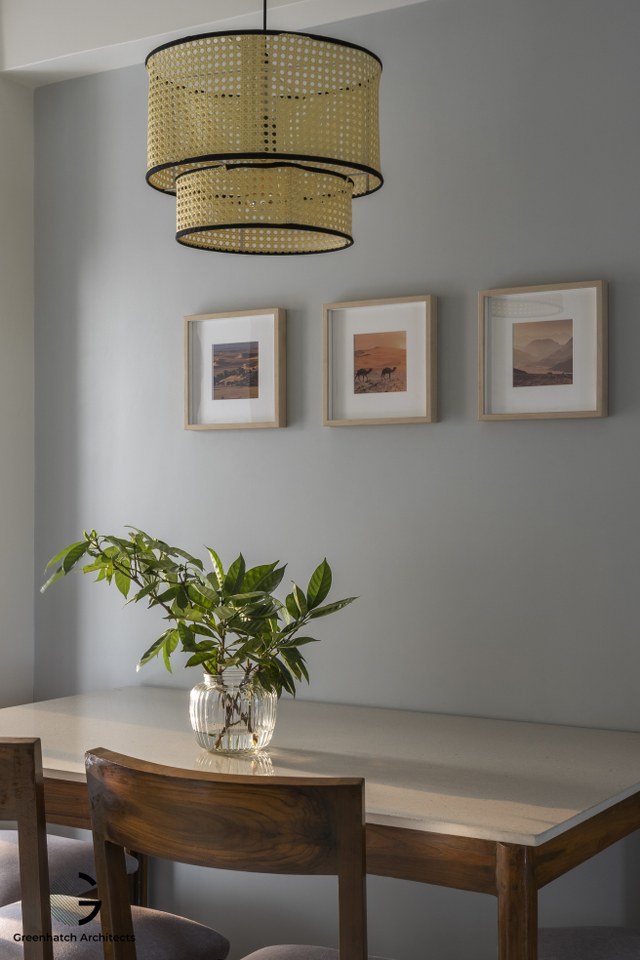 The kitchen features a modern vibe with earthy elements emphasizing on the functional requirements of storage and convenience by optimum space utilization and offering a touch of elegance though neutral toned cabinets and shutters complimenting beige platform.
An Erica Palm mounted on a white planter gives a good indoor vibe extending a hint of freshness and vibrancy in the kitchen.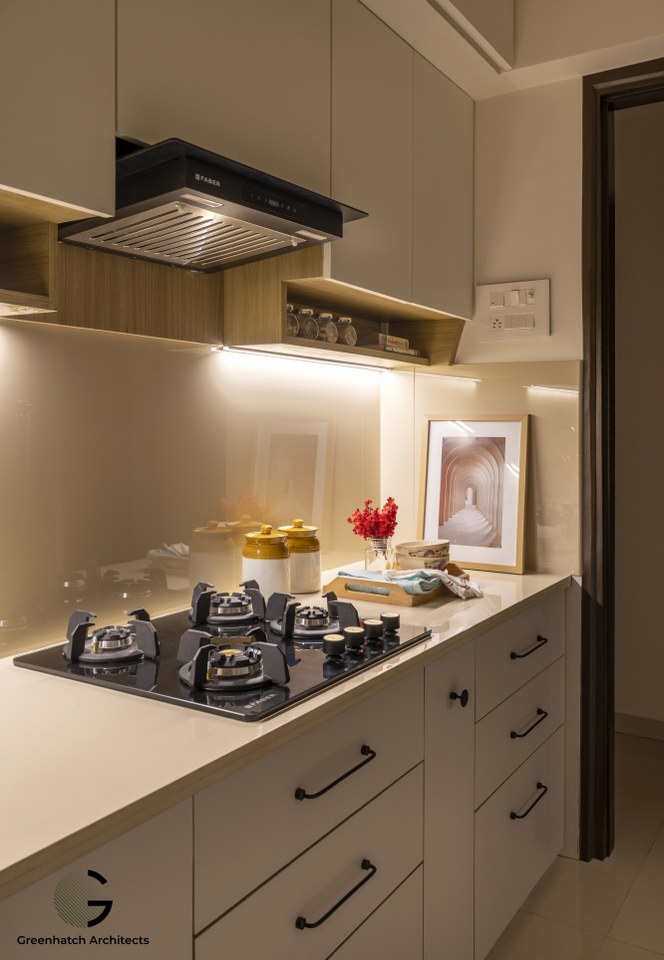 The idea of creating an airy space exhibiting calmness and serenity for enjoying well-deserved leisure by elderly parents was executed through pastel colors and light textured fabrics.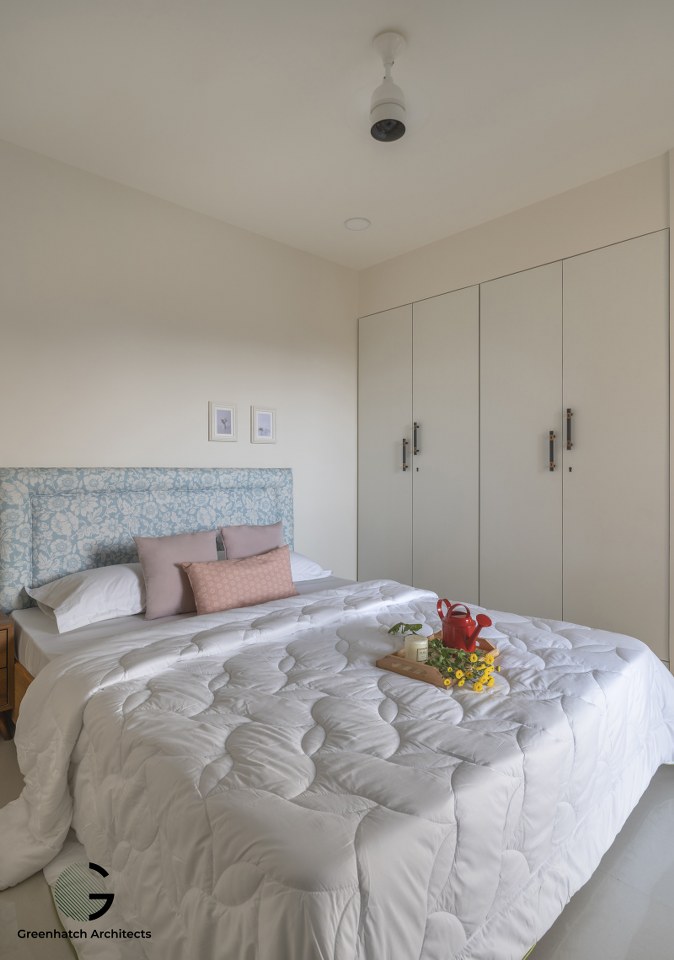 The printed headboard, subtle pastel graphic prints, wardrobe shutter merging with a wall giving a breezy and chic look to the space. The small detailing here has a significant impact on creating elegant visual nuances.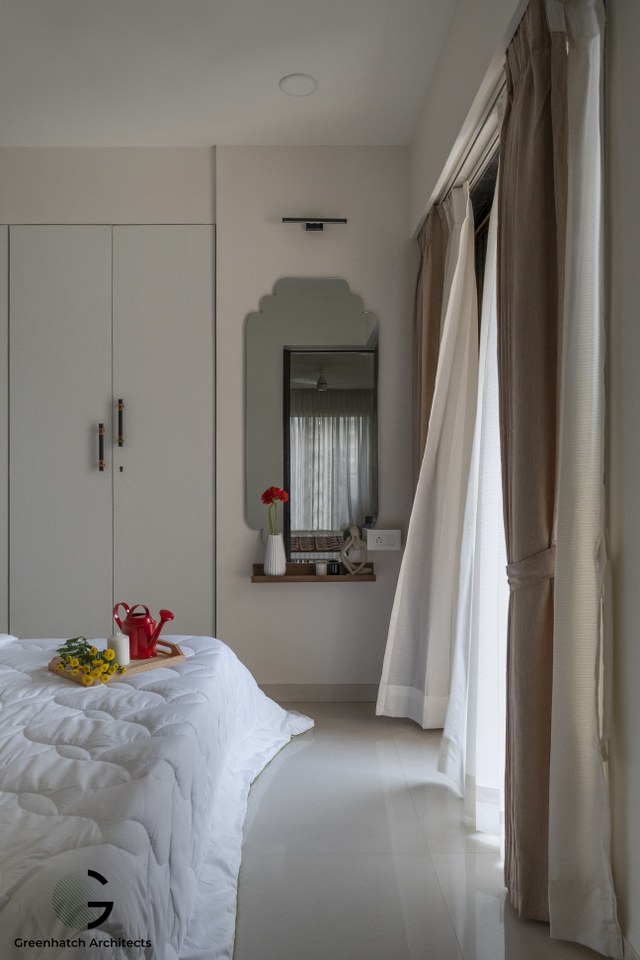 The room was envisaged to extend laid luxury to this busy couple for rejuvenation and comfort. Use of ethnic wall prints and vibrant color concepts enhances the cozy feel of the space. Large upholstered head board adds up a burst of pickle green color disrupting the homogeneity of background wall.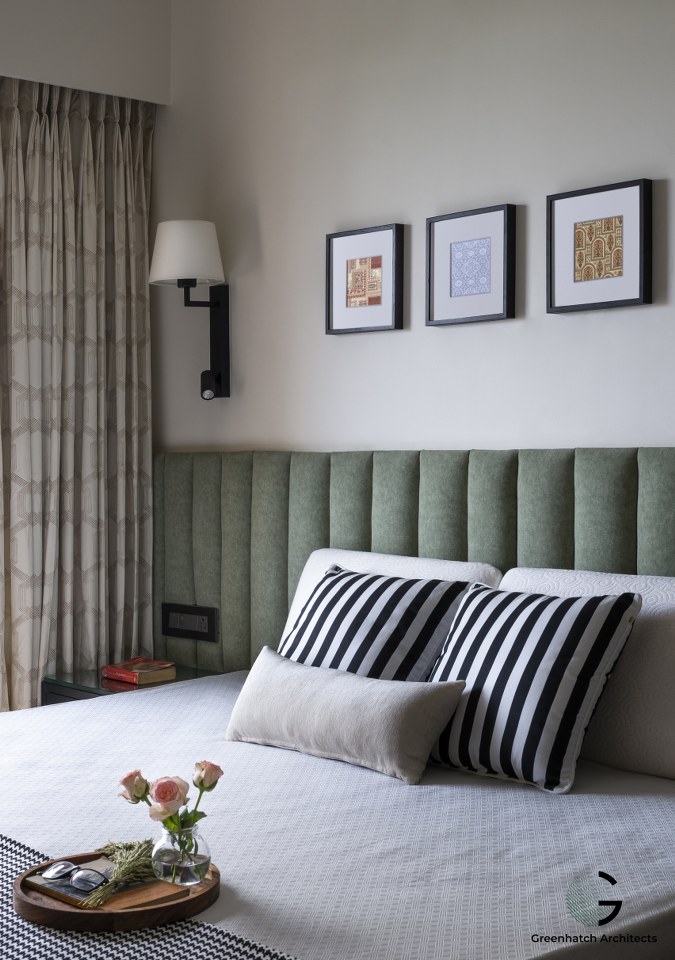 Inclusion of a functional attributes such as work from home desk and a vanity nook in a compact space was an interesting puzzle to crack from space planning perspective! A pastel muted pink colored wardrobe with sandwiched cane shutters open up the space and sleek rose gold handles add up a subtle touch of drama! The ambient wall lights by the bed serve a functional need also allow consolidation of all wall attributes beautifully.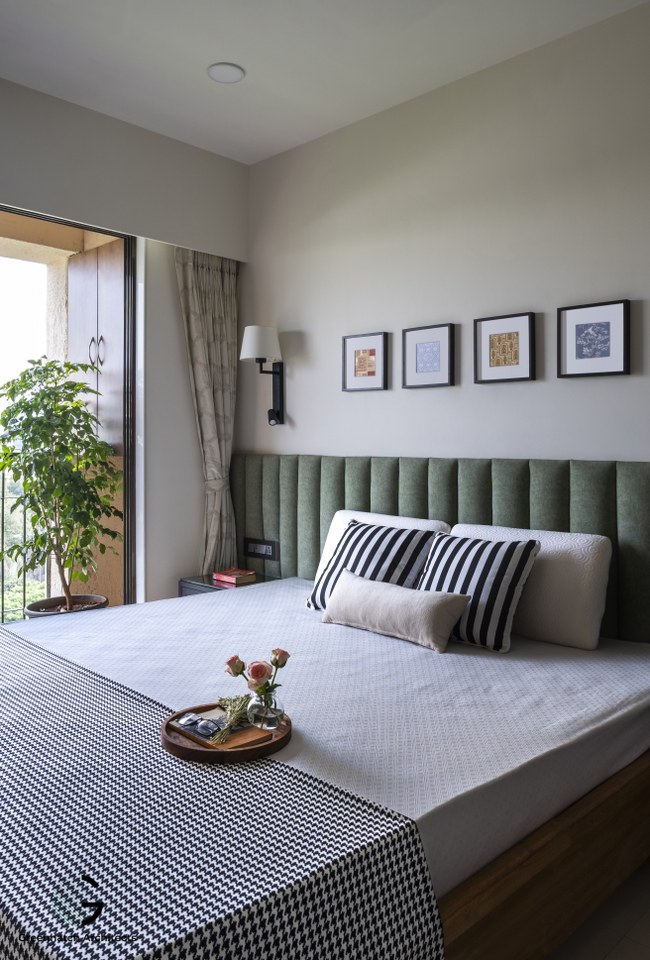 The design ethos of Passadhi House depicts aspirational and progressive mindset of young couple which is represented through a voguish composition ornamented through Indian rooted décor elements.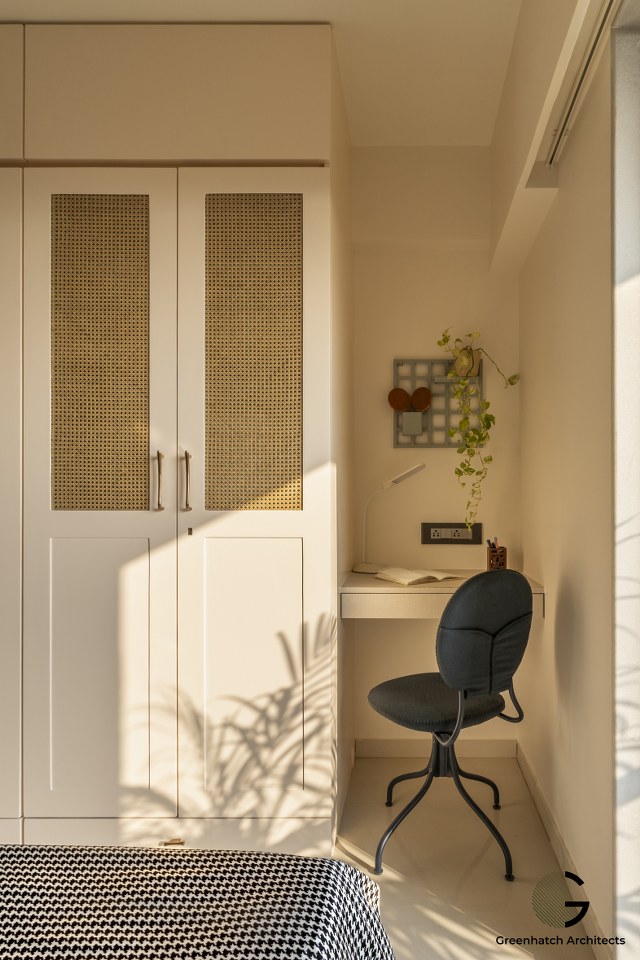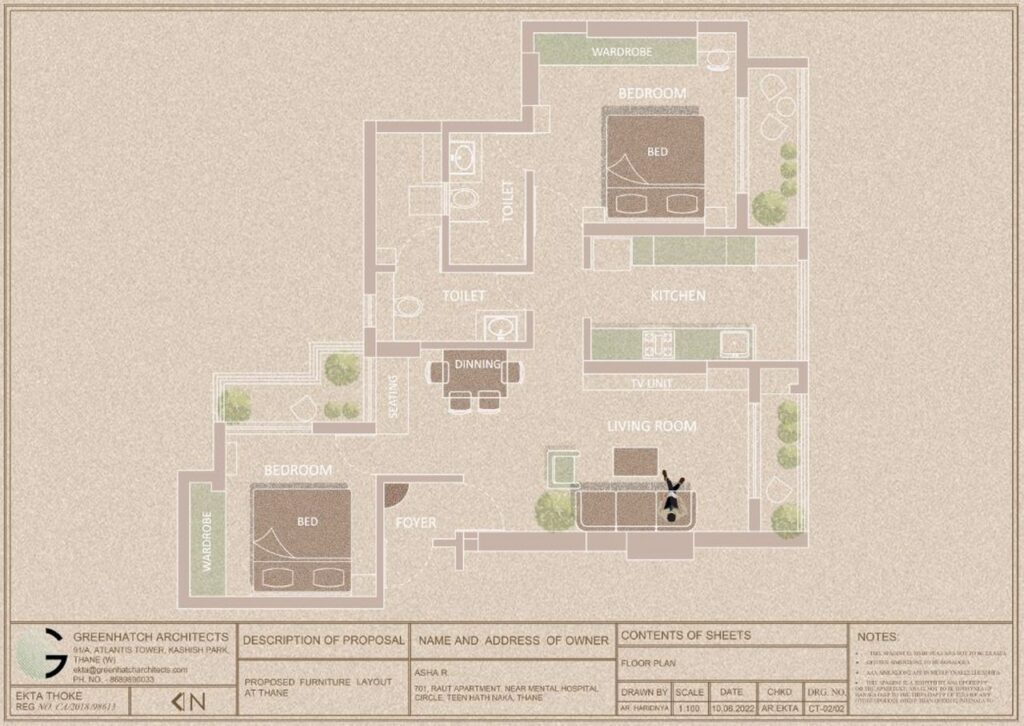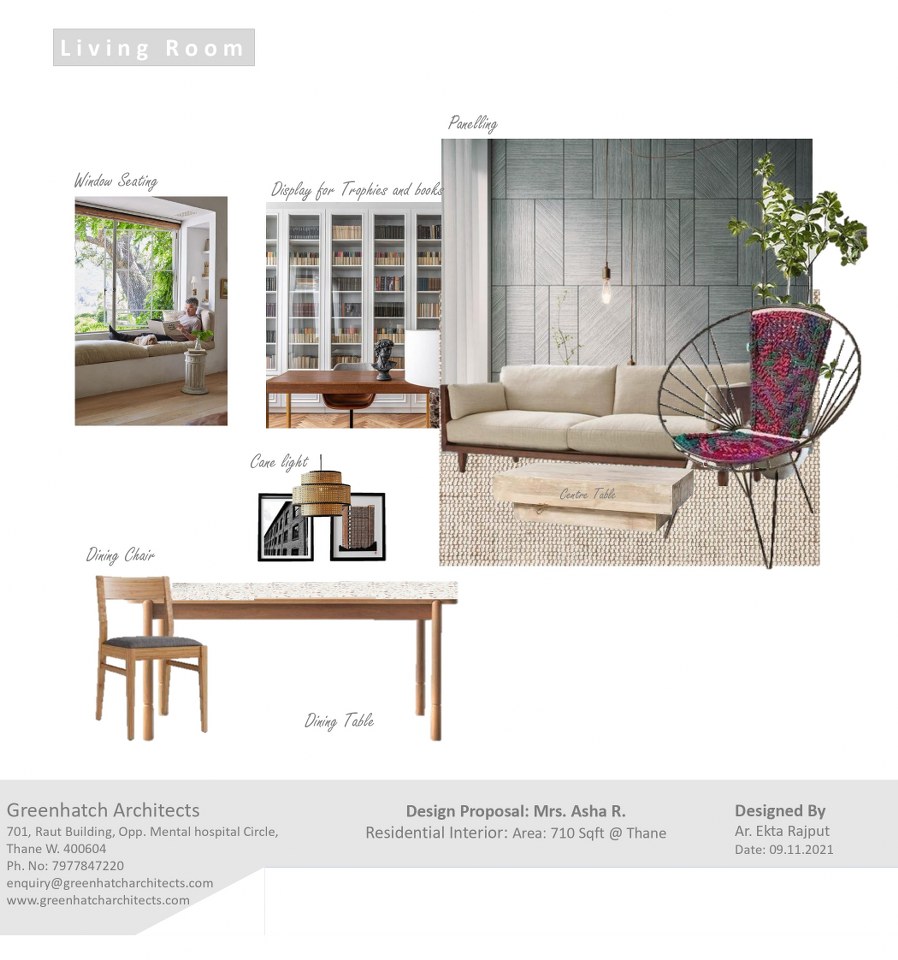 FACT FILE
Designed by : Greenhatch Architects
Project Type : Residential Interior
Project Name : Passaddhi House
Location : Thane
Year Built : 2022
Duration of the project : 5 Months
Project Size : 711 Sq.ft
Project Cost : 20 Lakh
Principal Architect : Ar. Ekta Rajput
Team Design Credits : Haridnya Bhoir
Photograph Courtesy : StudioAbhishekSawant
Products / Materials / Vendors :Finishes – Royal Touch, Merino, Asian Paints PU paint, Kalinga stone Wallcovering / Cladding – Asian Paint, Plywood paneling with laminate finish from segment / Construction Materials – Plywood, bricks, Marble, Glass, solid wood / Lighting – Seron, Microlight, arcis light / Doors and Partitions – Ecotec Greenlam / Sanitaryware – Hindware / Kitchen – Olive / Paint – Royal Asian Paint / Hardware – Concept, Gebi.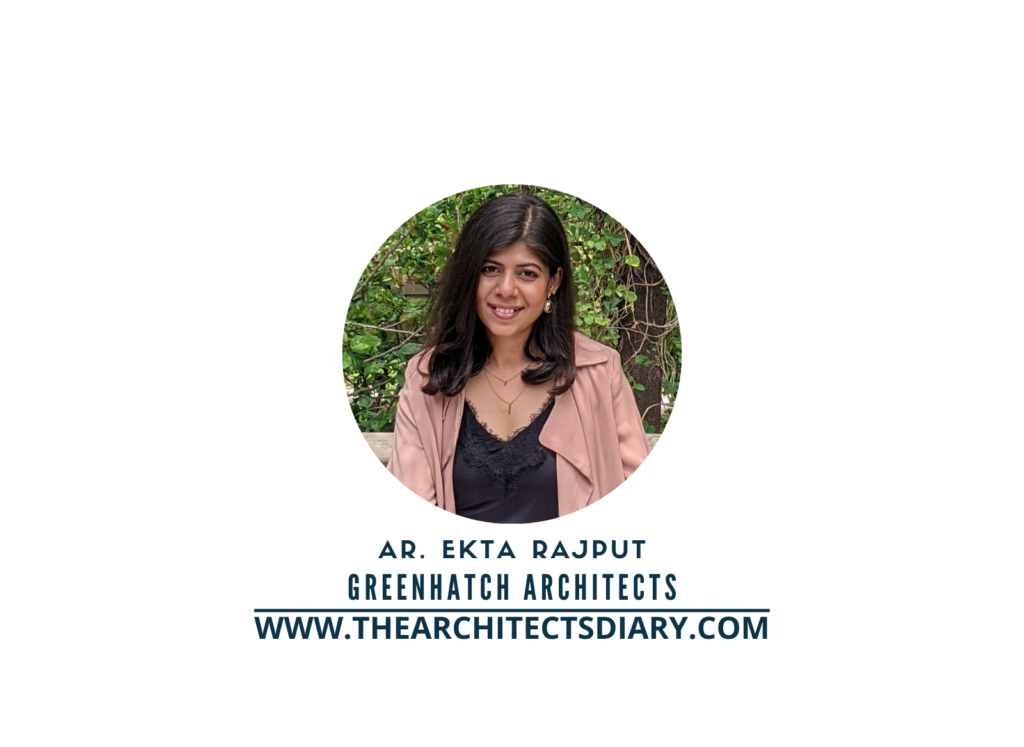 Firm's Website Link : Greenhatch Architects
Firm's Instagram Link : Greenhatch Architects
For Similar Project >> A LUXURIOUS HOME WITH COMFORT, FUNCTIONALITY AND RICHLY LAYERED FURNISHED INTERIORS
The post 2BHK Apartment In Thane Styled With Contemporary Design | Greenhatch Architects appeared first on The Architects Diary.