Coming up with Backyard Pool Ideas can be quite challenging, considering the lack of space in today's cities. Although it's winter, most of us still dream of spending a lazy Sunday afternoon in a backyard pool. In fact, backyards are the most beautiful areas in most homes—a hub to socialise without sacrificing your privacy. Sadly, backyards end up being vegetable gardens. So, why not elevate that space with a couple of Backyard Pool Ideas and give new meaning and functionality to a space least explored? Here are 20 fool-proof (or rather "pool-proof") Backyard Pool Ideas that create an illusion of spaciousness. Read till the end to find bonus points that can leverage the constraints of backyard pools.
Top 5 Backyard Pool Styles
1.Go Beyond With An Infinity Pool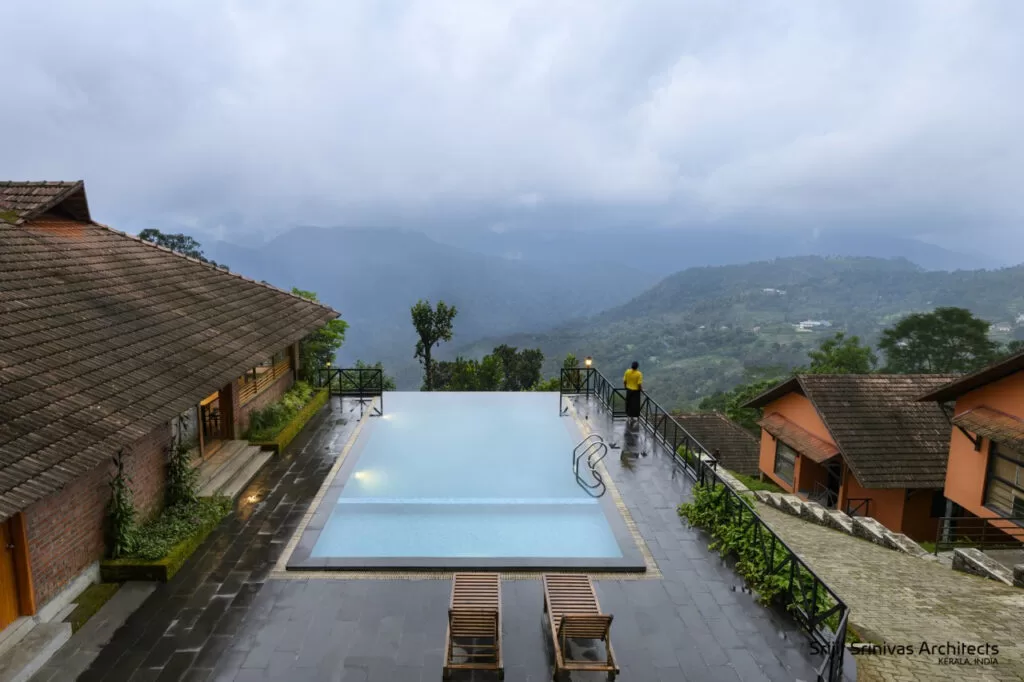 Popularly known as infinity pools, these edges are becoming a trending feature in modern pools. It creates the illusion of expansiveness in a limited space. All you need to do is find that point on the horizon where you feel nothing but serenity.
2.Narrow Pool Design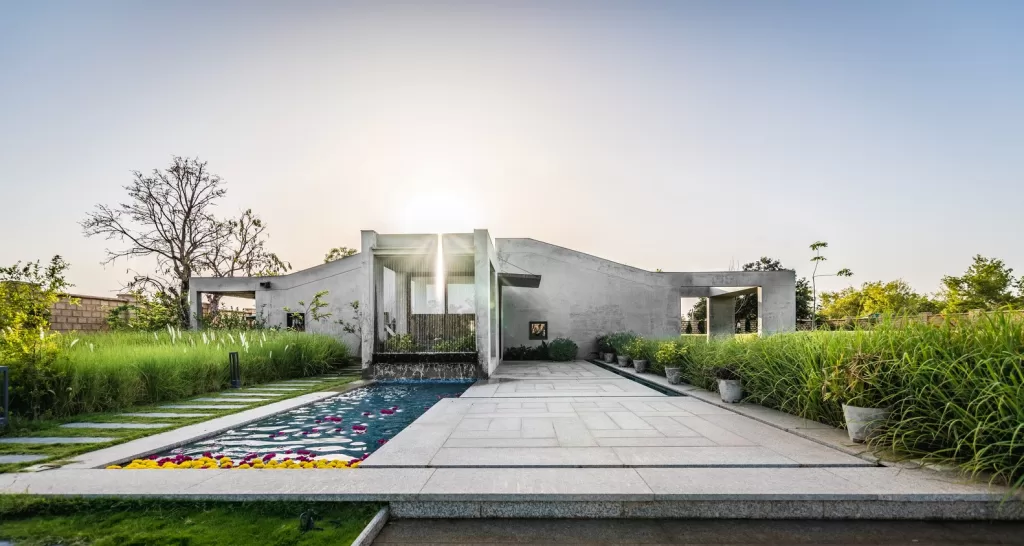 If you have a narrow backyard and are a pro at swimming, you might need a lap pool. Such pools are ideal for those who want to just race with their friends. It is not suitable for those who want to just lounge around.
3.Raised Above Ground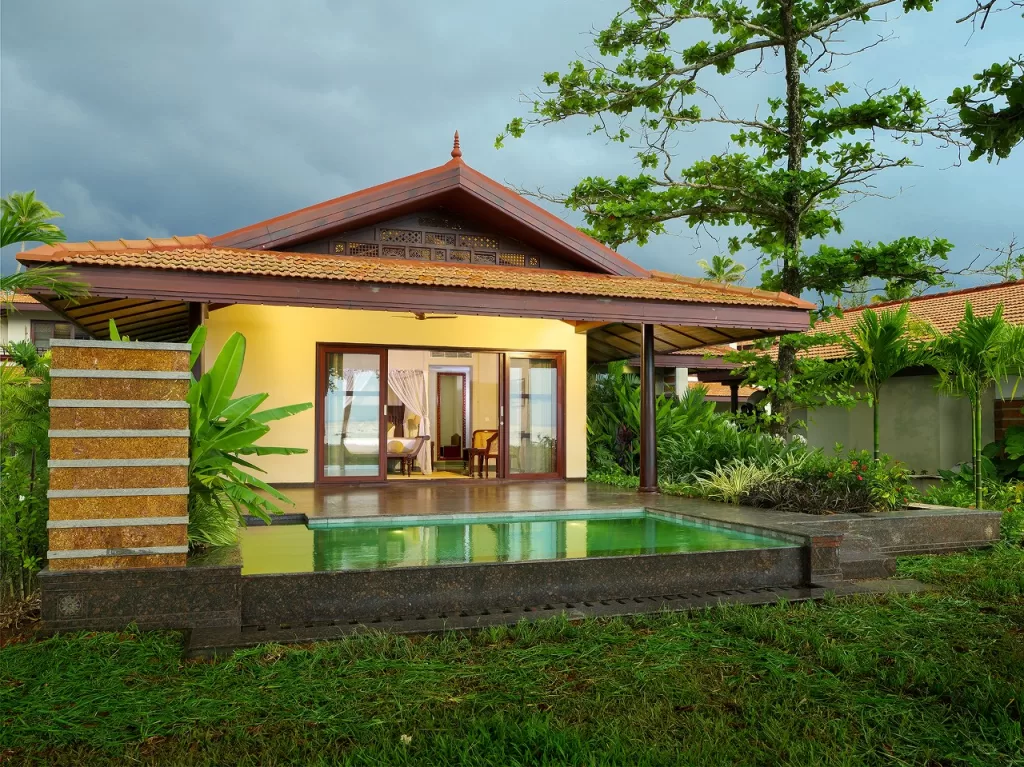 Swimming pools need not always be on the ground. Raise it a little and witness the magic of layering. Add stepped seating that organically blends with the landscape and further creates a feeling of extensive space.
4.Pop a Stock Tank Pool
Although the stock tank's origin comes from its use to feed cows, it now becomes a compact pool in your backyard. Urban dwellers are now installing pumps and beating the heat splashing in these affordable galvanised steel pools.
5.Swimming in Shipping Containers
Shipping containers are great, affordable options that find use as a backyard pool as well. All you need to do is lift the roof, fill it with water, and splash around. However, you need to insert fibreglass to waterproof the interiors.
Top 7 Must Have Backyard Pool Features
6.Step Up With Baja Shelves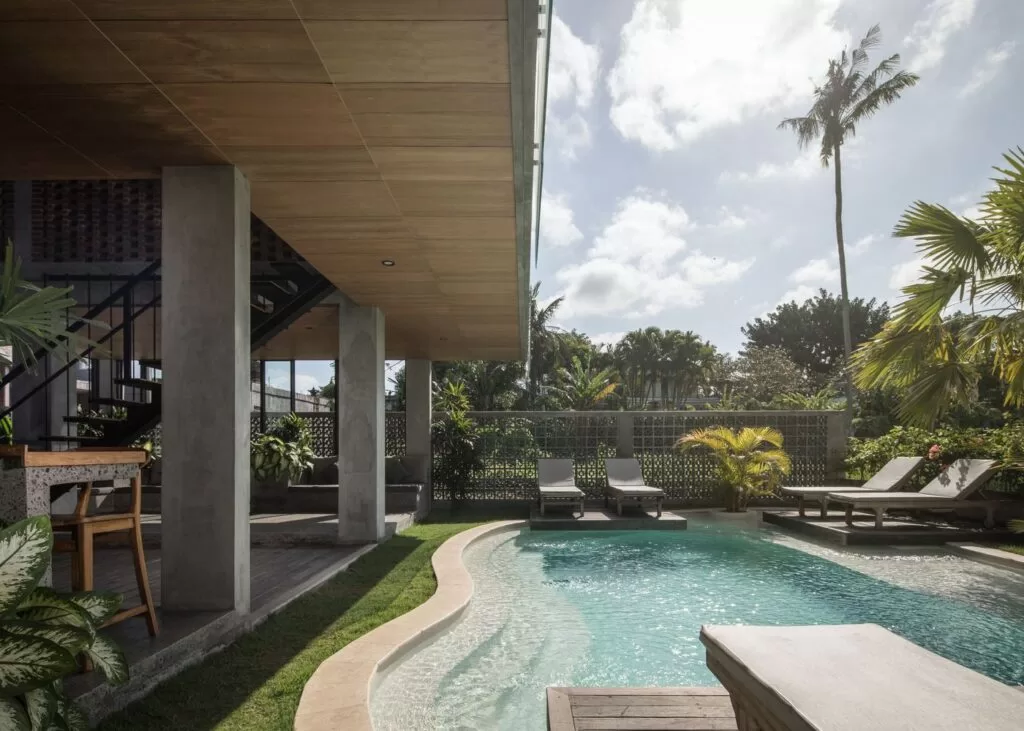 Often called a tanning ledge or a sun shelf, baja shelves are pool extensions that are a transition between pool and poolside. It's a perfect spot to sip lemonade and dip your toes in water. It is an instant resort vibe generator in your backyard.
7.Tropical Plants or Desert Aesthetic?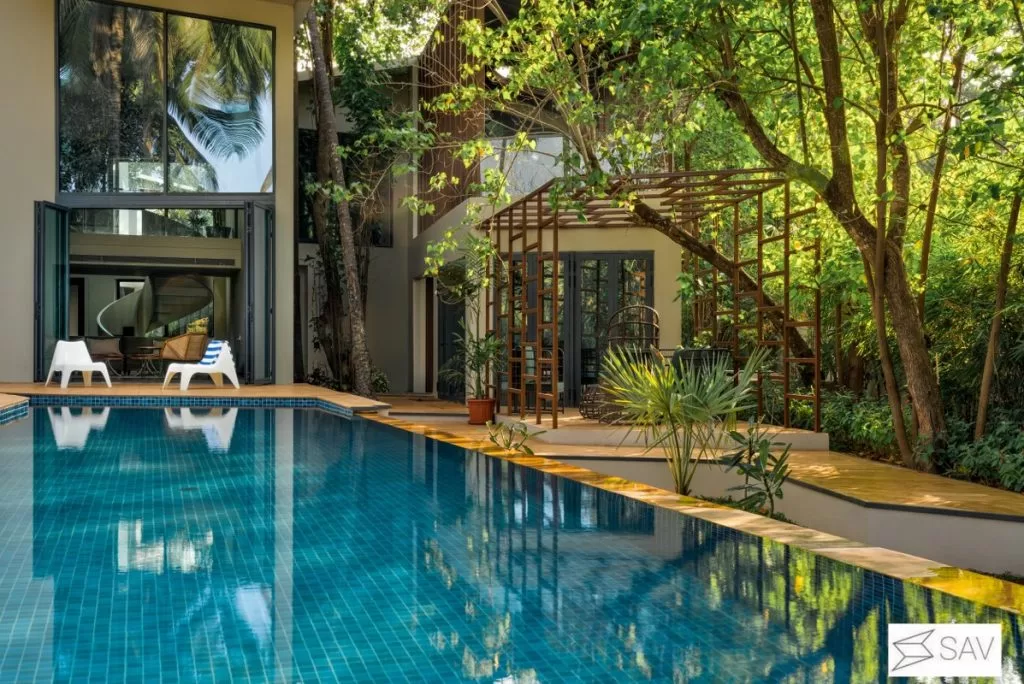 You have two choices: a lush tropical jungle with sunlight trickling through the tiny crevices of palm trees. Or else, you can have a spacious beachy ambience with sparse vegetation. Your deck is the canvas, and you are the artist!
8.Deck it Up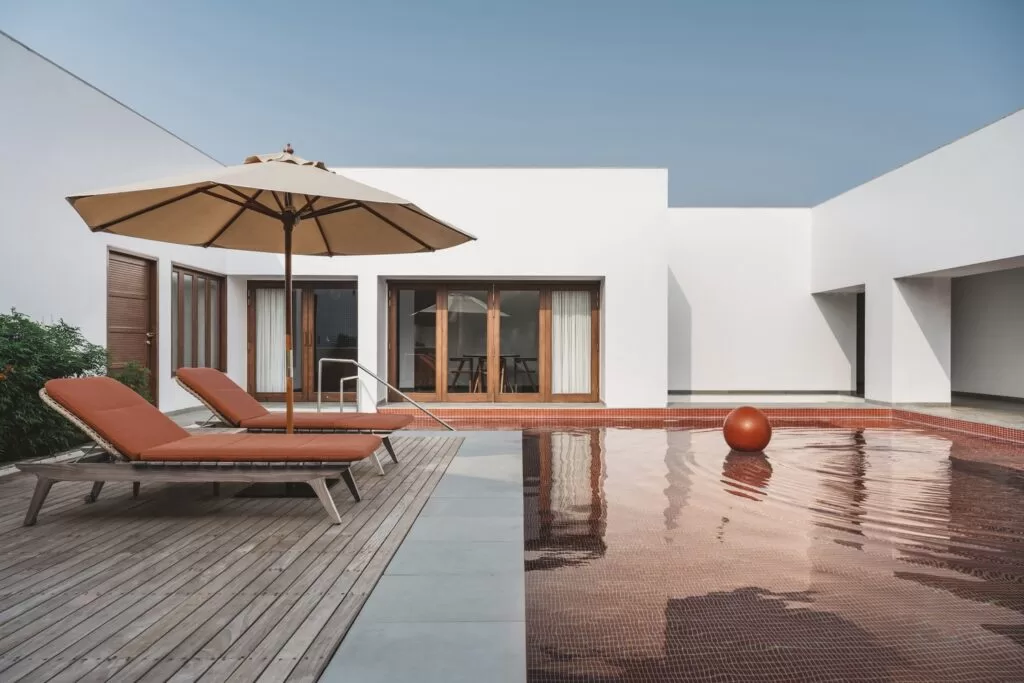 Decking your pool is not only to avoid slippery surfaces; it can also help you add beautiful landscape elements with ease. You can create a cosy atmosphere with loungers and plants. Concrete, wood, and natural stone are popular decking options.
9.Hang Sheer Curtains
Sheer curtains are a seamless way to add fluidity and movement to your pool design. The light-weight fabrics can help create the effect of movement with the flow of wind. White or light monochromes are ideal colour tones.
10.Include a Clear Enclosure
Clear enclosures can create a feeling of spaciousness, rather than opaque walls. Transparent materials like glass are popular enclosure options. Creating unobstructive barriers are safety elements that create a clear visual distinction.
11.In Between Transitions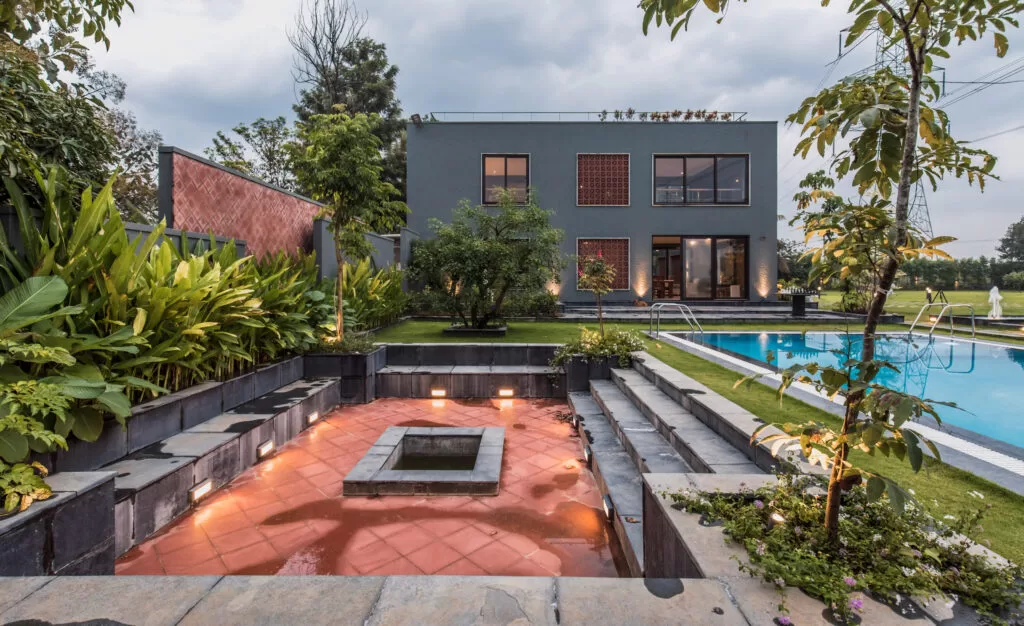 A home should never be just four walls; it should be everything in between. Transition spaces with different functions like a fire pit, barbeque, and bar counters add a unique touch, where the purpose of a swimming pool is not just swimming but also a hanging spot to have fun.
12.Not to Forget A Lounging Segment
Even though you may not have much space, you need to make room for lounging. Swimming pools are not just all activities in the waters, but everything in between. Thus, transition spaces are equally important to add dynamism to a pool design.
Additional Bonus Tips
13.Spaciousness Through Soft Monochrome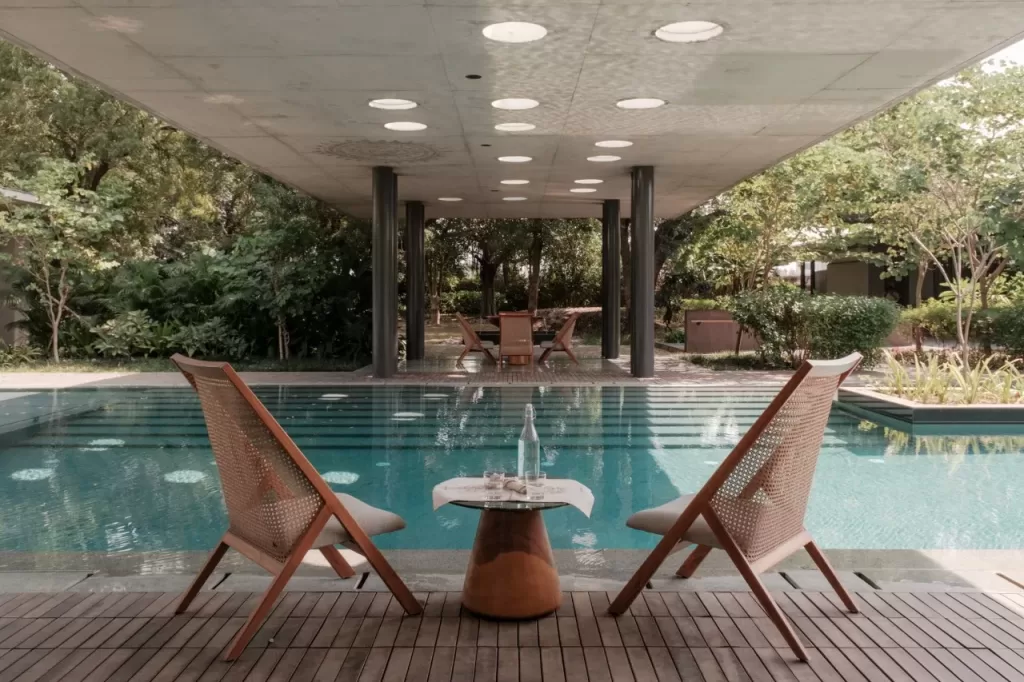 Soft monochrome tones are the easiest ways to make any space feel spacious, even your backyard pool. Match the decking material with the pool and avoid glaring contrasts. Play with various textures, like exposed concrete and light wood.
14.Reclaimed Materials For The Win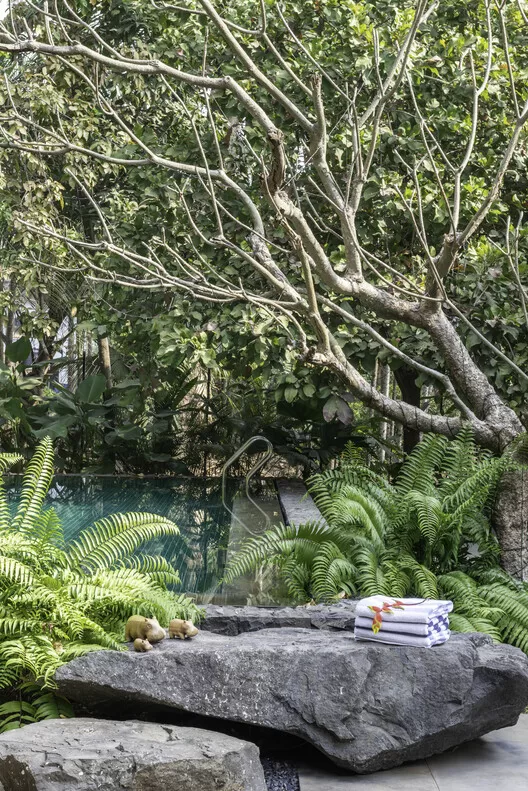 Go eco-friendly and cut costs with reclaimed materials. A couple of rubbles is all you need to create the perfect pool aesthetic. You don't need to process or finish them. Just place it and see the magic.
15.A Simple Passage As The Focal Point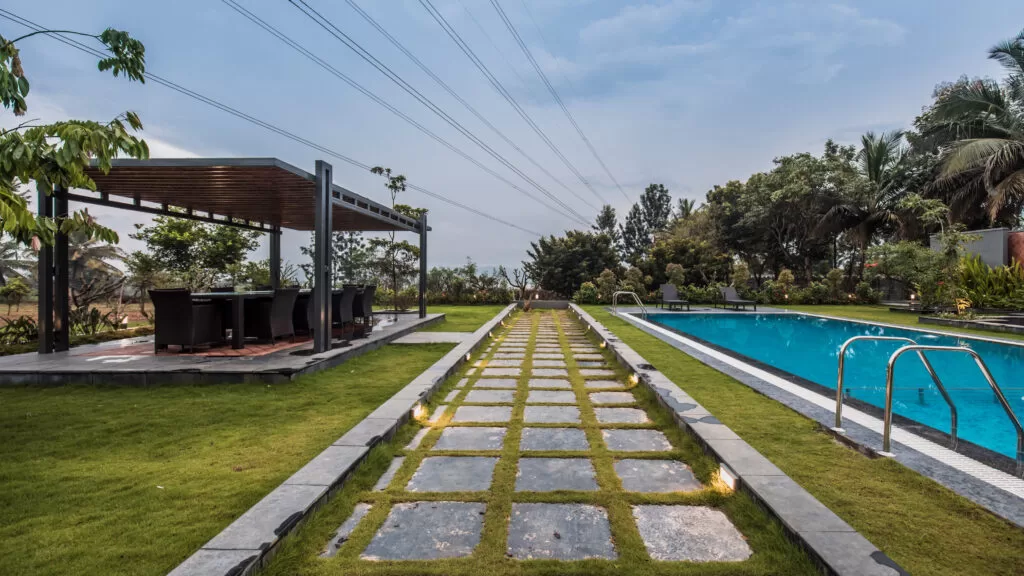 Creating a visual focal element can be done through simple elements like a passage. It will visually create a distinction of paths to help the users traverse seamlessly. It can be done by playing with layers and colours to create contrast.
16.Outside In or Inside Out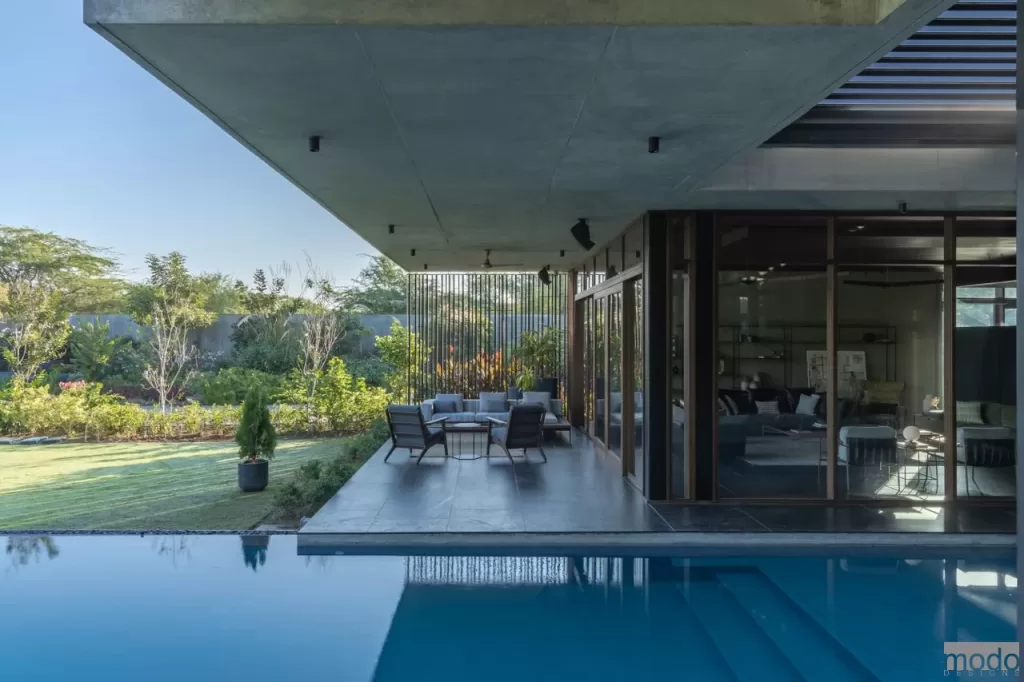 Imagine a pool that starts from the outdoor bar to your living room. Magnificent, isn't it? When faced with site restrictions, an outside-inside swimming pool is the best way to design spacious swimming pools.
17.Frame the Sunrise and Sunset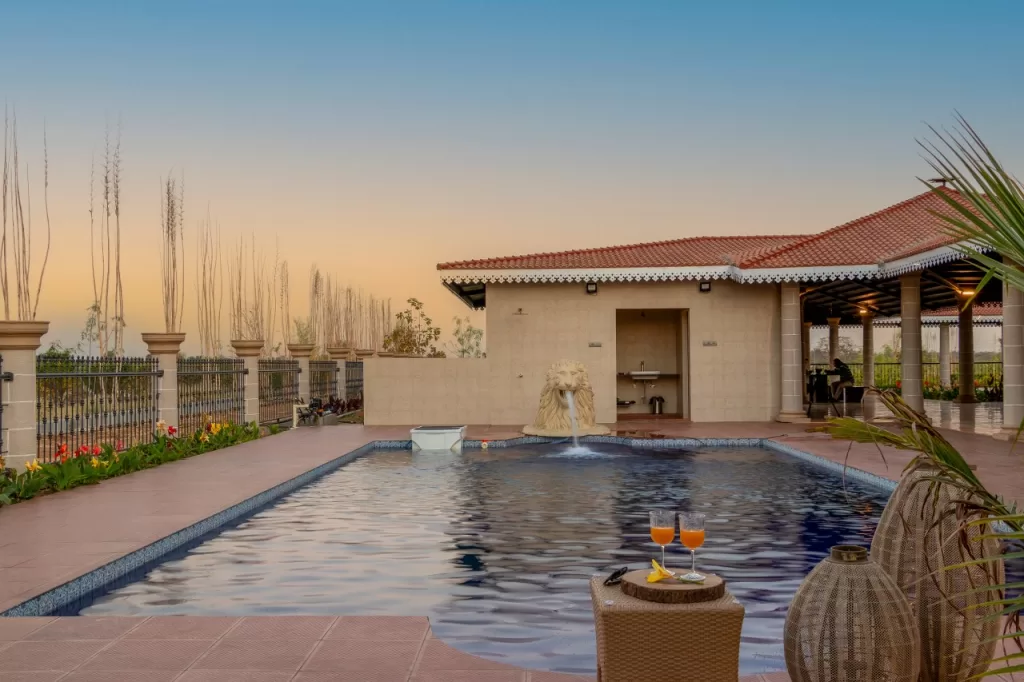 You may have the best view, but do you have the best sunrise and sunset? If you do, you are lucky. Watching the movement of the sun is entertainment in itself. Thus, try to choose a spot where you can enjoy this momentary bliss.
18.Get the Lighting Right
Underwater incandescent and halogen lights are popular options for swimming pools. Ambient LED well lights in the passage can help guide one to the pool. Not to forget the feeling of getting drenched in the sun, a staple for a blissful morning.
19.Compact Pool + Minimal Landscape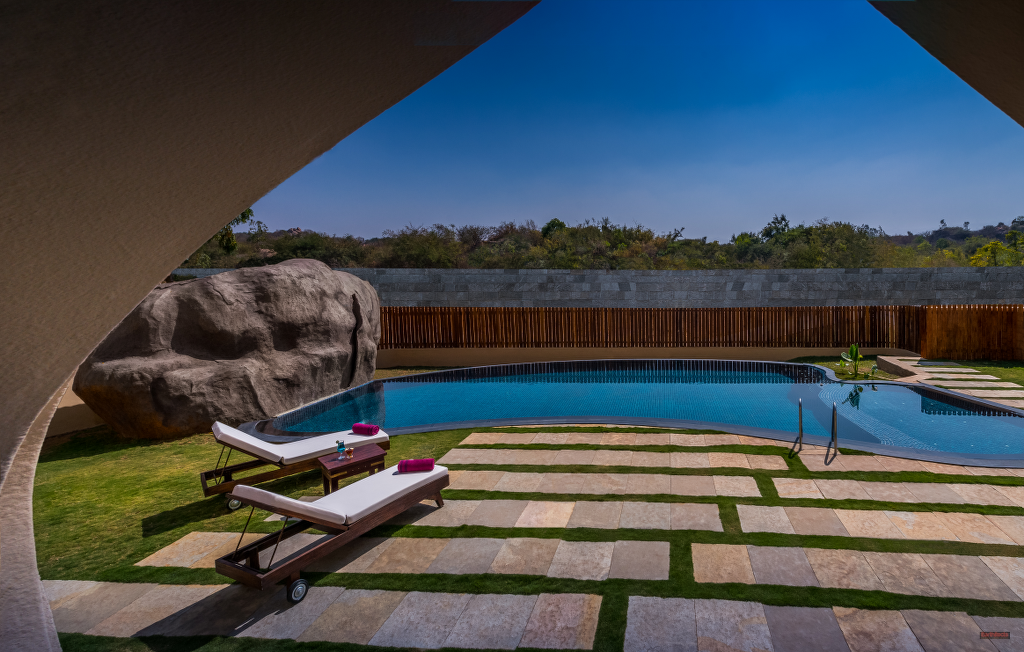 Adding layers of decks can be tempting, but what if you can't afford it? Then minimal landscaping around your compact pool is more than enough. Just an elegant palm as a focal point can create a space as impactful as a tropical journey.
20.Landscape the Corners and Edges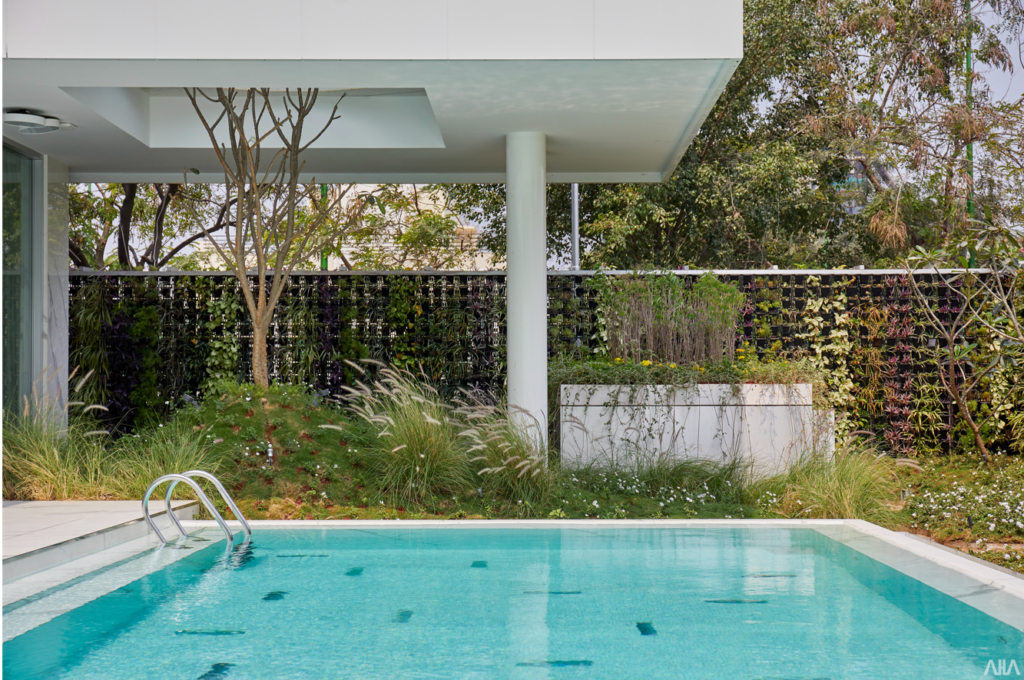 Corners are always left unnoticed. Not anymore. Make use of every space that can add value to your poolside. Although corners are used the least, plants and boulders can add a whole new meaning to your deck landscape.
Backyard Pool Ideas can save up space in ways you can never imagine! Once an unused plot, it can now become a space for celebration. Basking in the sun can't be more fun than in your backyard. At the same time, swimming pools are exploring meanings beyond diving and swimming. However, Backyard Pool Ideas aren't strict guidelines. It allows flexibility to experiment and try new styles. Blending design styles like Eclectic and Moroccan are gaining popularity in present times. Do you think incorporating such design styles into Backyard Pool Ideas creates more tension in the existing space restrictions? Or does it allow one to truly embrace new cultures?
The post 20 Splashy Backyard Pool Ideas For Your Stress Free Abode appeared first on The Architects Diary.