Courtyard Garden Ideas can improve the look of your home by combining the built and open spaces while incorporating nature. Traditionally, Indian homes were more introverted, with a series of rooms connected to a central open-to-sky courtyard. Apart from safety concerns, large families often had a courtyard garden where they could socialise and spend time together.
Creating a modern aesthetic while retaining the traditional courtyard design is a win-win situation today. Here are 20 courtyard garden ideas to help you create that perfect garden.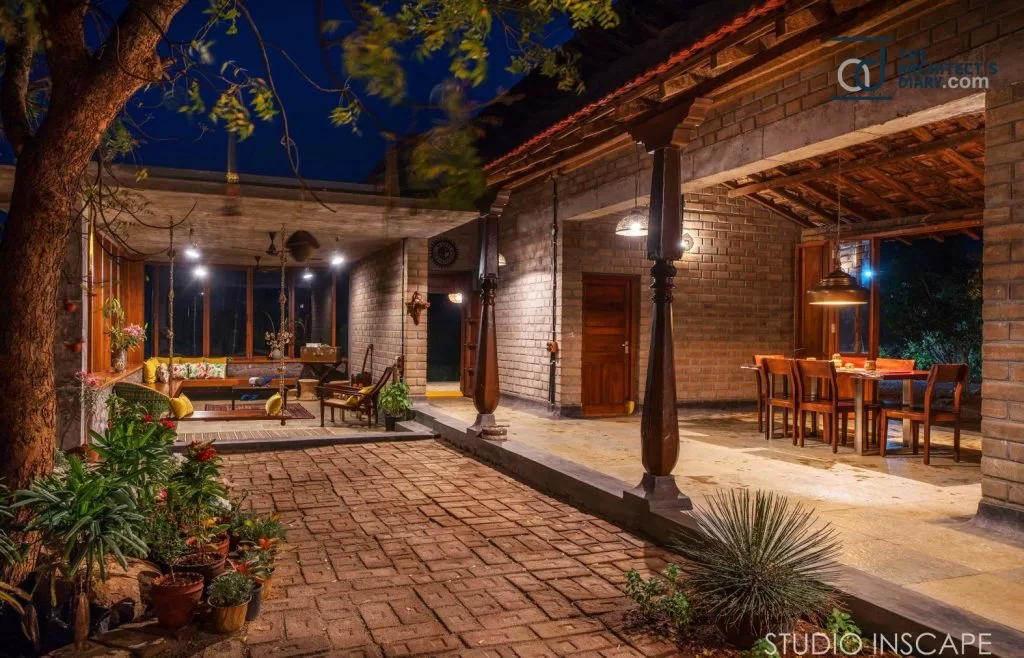 Beautifully crafted stone or wood columns embellish a courtyard garden by adding an artistic appeal. It frames a space, adds character, and enhances the allure of the courtyard garden. Although, in most cases, they do not support weight, they add opulence and separate open and closed areas.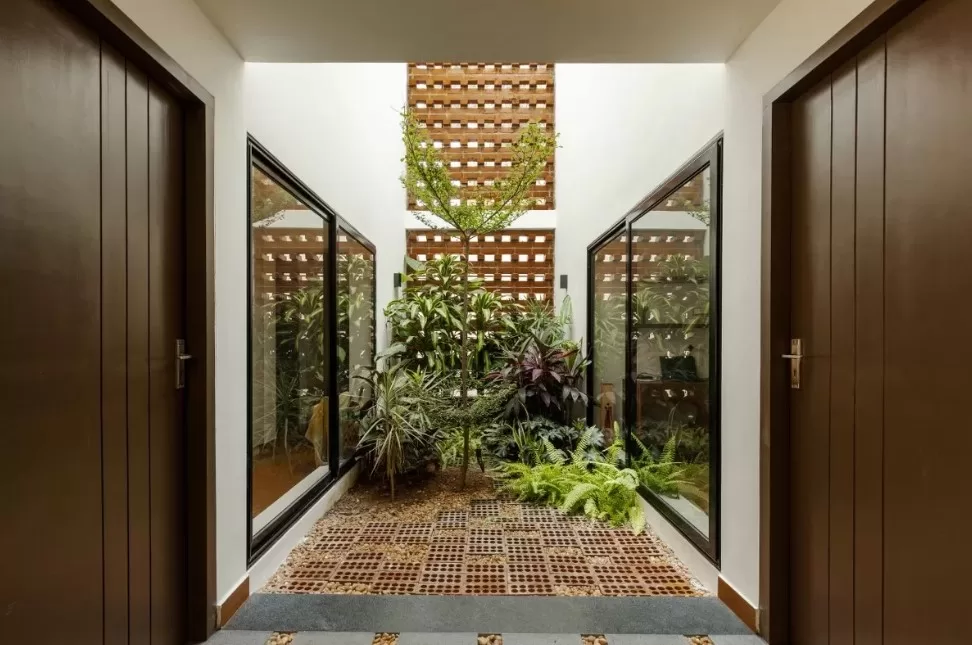 A single-story structure surrounding the courtyard appears cosy, but a double-story structure adds grandeur. Residents can enjoy the stimulating, layered look of the courtyard garden from different angles and levels. Depending on the needs, a courtyard garden can benefit not only from the design of the courtyard itself but also from the spaces around it.
Not only does a courtyard garden beautify a building, but it also aids in air circulation by bringing warm air from nearby rooms. Warm air rises and escapes from the open courtyard. This creates a flow of cool wind into the house. Make sure that all rooms have openings in the courtyard for constant airflow.
While walking in a garden, a big sculpture catches your eye and becomes a great conversation piece. When you place a traditional stone sculpture, modern artwork, or terracotta pot, it makes a statement. Bigger pieces become the main focus, while smaller ones, when grouped, look intriguing. The choice of sculpture also depends on the style of the courtyard garden. An abstract sculpture will look good in a modern courtyard, while a traditional sculpture is better for a classic garden.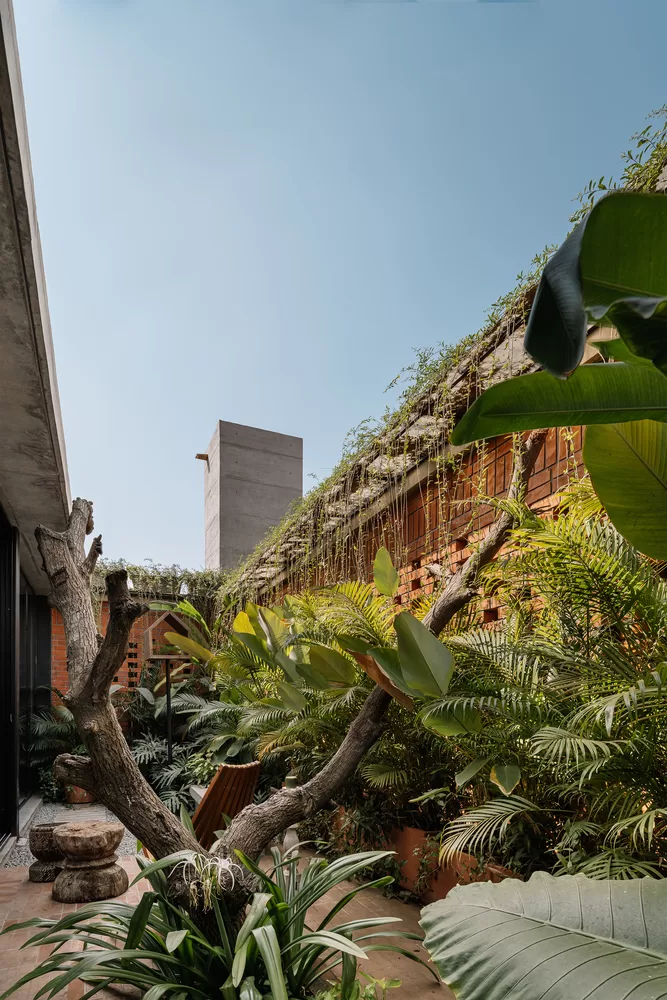 A lush tropical plant palette can transform any space into a mini-jungle. Layering with grass beds, groundcovers, shrubs, and trees can create an interesting atmosphere. When designing a courtyard garden, consider the size of the plants when they are fully grown. Plants spaced closer appear lush, and a variety of leaf shapes, colours, and textures enhance the courtyard garden's visual appeal.
The presence of water creates a peaceful atmosphere in any setting. Water adds tranquility to a courtyard design, whether it's a bubbling fountain or a calm pool. To enhance a courtyard garden's water feature, you can add aquatic plants, koi ponds, and well-planned lighting.
Choosing the material palette wisely is key to making a courtyard garden stand out. By combining stepping stones, pebbles, and various forms of greenery, one can achieve a layered look that avoids monotony.
If security is a concern, a glass roof can be installed over a courtyard garden. If not, an open-to-sky courtyard garden is an excellent way to bring a sense of the outdoors into a building.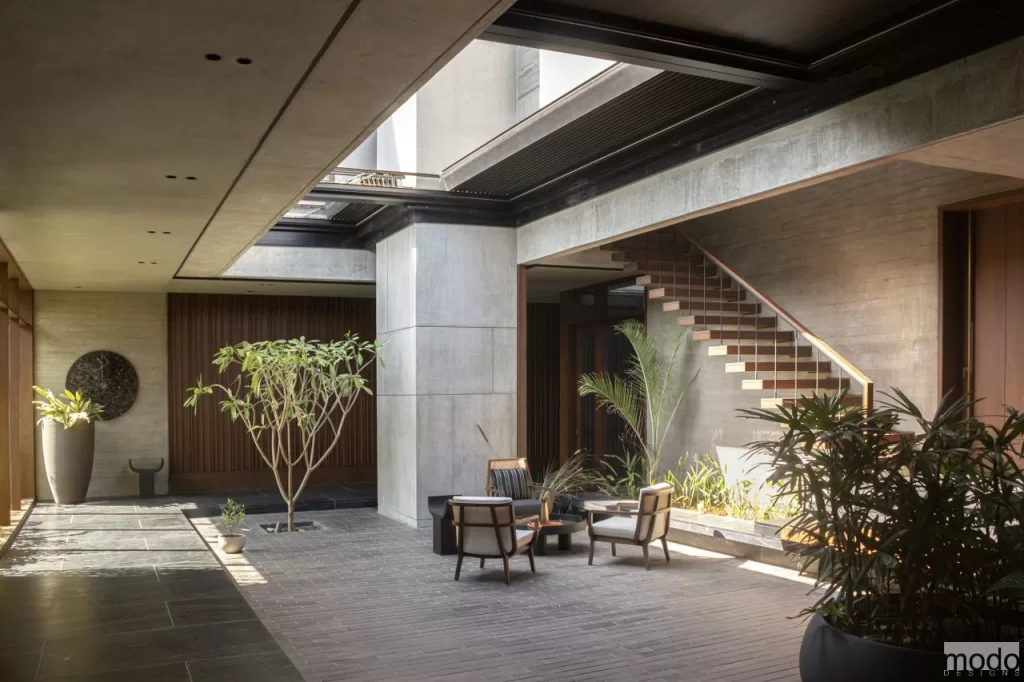 How else would one enjoy a courtyard garden if one could not sit in it? Whether it is loose furniture with the flexibility to move around or inbuilt seating, a space to relax and lounge around in a courtyard garden is a must.
If you fancy Japanese architecture, then incorporating a zen garden is the way to go. Typically, a dry garden made of dry rocks, gravel, sand, and a few plants is the perfect way to turn a space into a zen atmosphere.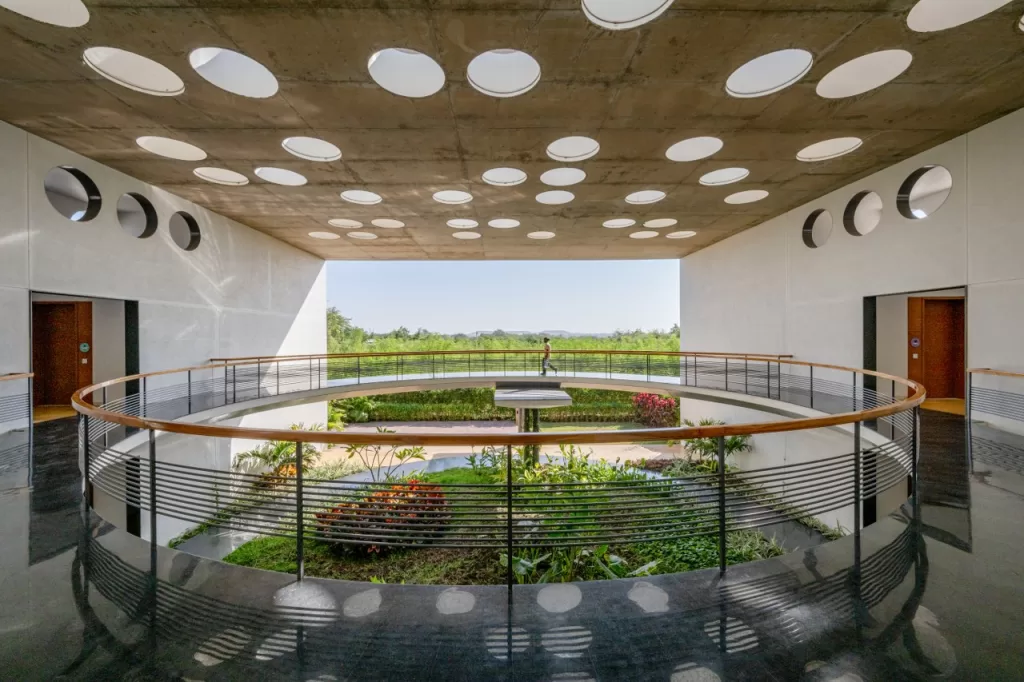 A courtyard in a square or rectangular shape can be both functional and beautiful. But, if you need to create a dynamic design, using curves can help you get there. As it is a recreational space, the flexibility allows you to design a one-of-a-kind layout.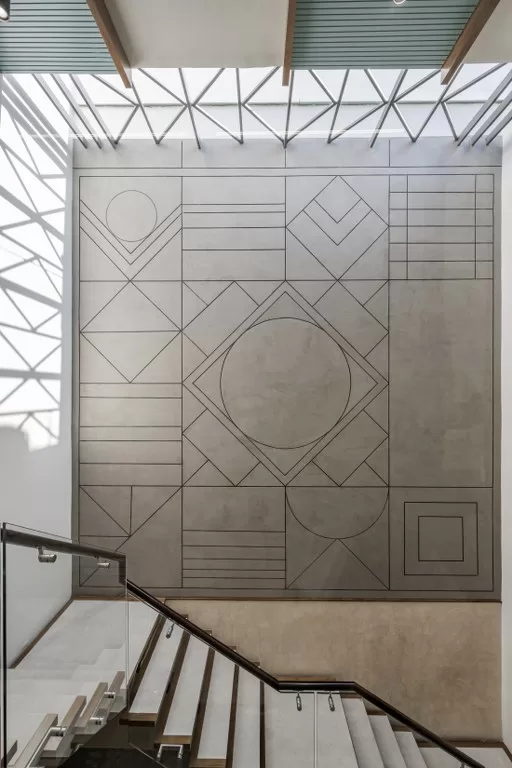 Courtyards usually have one or two walls that can serve as a feature wall. A courtyard garden can stand out with a green wall full of planters. Add textured wall cladding or a waterfall for even more appeal.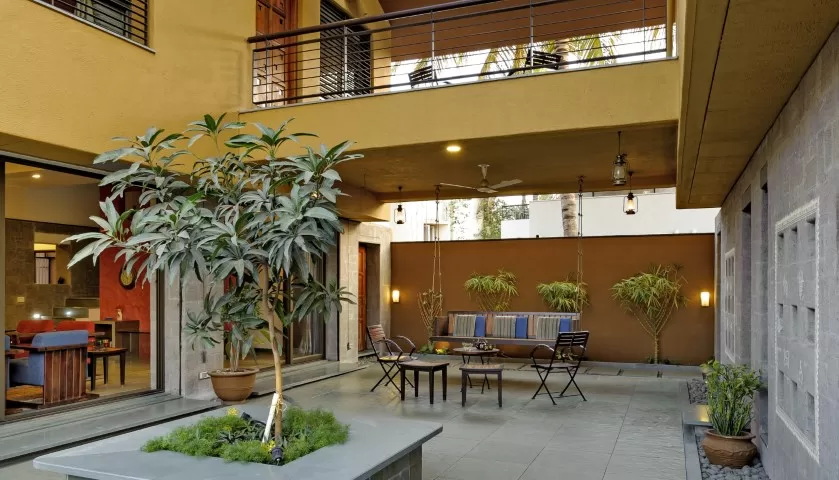 What better way to relax in a courtyard garden than on a swing while sipping an evening coffee or reading a book? A swing not only serves as a focal point in a courtyard garden but also adds comfort and cosiness.
The amount of light that enters the courtyard garden varies with its size. The height of the surrounding spaces affects whether the courtyard is sunny or gets diffused light. Take into account both of these factors to ensure that there is enough light without becoming overly hot.
A staircase connecting two levels can be elegantly incorporated into the courtyard garden. Staircases that are L-shaped, dog-legged, or curved can work well in a courtyard with proper planning.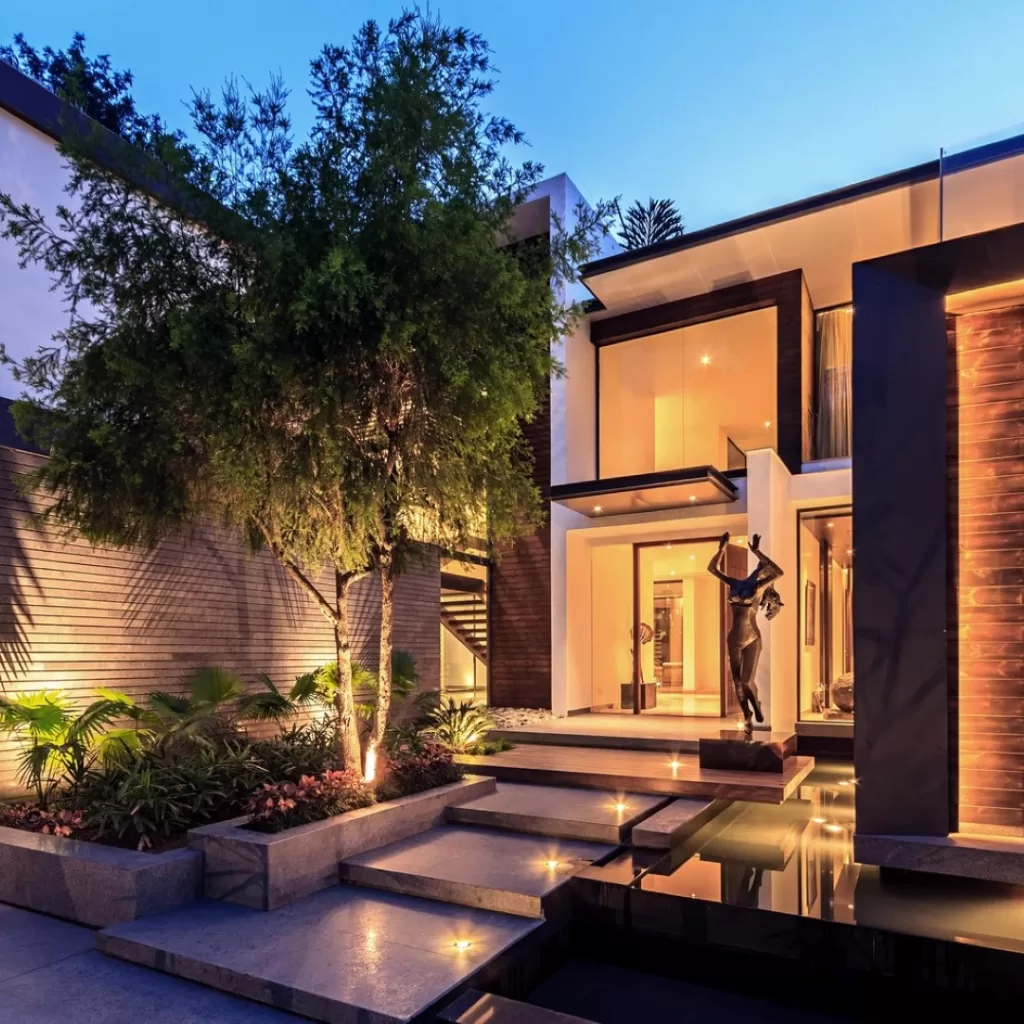 Adding different levels to an environment increases its interest. The courtyard garden can use the varying levels as seating or as a sculpture platform, providing a variety of focal points.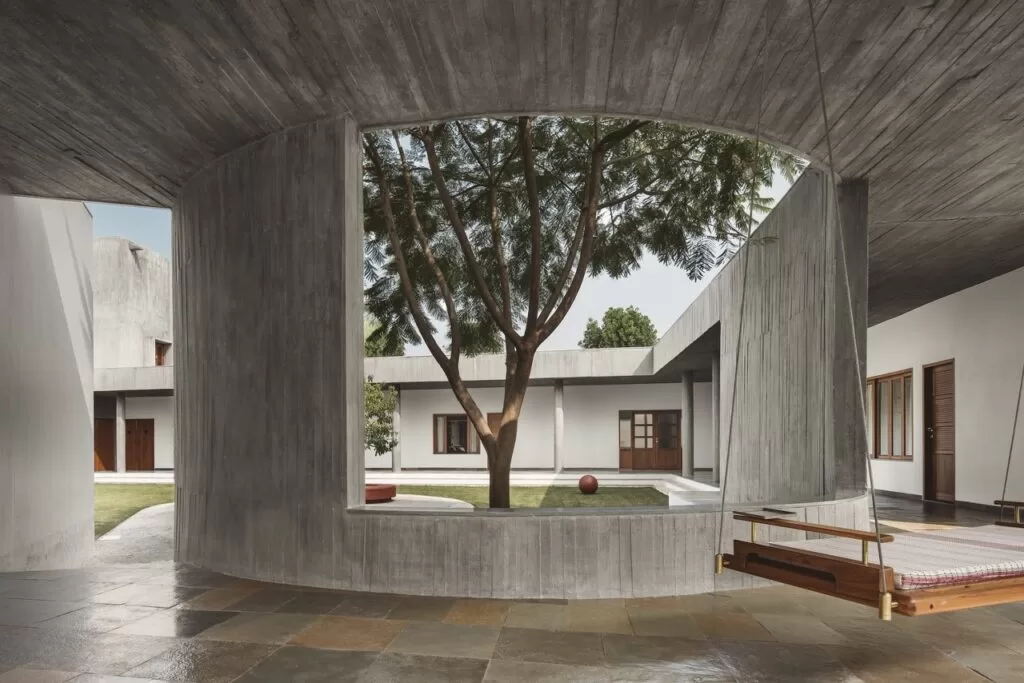 A minimalist courtyard could be as simple as a lawn or a pebble pit with a single tree. This can make even the smallest of spaces feel larger and more open, creating a sense of volume.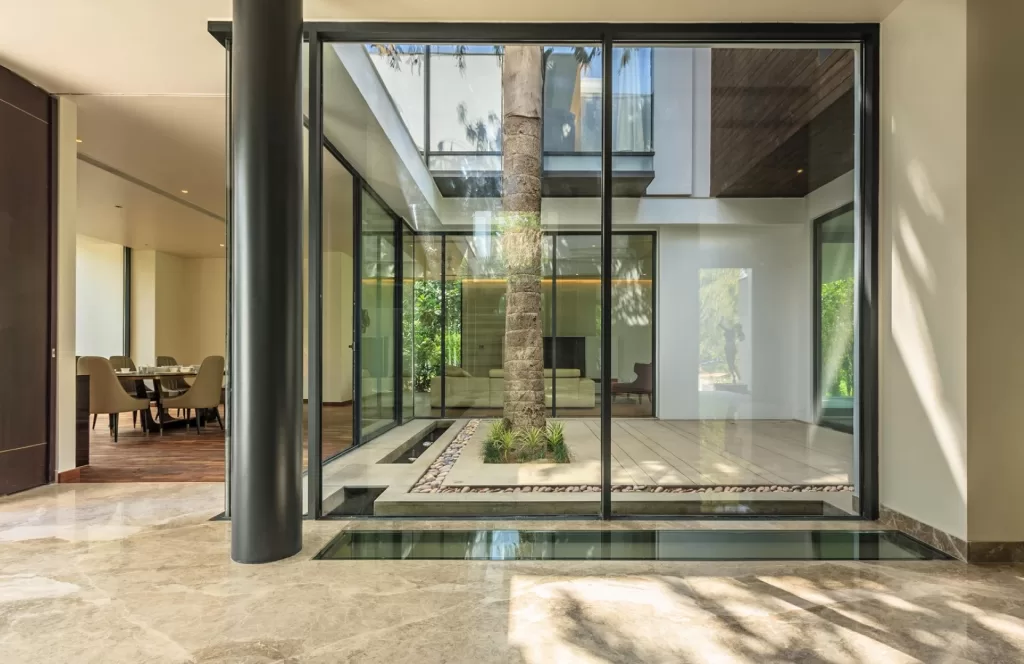 A courtyard's lighting can elevate it to the next level. The courtyard garden comes alive at night with various types of lighting after the sun goes down. Trees and sculptures can be lit from below, water bodies can be illuminated with recessed lights, and planters and benches may be fitted with LED strip lights.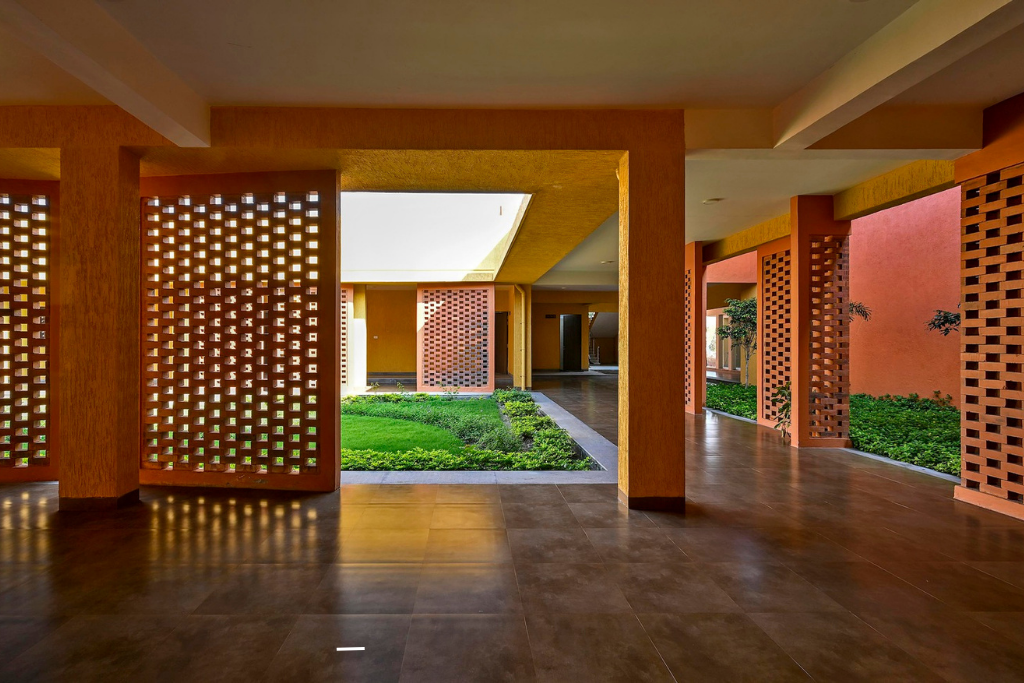 Need privacy but can't give up airflow? Jaalis are the best solution to both problems. Besides, they block sunlight and enclose the garden without feeling closed in.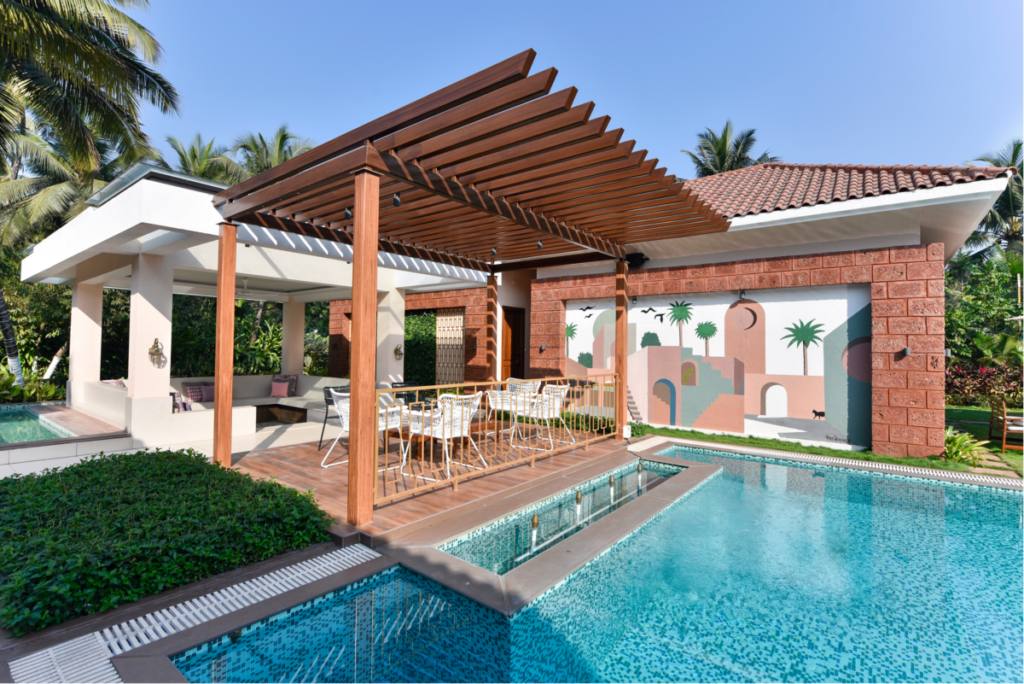 What better way to start the day than with a hearty breakfast in your courtyard garden under the morning sun? Eating with your family on a wooden patio with a cosy dining table is the best way to bond while spending time outdoors in nature.
Using these courtyard garden ideas, you can create your ideal garden. Consider the following variables: To begin, the most basic question is who it serves. Is it just for display, or is it a place to relax and unwind? A courtyard garden should be both visually appealing and functional. The courtyard garden ideas listed above are an in-depth compilation that will help you achieve your goal. Which of the top 20 courtyard garden ideas will you implement?
Content Writing And Research By: Ar. Rochelle Dayal
The post 20 Courtyard Garden Ideas for the Perfect Green Haven appeared first on The Architects Diary.