Interior Design Trends 2024 will give valuable insights for creating spaces that truly resonate with your unique personality and lifestyle. As we step into 2024 in 3 months, the interior design world will be abuzz with fresh ideas and innovative concepts. Similar to this year, Interior Design Trends 2024 will witness a convergence of timeless aesthetics and cutting-edge technology in spaces. From sustainable materials to the revival of statement-making furniture, Interior Design Trends 2024 will transform spaces into havens of comfort. Let's glimpse into the future of interior design and the trends of 2024 that are taking the market by storm.
With the sudden popularity of Scandinavian and Japandi styles, soft indoor arches are making a comeback in interiors. They link two rooms seamlessly and have a calmer undertone to the space. Arches can come in various forms, such as alcoves, windows, partition walls, furniture, and so on.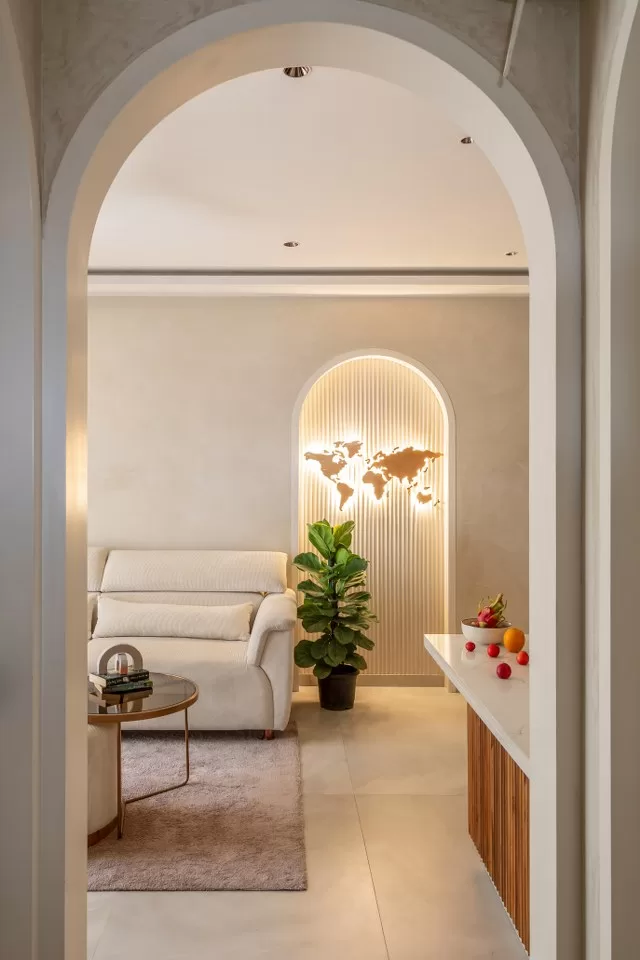 Minimalist Luxury, aka "Minimaluxe", is a new term added to the interior design dictionary. It was a trend that had come up in the pandemic era, which is all about creating a calm and safe atmosphere. It translates to owning fewer items but using only those of high quality and value.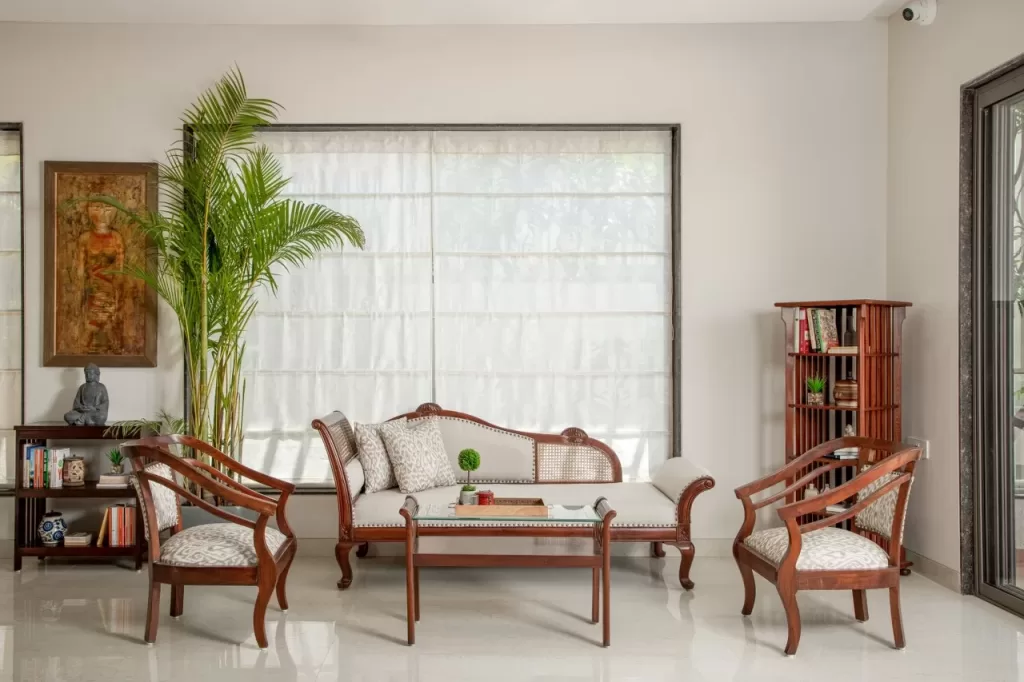 Bold colours and patterns are always here to stay. It aims to bring vibrance to a room. Wallpaper, painting, tiles, and fabric are a few ways to achieve this look. Pairing it with luxurious lighting can give a royal touch to the space.
Mirrors are a great way to create a sense of spaciousness and elegance in a space. Quirky-shaped mirrors are an eye-catching detail in a space and can create a new character. Organic and irregular shapes are the most trending styles of mirrors.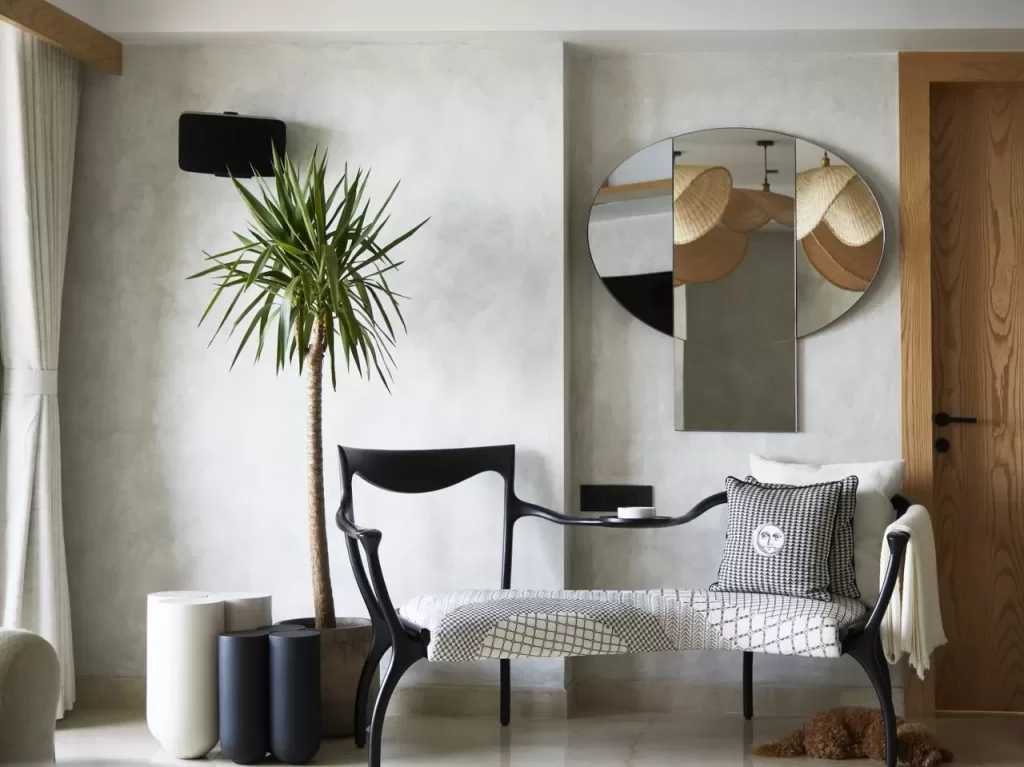 Japandi Style yet again paved the way for the accidental rebirth of natural materials in interior spaces. These pieces of furniture have a light, airy feel and are perfect to make the room more spacious. The light tone is soothing to the eye too.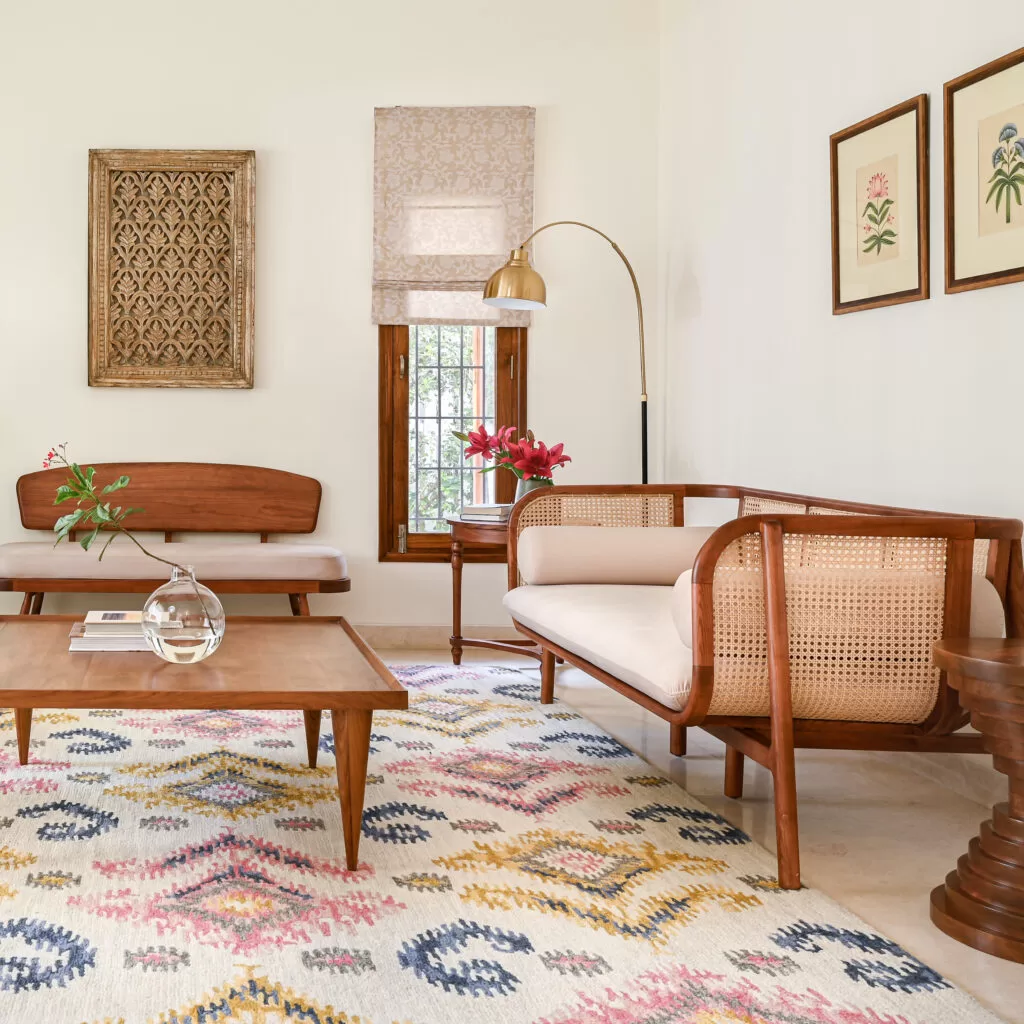 Personal collections of antique and vintage furniture brought back a general trend for dark wood colours. Teak, walnut, and mahogany are becoming as popular as the light colours brought by the Scandinavian style. Dark-coloured wood appears more warm, cosy, and luxurious.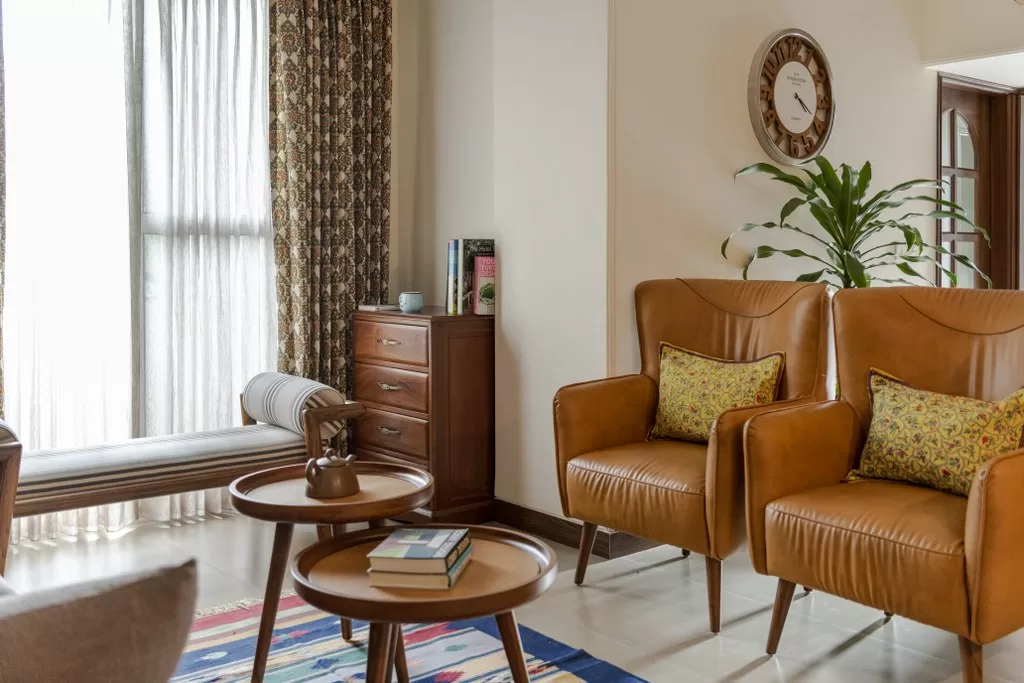 Dried flowers are a better alternative to fresh ones, which last longer and are an elegant way to invite nature into the space. Ferns are commonly used to decorate dining and living spaces, which goes well with muted tones and Scandinavian style.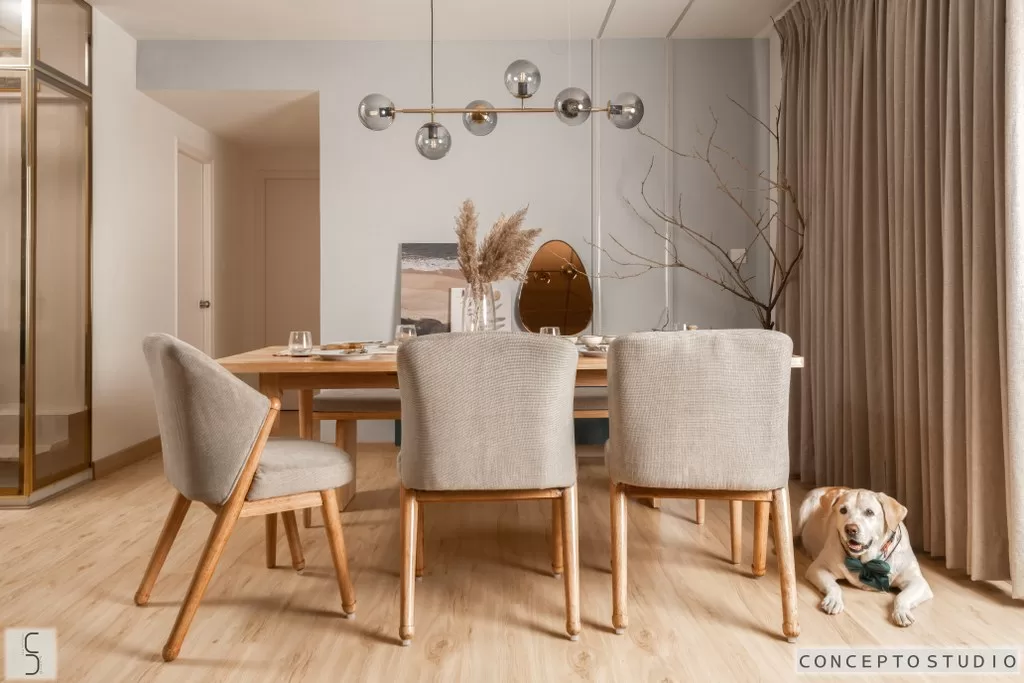 Statement, oversized pieces are a great way to play with volumes. The placement of these lights depends on the intended scale of the space, whether small or large. It can add drama to an otherwise monotonous interior space. Using natural and eco-friendly materials is a sustainable alternative and gives it an airy feel.
All-white interiors are one of the most challenging effects to achieve. When going for a white-on-white look, play with textures and subtle tone differences to create a space that is not monotonous. Natural light can further bring out the delicate textures and colour tones.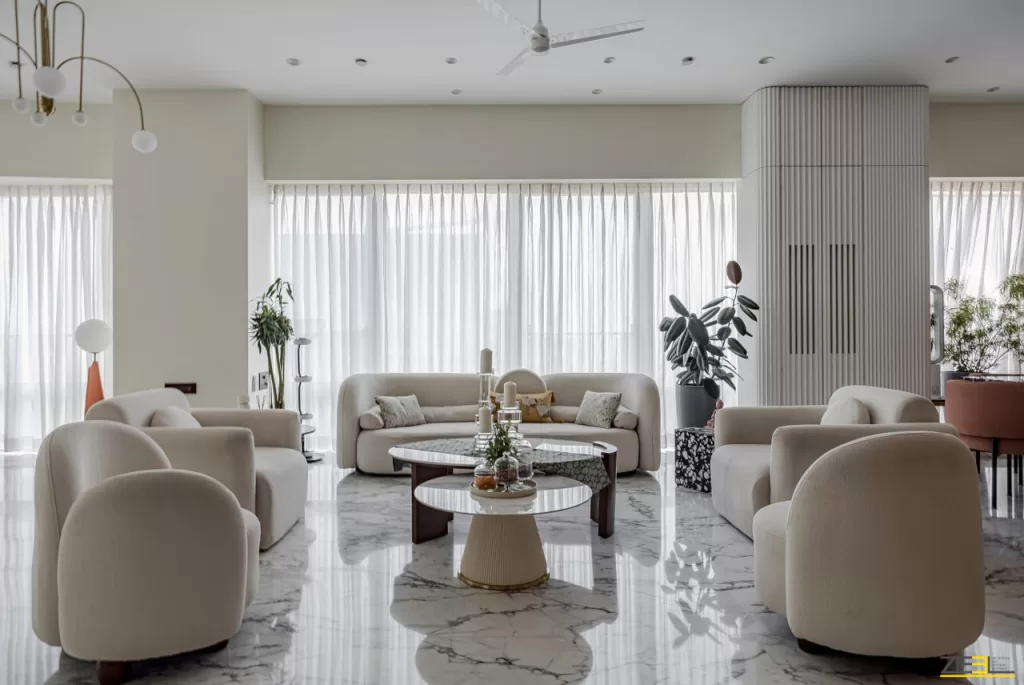 From chandeliers to discreet lighting, LED lighting makes space for a wide range of applications. They also last longer than the traditional bulbs, thus needing less maintenance. Apart from functional purposes in the kitchen and study, they are also seen for minimalist aesthetics.
Wallpapers with botanical illustrations are a great way to bring nature indoors. Not only is it easily available and applicable, but it also creates the same effect as hand-painted walls. It can be tropical or minimal, depending on the intended style.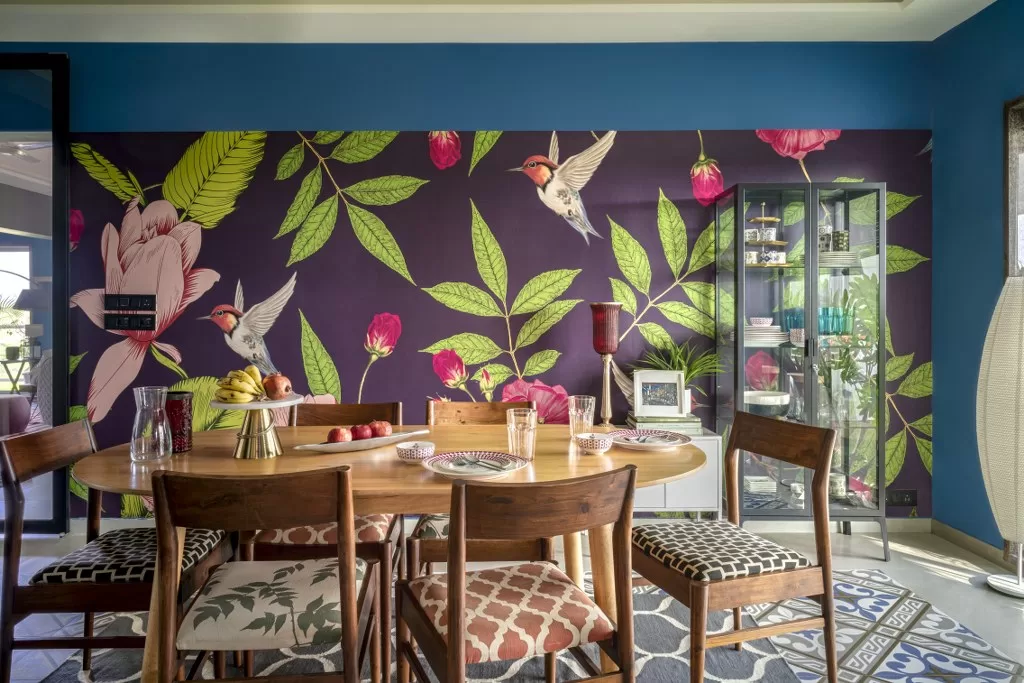 Neutral tones can often create monotony if not done right. That's why adding a bright hue can add contrast to the space. Even a subtle change in colour adds a new character to the space. It will further emphasise where our eyes need to look in a vast room.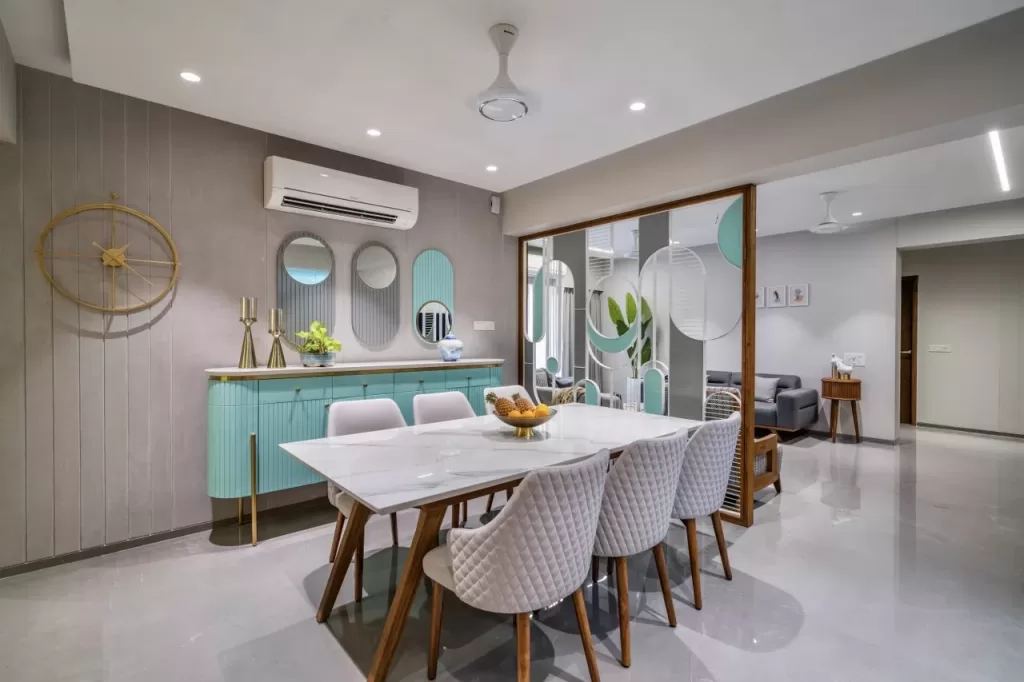 Metal accents and finishes paired with ambient LED lighting are a match made in heaven! Bronze, stainless steel, nickel, and black are among the most popular finishes. These accents can be used anywhere, from lighting and strips to mirrors and decor.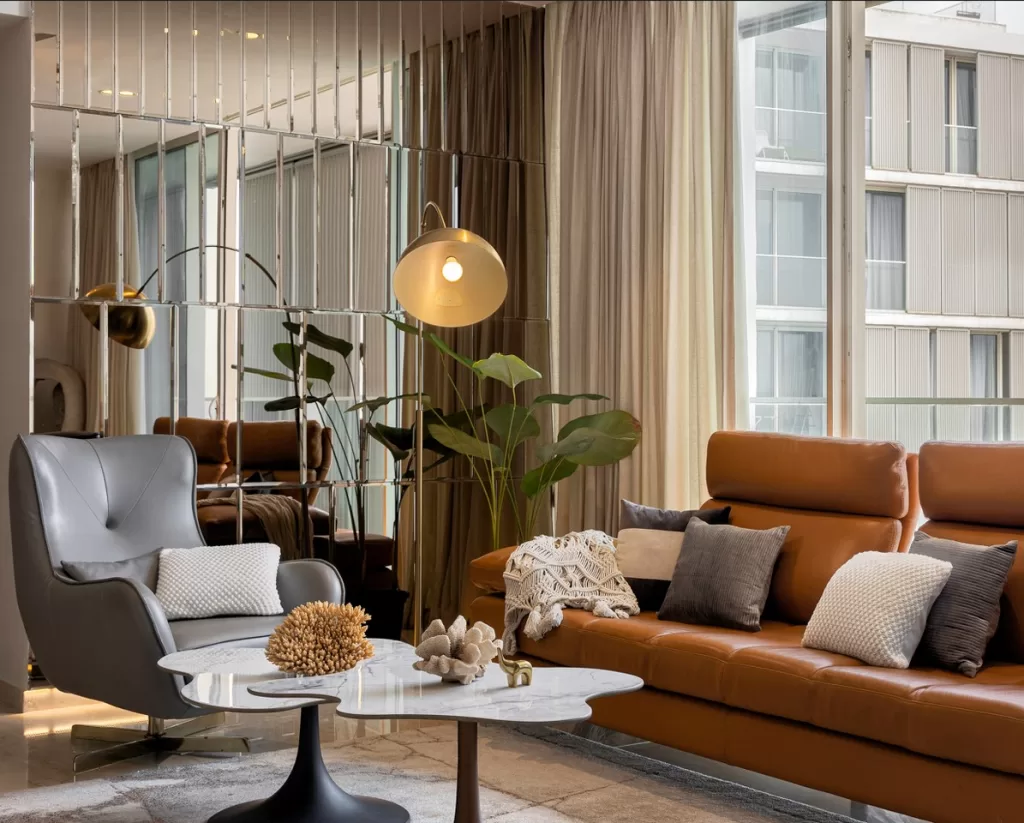 Earth tones are an evergreen trend that takes inspiration from nature. The most prominent tones are in the range of brown to red and layer textures. Adding elements of green through indoor plants and decor is a great way to make a space earthy.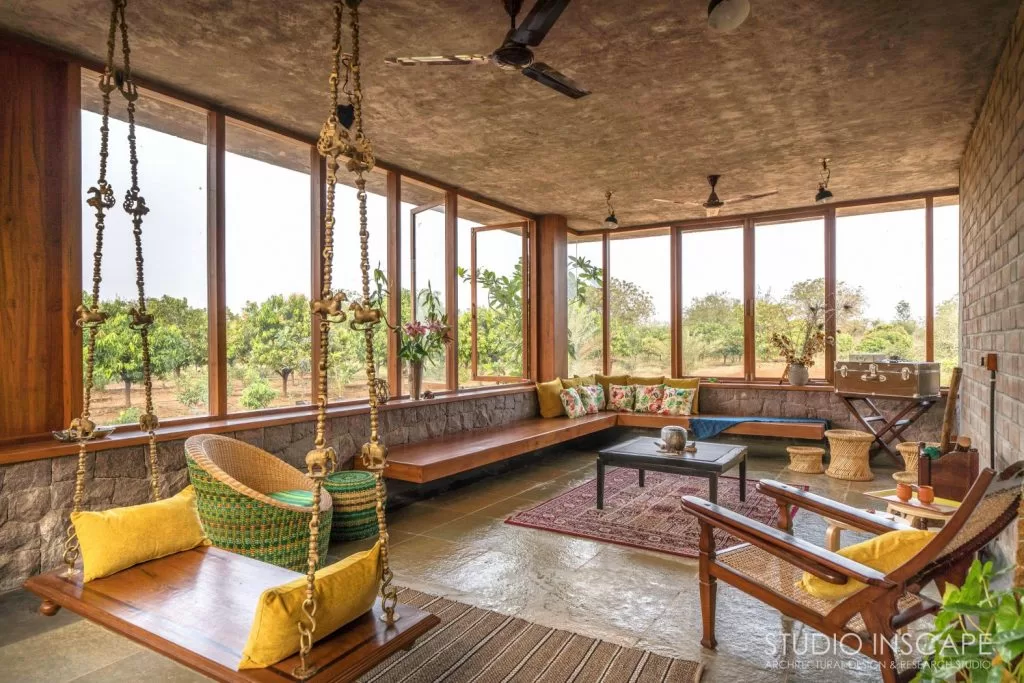 The trend for vintage has taken on a new look by blending with modern style. Placing antique decor and classic fabric patterns the right way can create an eclectic style. Regal chandeliers, paired with spot LED lighting, further add a royal touch to the interiors.
Although trends change like the weather, there are certain styles that stay evergreen. Interior Design Trends 2024 will also witness styles that took a rebirth. Interestingly, what is constant in these changing times is a preference for vintage style. Due to the need to address the importance of sustainability through products, natural and eco-friendly materials are also here to stay. At the same time, antique products are held dearly and reinvent a new perspective. Thus, Interior Design Trends 2024 is an amalgamation of unique wallpapers, decor, lighting, backsplashes, and many more. What is the most unpredictable style from the list of Interior Design Trends 2024?
The post 15 Hot Interior Design Trends 2024: Never Going Out Of Style appeared first on The Architects Diary.